Webinar: Illustrating your research: how to make an effective scientific figure
BioCanRx Insider Series: Episode Two
Watch the webinar
Download the slides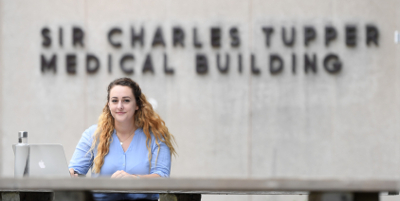 Communication in the fields of science, technology, engineering, and mathematics (STEM) has historically been dominated by text-based mediums. Scientific articles, textbooks, reviews, conference proceedings, and posters rely heavily on the use of text to communicate scientific findings. These components are frequently aimed at reaching fellow scientists and individuals within the scientific community. Our current method of communication is framed primarily for those who conduct research, and as scientists we generally underutilize visual aids as a method of communication, which is arguably more effective. However, scientists and clinicians may struggle to translate scientific data into clear and informative graphics. The Designs that Cell team has consolidated and summarized the eight steps we use for creating eye-catching illustrations. These steps are intended as a practical resource for clinicians and scientists to use when creating scientific graphics for myriad projects, including manuscript figures, scientific poster presentations, and slides for oral presentations.
---
Webinar: An assistant professor's guide to writing a scientific review paper
BioCanRx Insider Series: Episode One
Watch the webinar
Download the slides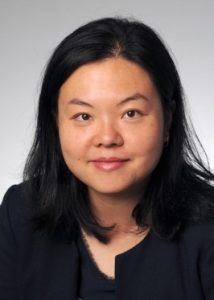 Writing a scientific review paper is a big job and requires breakdown of the tasks. Most graduate students will benefit from writing a review paper on their subject matter during their academic studies. This webinar will provide you with the basic tools to start reading and writing! Dr. Lee-Hwa Tai will also start the webinar with a biography and description of her career trajectory. We hope the Q&A will be an informal opportunity to ask questions about not only review writing, but also career-related questions to Dr. Tai.
---
Current Trends in Biotherapeutics Workshop 2019

The Clinical Translation Education Group composed of BioCanRx, CCRM, CellCAN, Ontario Institute for Cancer Research (OICR), Ontario Institute for Regenerative Medicine (OIRM) and Stem Cell Network, hosted a one-day workshop on Sept 27, 2019 on current trends and innovations in cell and gene therapy with an emphasis on disruptive technologies. It was aimed at trainees and other professionals in the biotherapeutic space and will introduce new tools and strategies that are shaping where the biotherapeutic field is headed.

You can find the agenda here, and you can watch the videos of speakers here.
---
CTEG IP/Entrepreneurship workshop

Building on the success of The Clinical Translational Education Group (CTEG)*'s first day-long workshop, Bench to Bedside for Biotherapeutics (B3), CTEG hosted another day-long workshop on September 14, 2018 on Intellectual Property and Entrepreneurship for Biotherapeutic Scientist in Toronto, Ontario.

View full workshop videos

* The CTEG is a partnership of 7 NGOs: BioCanRx, CellCAN, Centre for Commercialization for Regenerative Medicine, Ontario Institute for Regenerative Medicine, Ontario Institute for Cancer Research and The Foundation Fighting Blindness, and the Stem Cell Network.
---
Bench to Bedside for Biotherapeutics (B3) Workshop

View the full workshop video presentations here.

Click here or on the image below to learn more and view the workshop video presentations.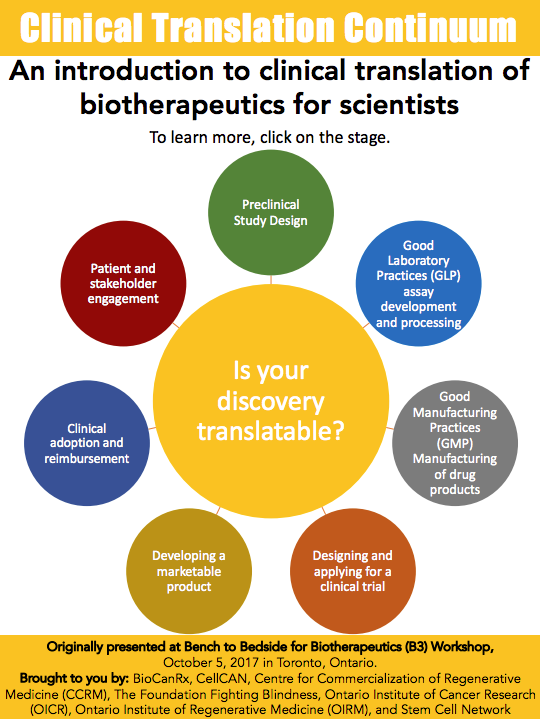 BioCanRx, in partnership with other biomedical research networks, will be organizing a one-day workshop entitled Bench to Bedside for Biotherapeutics (B3) at the MaRS Discovery District in Toronto. Modules will introduce concepts related to the stages of development for biotherapeutics. Participants will learn about the critical steps to consider at each stage of the process through lectures by experts in the field as they share their experience and insight.
---
Preclinical Experimental Design and Reporting Workshop
Please click here for the program and resources associated with the Preclinical Experimental Design and Reporting Workshop taking place at the Summit4CI in Banff, AB, on October 26, 2018.