Overview
The BioCanRx-Cancer Stakeholder Alliance Learning Institute brings together leaders from oncology patient communities and academic scholars from the immunotherapy research community to engage in interactive and collaborative knowledge exchange activities at the annual Summit for Cancer Immunotherapy.
Academic scholars are exposed to the realities of the cancer patient experience and patient leaders are familiarized with research concepts in immuno-oncology. Both develop their networking knowledge and translation skills. Partnerships are also created and strengthened as a result.
They also work together on a Dissemination Report that captures their key take-away messages and reflections from the Summit for Cancer Immunotherapy, and serves as a way to share this information with BioCanRx, the oncology communities, and the general public.
The Learning Institute objectives are:
To create a model of learning that encourages, supports and creates the integration of patient leaders into the scientific conference, and
To ensure that scientific research presented at the conference is translated to patient participants in an understandable way so that it can be shared with interested partners.
The Learning Institute consists of four main components:
Pre-Summit training to learn about basic cancer biology and immunotherapy
A series of high-energy knowledge exchange sessions
A "buddy system" where patient leaders are paired with academic scholars
The creation of the Dissemination Report.
Participants are given a workbook and assigned notetaking for the various plenaries, talks and events at the Summit for Cancer Immunotherapy.
Information Page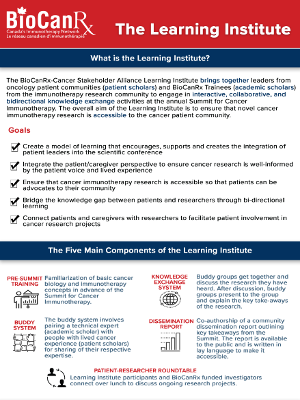 Development
In 2016, the Cancer Stakeholder Alliance and BioCanRx identified the Learning Institute as a joint priority, and made it part of the BioCanRx-Cancer Stakeholder Alliance Joint Action Plan.
In response to the Joint Action Plan, the following members of the 2017 Cancer Stakeholder Alliance Working Group, BioCanRx Highly Qualified Personnel community and BioCanRx staff came together and developed the BioCanRx-Cancer Stakeholder Alliance Learning Institute:
| | | | |
| --- | --- | --- | --- |
| Louise Binder, Health Policy Consultant, Save Your Skin Foundation | Kathy Brodeur-Robb, Executive Director, C17 – Children's Cancer and Blood Disorders | Linda Eagen, President & CEO, Ottawa Regional Cancer Foundation | Nicole Forbes, Postdoctoral Fellow, Jean-Simon Diallo Lab, Ottawa Hospital Research Institute |
| Renée Leduc, Manager, Knowledge Mobilization, BioCanRx | Patrick Sullivan, President, Team Finn and a Founder & Chairman of Ac2orn | Jovian Tsang, (former) Manager of Highly Qualified Personnel Training Programs, BioCanRx | Brittany Umer, PhD Candidate, David Evans Lab, University of Alberta |
The Community AIDS Treatment Information Exchange (CATIE) – Canadians Association for HIV Research (CAHR) Learning Institute was the inspiration for the BioCanRx-Cancer Stakeholder Learning Institute model, which was debuted as a pilot in June 2017 at the Summit for Cancer Immunotherapy in Gatineau, Quebec.
Upcoming and Past Institutes
The next BioCanRx-Cancer Stakeholder Alliance Learning Institute takes place as part of the virtual Summit for Cancer Immunotherapy November 21 and 22, 2021. Learn more here.
See the links below for more information about past institutes:
Contact
If you would like to learn more about the BioCanRx-Cancer Stakeholder Alliance Learning Institute, please contact Stéphanie Michaud, by email (smichaud@biocanrx.com).