WE WANT CANCER BIOTHERAPEUTICS TO CHANGE THE FACE OF CANCER TREATMENT… AND WE AREN'T ALONE

To help achieve this goal, our network is using the knowledge discovered by researchers about how cancer works, what makes it so difficult to treat and how we can use the body's own defence mechanisms to outsmart and kill it.
The information below provides brief, general answers to the following questions:
WHAT ARE CANCER BIOTHERAPEUTICS?
The term cancer biotherapeutics encompasses all biologically derived materials that have been chosen, processed or engineered to treat cancer. Within the field of biotherapeutics, and of particular interest to BioCanRx, are immunotherapy products. These can include cancer-killing viruses, immune cell therapies and antibody therapies. All of these therapies have mechanisms that enlist the immune system (are immunotherapeutic), are highly potent and can be very targeted, and are the subject of much excitement in research.
In contrast to conventional therapies, immunotherapeutics for cancer treatment are highly potent and activate the immune system to fight cancer. Some biotherapeutics are designed to specifically target cancer cells without harming healthy cells, which results in greater effectiveness and fewer, less severe, side effects. Even in early phase clinical trials, numerous types of immune therapies have provided complete remission for a number of patients who had run out of treatment options.

[Top]
HOW DO IMMUNOTHERAPIES WORK?
Over the course of our lives, our cells multiply billions of times and sometimes errors (or mutations) occur. Most of the time, our body recognizes the problem and a mutant cell simply dies or is killed off by our immune system before anything harmful happens.
However, with cancers, these mutant cells replicate themselves and ultimately evolve to avoid detection by the immune system.
Researchers in Canada and around the world have made tremendous advances in discovering how cancer evades our immune system and how to knock down some of these barriers and exploit weaknesses in cancer cells
We are now in a rapidly progressing era of making significant clinical gains harnessing the immune system to attack cancer. Within Canada, researchers have world class expertise in three different therapeutic approaches using the immune system to fight cancer.

[Top]
ONCOLYTIC VIRUS THERAPY
Oncolytic viruses exploit the fact that many types of cancer do not have the defences that healthy cells possess to fight off viral infection. As a result, tumour targeted viruses can find cancer cells in the body, infect them, replicate inside them and the tumour cell dies in the process. The virus however does not harm healthy cells. Viral infection of common cancer cells also alerts the immune system to the presence of the tumour, leading to the activation of the immune system to attack the cancer. This immune response has two benefits, one to attack the current cancer, and secondly the potential to prevent recurrence or spread to other locations.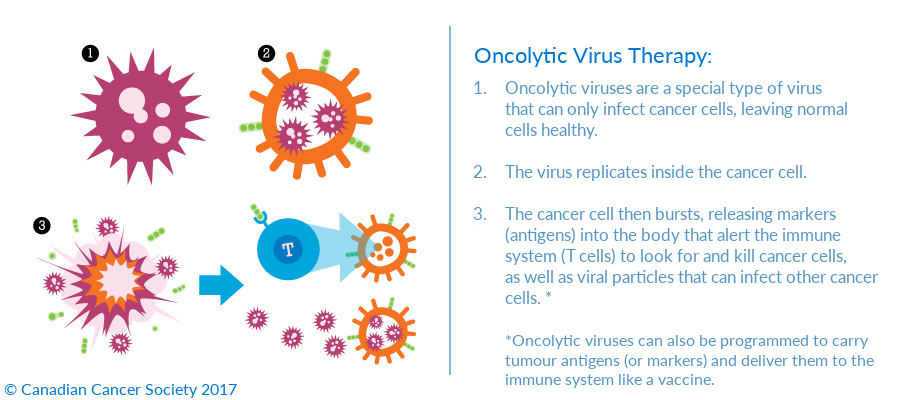 [Top]
ADOPTIVE CELL THERAPY
Adoptive cell therapy involves isolating immune cells, manipulating them in the lab to potently react to tumours, and infusing them back into patients. These immune cells can be taken from a patient's tumour or their blood and can be programmed or stimulated in the lab in a variety of ways. These approaches have led to some unprecedented clinical responses in patients with advanced cancers.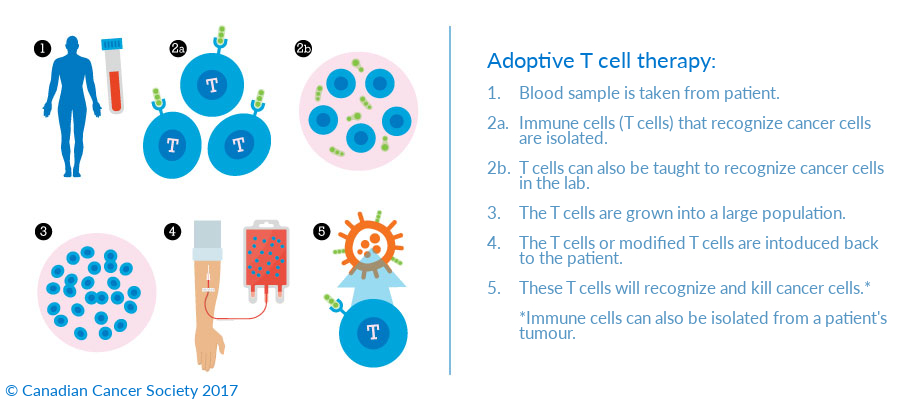 [Top]
ANTIBODY THERAPY & IMMUNE CHECKPOINT INHIBITORS
Antibody Therapy
Antibodies are proteins made by the immune system and in the context of cancer therapy are used to do one of two things; antibodies can either target or recognize tumour cells, and can be used to specifically deliver toxins or alert the immune system to the presence of the tumour. Alternatively, antibodies are used to manipulate the immune response to tumours to heighten the ability of the immune response to combat the cancer.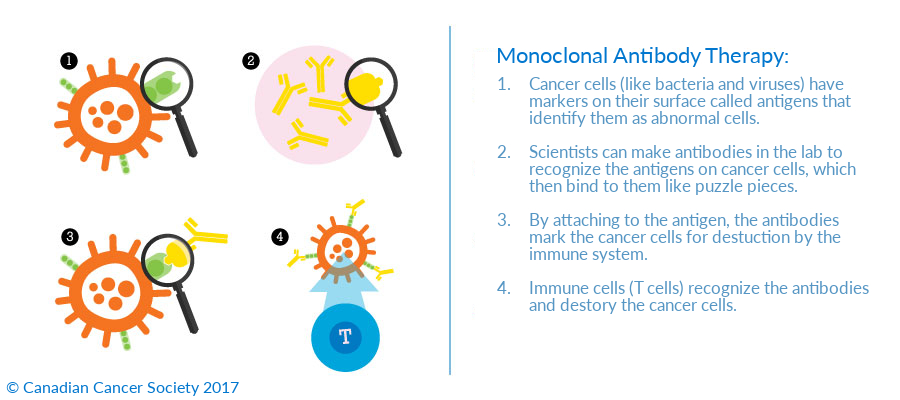 Immune Checkpoint Inhibitors
Immune checkpoint inhibitors are synthetic antibodies that act as drugs that block the activation of specific immune checkpoint pathways. These drugs allow the immune system to 'take the brakes off,' which allows the immune system to recognize and attack cancer cells.
©Patient Resource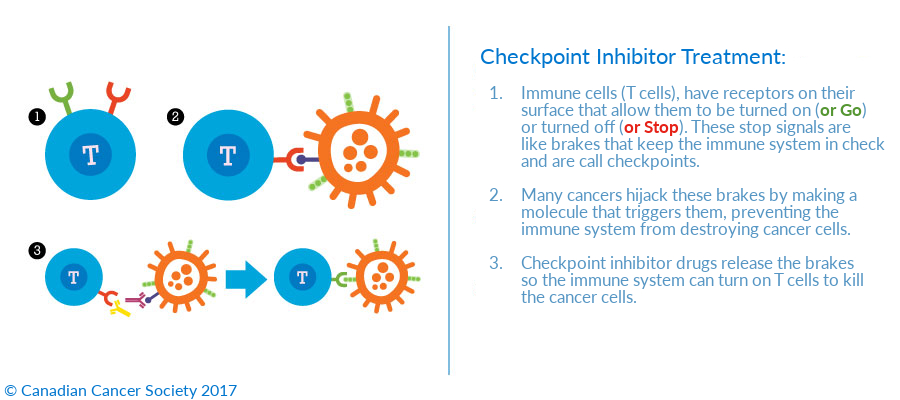 [Top]
WHAT IS THE POTENTIAL OF IMMUNE BASED BIOTHERAPEUTICS FOR CANCER TREATMENT?
Researchers recognize that in order to use immune-based therapies effectively, strategies need to be developed to address these three main challenges:
Directing the immune system to recognize the tumour
Producing a highly potent immune reaction to the tumour
Overcoming immune suppression within the tumour
Each of the three platforms within BioCanRx address one or possibly two of these challenges but none overcome all three simultaneously and this is why we emphasize developing therapeutic approaches using combination therapy.
For example, the combination of T-Vec (an oncolytic virus derived from the herpes virus) with Yervoy (an immune checkpoint inhibitor with the biologic ipilimumab) has shown exciting and, arguably, predictable responses in advanced melanoma patients. The table below shows how the combination of the two biotherapies in a 2013 clinical trial resulted in one-third of the study's participants having a complete response, meaning they were cancer-free.