Immunotherapy: Game Changing Research in Alberta
October 24, 2018 – Cross Cancer Institute, Edmonton
BioCanRx partnered with the Alberta Cancer Foundation for two public forums on immunotherapy in conjunction with the 2018 Summit for Cancer Immunotherapy in Banff, Alberta. The forums were held in Edmonton and Calgary.
Immunotherapy: A Cancer Treatment Game-Changer?
June 27, 2017 – Gatineau, Quebec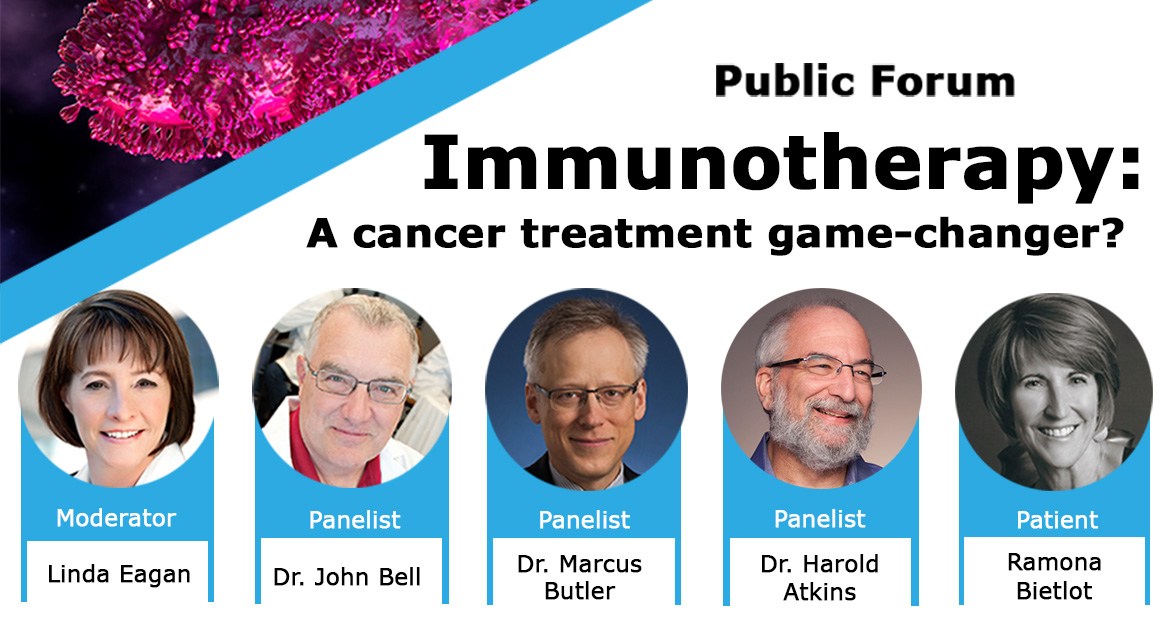 BioCanRx held a public forum and discussion to coincide with its 2017 Summit for Cancer Immunotherapy. The event gave members of the public an opportunity to separate fact from fiction by hearing the latest advances in cancer immunotherapy research from experts developing ground-breaking therapeutics that harness the body's immune system to fight cancer. Expert panelists included Dr. John Bell, senior scientist at the Cancer Therapeutics Program, The Ottawa Hospital and BioCanRx Scientific Director and Dr. Marcus Butler, Clinical Head of the Immune Monitoring Team at The Princess Margaret Cancer Centre and Dr. Harold Atkins, Scientist, Cancer Therapeutics Program and Attending Physician, Blood and Marrow Transplant Program at The Ottawa Hospital. The forum gathering also heard firsthand from Ramona Bietlot, a patient who has benefitted from immunotherapy. Linda Eagen, President & CEO of the Ottawa Regional Cancer Foundation, moderated the event.
Watch the public forum here: