Chimeric Antigen Receptor modified T cells – known as CAR T – are a powerful new tool for treating cancer. CAR T therapy starts by extracting a patient's immune cells from their body. The cells are genetically engineered to recognize a patient's own tumour, and then returned to the patient's body in large numbers. This is known as a type of adoptive cell transfer. The re-engineered cells are able to specifically attack and kill the cancer cells. This therapy is having dramatic responses in some patients with certain types of advanced cancer – such as pediatric and adult patients with blood cancers that include acute lymphoblastic leukemia (ALL) and lymphoma.
This process of altering a patient's own T cells, however, traditionally requires substantial infrastructure and expertise – this creates significant issues around accessibility and affordability for Canadians looking to obtain treatment. There have been a limited number of CAR T clinical trials in Canada in comparison to other jurisdictions like the USA. Additionally, there is variable access to this therapy across Canada due to differences in provincial health systems.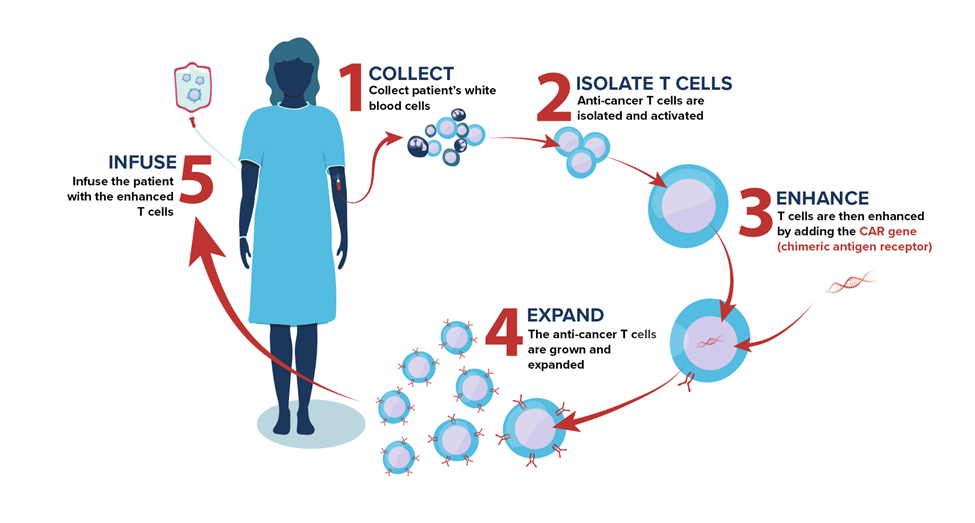 Building the Canadian-led Immunotherapies in Cancer Program
Since its inception in 2015, BioCanRx has recognized the need to develop decentralized infrastructure and manufacturing capacity in Canada to support bench to bedside research and to ultimately expand access to CAR T therapy by increasing the number of clinical trials available to Canadian patients. This new capacity will also pave the way to deliver on Canadian innovations in the engineered T cell space: until now, it was not possible to move these innovations beyond the laboratory stage of development.
After collaborating at a conference in 2016, BioCanRx network investigators in Ottawa, Vancouver and Victoria began developing the safe and efficient production of CAR T therapy treatment in Canada using a made-in-Canada point-of-care (POC) method – closed and automated CAR T cell manufacturing equipment to fully capitalize on the advantages of automation. The therapeutic product that was developed, was fully made in Canada – with the clinical-grade plasmids developed in the GLP lab of Dr. Robert Holt at BC Cancer, the GMP lentiviral vector manufactured at the Biotherapeutics Manufacturing Centre at the Ottawa Hospital Research Institute, and the final GMP cell product manufactured at Dr. Brad Nelson's facility at BC Cancer in Victoria.
The first clinical trial of the Canadian-led Immunotherapies in Cancer (CLIC) platform opened in 2018, led by Dr. Natasha Kekre (The Ottawa Hospital) and Dr. Kevin Hay (BC Cancer in partnership with the Vancouver General Hospital). The trial, titled "CLIC-1901" is designed for patients aged 18 to 75, with acute lymphoblastic leukemia (ALL) and non-Hodgkin's lymphoma. In June 2022, the team published results from their first 30 patients: 13 had complete responses (three of which were one year post-treatment).
The CLIC Platform: Supporting Expansion to Treat a Greater Number of Patients using CAR T Therapies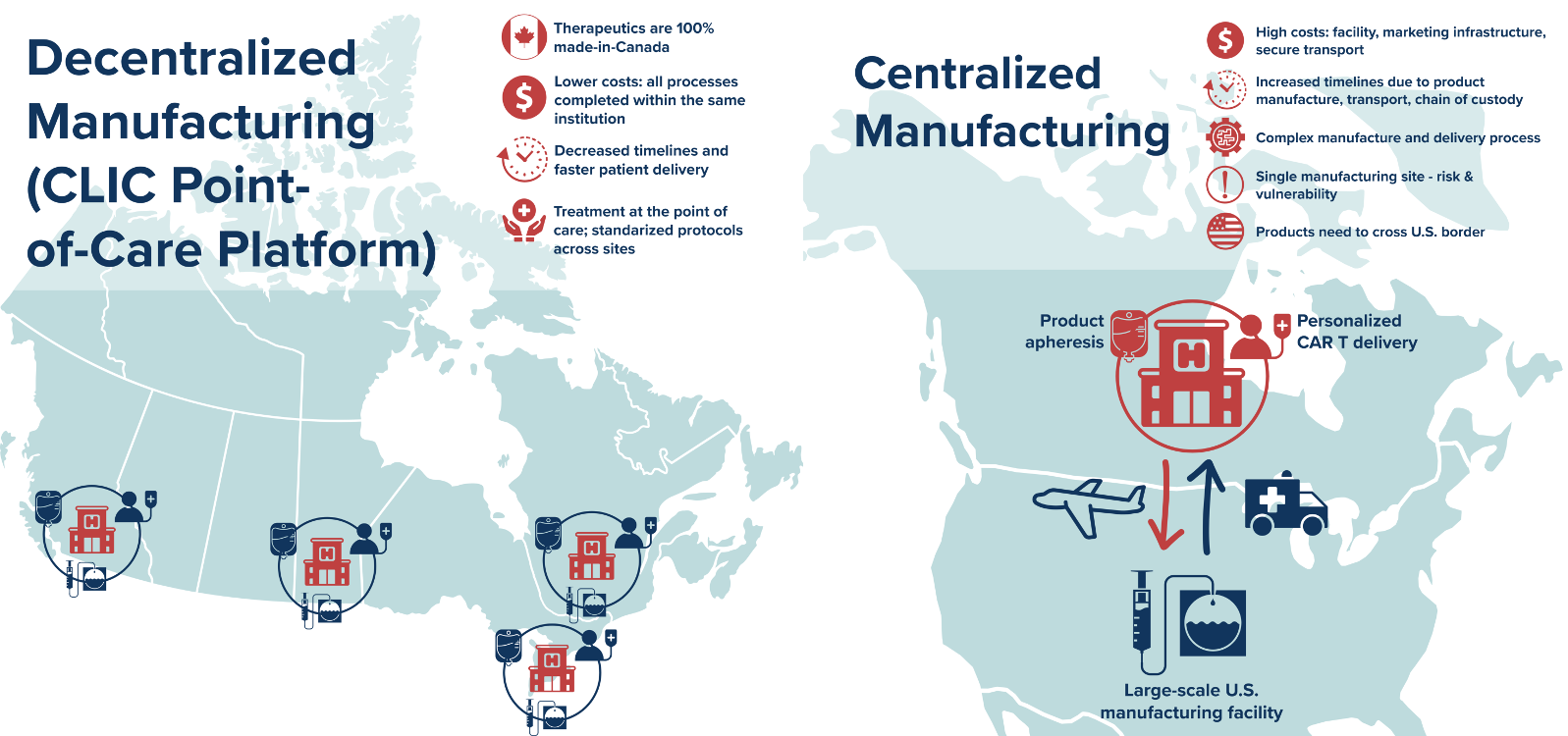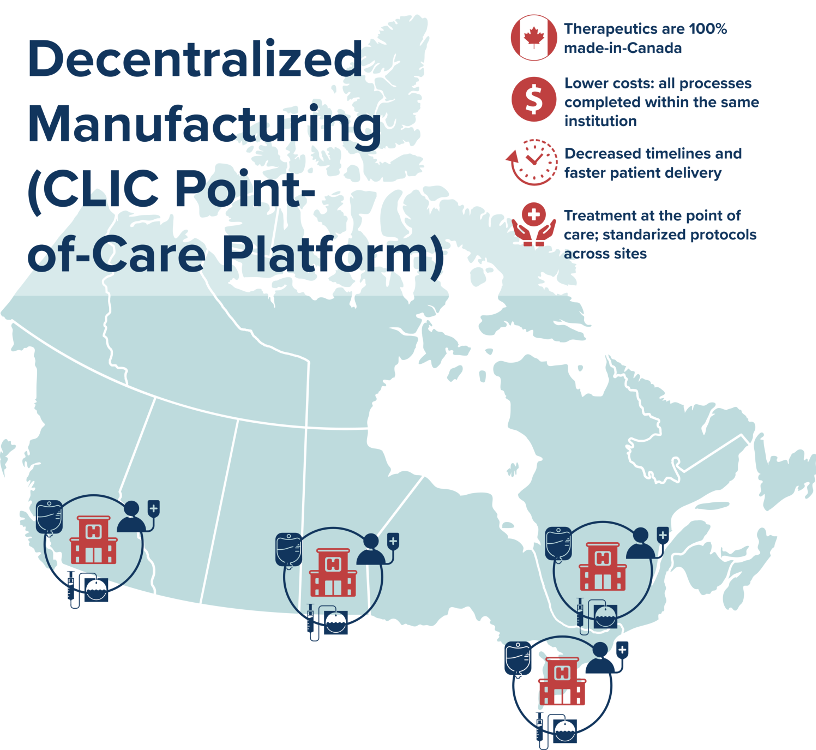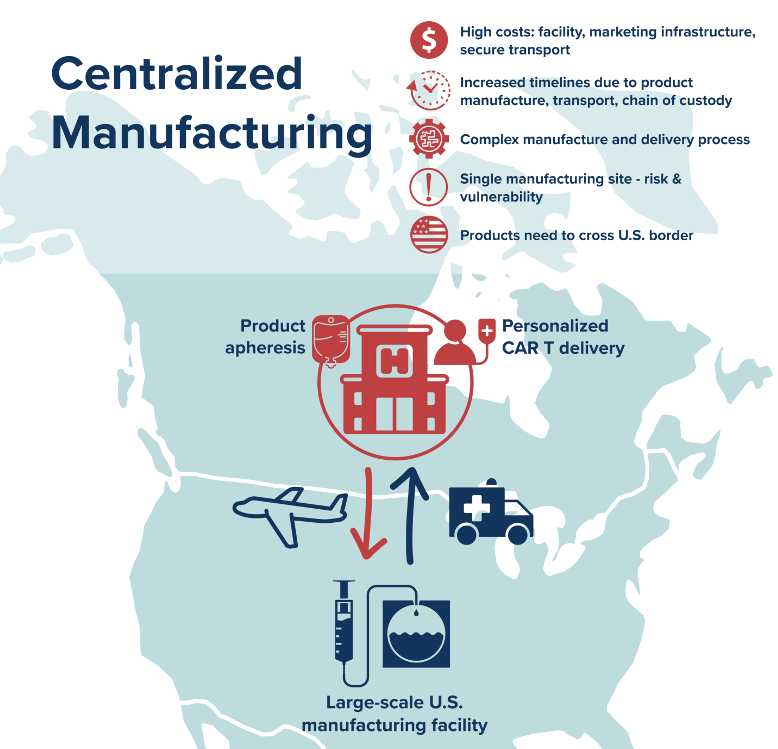 BioCanRx is currently expanding its decentralized manufacturing CAR T manufacturing know-how to sites across Canada in order to enable access to novel CAR T-cell therapies to an increased number of patients and in more provinces while also laying down the foundation to facilitate the treatment of other cancers. To date, BioCanRx has made targeted investments in domestic POC and virus manufacturing totaling almost $3.4M. The CLIC platform combines biomanufacturing know-how to support decentralized biomanufacturing, preclinical investment for the development of novel CAR T cell therapies to treat other cancers and a clinical trial protocol developed with patients as partners. This CLIC platform is the foundation that will provide CAR T cell therapies to patients in British Columbia, Ontario, Manitoba, Saskatchewan, New Brunswick and Alberta. The CAR T therapies produced using the CLIC platform are fully made-in-Canada: from the manufacture of GLP-grade plasmids (Dr. Robert Holt; BCCA), to GMP viral vector manufacture (Drs. John Bell and Jennifer Quizi; BMC at the OHRI) and manufacture of the CAR T using a closed system (sites across Canada).
To build our CLIC platform foundation, BioCanRx invested $1.025M in three research projects to develop the next generation of CAR T-cell therapies that will use the CLIC platform. The projects, led by Drs. Kevin Hay (BC Cancer), Scott McComb (uOttawa/NRC) and Douglas Mahoney (University of Calgary) are titled, "Enabling a Phase I/II Multicenter Clinical Trial of a Novel Single Domain (sd)CD-22-specific Camelid-derived Chimeric Antigen Receptor (CAR) T-cell Therapy" and "Clinical Trial Enabling Studies for Multi-targeted Chimeric Antigen Receptor Therapeutics for the Treatment of B-Cell Malignancies", and "Personalized CAR T-cell Therapy for a Patient with a Rare Sarcoma", respectively. BioCanRx partners have invested $5.94M.
Additionally, BioCanRx announced significant, targeted investments in domestic point-of-care cell manufacturing to build out a decentralized point-of-care network and to bolster GMP viral vector biomanufacturing. Combined, this almost $3.4M investment is focused on enabling the translation of cutting-edge biotherapeutics through expanding biomanufacturing capacity in Canada for the benefit of Canadian cancer patients.
Made-in-Canada CAR T Therapy Timeline
Supporting the CLIC platform with Innovative Clinical Trial Design and Health System Implementation Studies
To support the CLIC platform, BioCanRx funded a CSEI project titled GO-CART (Getting Better Outcomes with Chimeric Antigen Receptor T cell therapy) led by Dr. Manoj Lalu and colleagues; OHRI). This integrated knowledge translation project was complementary to CLIC1901, aimed at developing clinical trial protocols around novel technologies with multi-stakeholders (patients and oncologists) and at building upon a comprehensive evidence base by incorporating early Health Technology Assessment (HTA). The GO-CART model will be used for the protocol of the CLIC platform.
"Immunotherapies like CAR T therapy work by boosting the body's immune system, to help it recognize and kill cancer cells. We know now that by taking T cells out of patients and reengineering them, we can get them to have dramatic responses in some kinds of cancer patients. Unfortunately, in Canada, we don't have this technology available to us to be used widely across the country. So BioCanRx investments are allowing us to be in a position to manufacture this kind of product ourselves, get our own scientists engaged in being able to actually test their ideas, exploiting this new technology and, we hope, to bring something to the Canadian people much faster than it would be otherwise."
– Dr. John Bell, Scientific Director, BioCanRx
"Without this trial, I don't think any of these patients would be alive today, so we are very encouraged by these results," said Dr. Kekre. "So far, we are seeing an average progression-free survival of six months, which is very good in this patient population."
– Dr. Natasha Kekre, Hematologist, The Ottawa Hospital