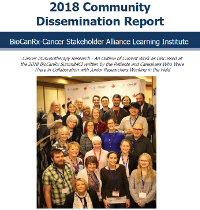 The participants of the 2018 BioCanRx-Cancer Stakeholder Alliance Learning Institute wish to share their Community Dissemination Report with the oncology patient and researcher community, BioCanRx, the Cancer Stakeholder Alliance, and the general public.
In this report, you will find the key research take-away messages and the Learning Institute's group reflections on the topics listed below that were presented at the Summit for Cancer Immunotherapy in October 2018:
Opening Keynotes
Tackling Challenges in Car T and Engineered T cells (Plenary One)
Understanding and Overcoming Resistance Mechanisms in Immunotherapy (Plenary Two)
The Underdogs: The Other Players in Cancer Immunotherapy (Plenary Three)
The Tumour Microenvironment/Metabolism and Immune Profiling (Plenary Four)
Emerging Approaches to Enhancing Translational Research: Innovative Design and Patient Involvement (Plenary Five)
Antigen Discvoery and Neo-epitopes (Plenary Six)
Combination Immunotherapy Strategies (Plenary Seven)
For more information about the Summit for Cancer Immunotherapy, please visit here.
For more information about The Learning Institute, please visit here.
Click here for the full report

"I believe we have created something special here. Something worth building on. Something that will change the culture of cancer research and improve the scientific enterprise."
– Patrick Sullivan, Cancer Stakeholder Alliance Working Group Chair
"Based on the overwhelmingly positive feedback, the Learning Institute has become a permanent component of our annual Summit for Cancer Immunotherapy."
– Dr. Stephanie Michaud, President and CEO of BioCanRx, and Dr. John Bell, Scientific Director of BioCanRx