At BioCanRx, we are incredibly proud of our HQP and their dedication to cancer immunotherapy research. Whether they are working on viruses in the lab or examining the socioeconomic barriers to adopting certain treatments in Canada, each one plays a unique role in strengthening our network and expertise in immunotherapy.
BioCanRx is invested in our HQP by providing them with both the training and skills they need to be leaders in academia and industry.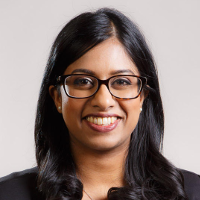 1. Tell us about yourself. Give us a brief background. Who are you? Where did you go to school and what is your association to BioCanRx?
Hello, my name is Piriya Yoganathan. I have always been fascinated in understanding the genetic basis underlying human disease, and pursued a BSc in Cell Biology and Genetics at the University of British Columbia to quench my interest. During my undergraduate studies, I had the opportunity to contribute to research projects focused on metabolic disorders in the labs of Dr. Susanne Clee, and Dr. Jan Ehses. As I was interested in expanding into the field of cancer research, I completed my PhD in the Department of Pathology and Molecular Medicine at Queen's University with a specialization in Cancer Research under the supervision of Dr. Lois Mulligan.
Following graduate studies, I joined the Biotherapeutics Manufacturing Centre-Virus Manufacturing Facility (BMC-VMF), Ottawa Hospital Research Institute as a post-doctoral fellow. Specifically, at the BMC-VMF, I was part of the team led by Dr. John Bell that developed a clinical-grade lentivirus manufacturing process as part of the BioCanRx-funded project to build manufacturing capacity to enable CAR-T therapy in Canada. This production process was used by the BMC-VMF to manufacture sufficient amounts of clinical-grade lentivirus material to support the ongoing, made-in-Canada Canadian-Led Immunotherapies in Cancer (CLIC)-01 CAR T clinical trial. I also recently completed an Executive MBA through the Telfer School of Management at the University of Ottawa.
As a post-doctoral trainee, I participated in many valuable workshops and conferences organized by BioCanRx, including the annual Summit for Cancer Immunotherapy.
2. Where do you work now, and what is your position?
I work at the Biotherapeutics Manufacturing Centre – Virus Manufacturing Facility, Ottawa Hospital Research Institute as Head of Research and Development (R&D). The BMC-VMF offers development and GMP manufacturing services to clients for production of therapeutic viruses and vaccines destined for pre-clinical studies, and early phase clinical trials. In this role, I have the exciting, and humbling opportunity to work alongside an exceptional team to contribute to the development of clinical-grade production processes for both academia and industry.
3. What does typical work day look like for you?
Each work day at the BMC-VMF is unique, and consists of exciting, and fast-paced adventures in a highly collaborative, and team-based environment. The R&D team focuses on development studies for academic and industry partners, and internal development efforts to increase and advance our innovative capabilities. I also keep up-to-date on the latest technical advances in the biomanufacturing field to ensure we implement recent strategies and approaches in our current work.
4. How has your experience with BioCanRx contributed to your career development?
My experience with BioCanRx has had an immense positive contribution to my career development. The opportunity to participate in various BioCanRx conferences and workshops, including the annual Summit for Cancer Immunotherapy, has enabled me to actively learn about recent scientific advances, network with Canadian and international trainees and scientists, and strengthen presentation skills. Additionally, involvement with the aforementioned BioCanRx-funded project provided a valuable opportunity to learn first-hand about many relevant aspects of biomanufacturing, including designing process development experiments, GMP manufacturing, and writing a clinical trial application.
5. What advice do you have for career development that you would pass on to other BioCanRx trainees?
Actively engage in networking opportunities. There is a plethora of potential careers in academia, industry and government – networking will help uncover career opportunities that may be a good fit, and provide insights on skill set required in respective sectors, and positions.
Embrace continuous learning. Learning new skills or building upon existing expertise through various means will help broaden your professional toolkit for your career development.
Strengthen a resilient mindset. As we have all experienced first-hand with the current global pandemic, there are bound to be unexpected situations that may impact your career development. In these instances, adaptability, and optimism may help as you navigate your career.