At BioCanRx, we are incredibly proud of our HQP and their dedication to cancer immunotherapy research. Whether they are working on viruses in the lab or examining the socioeconomic barriers to adopting certain treatments in Canada, each one plays a unique role in strengthening our network and expertise in immunotherapy.
BioCanRx is invested in our HQP by providing them with both the training and skills they need to be leaders in academia and industry. We are pleased to introduce Parvez Vora, a former postdoctoral fellow in the Singh lab at McMaster University.
Tell us about yourself. Give us a brief background. Who are you? Where did you go to school, and what is your association to BioCanRx?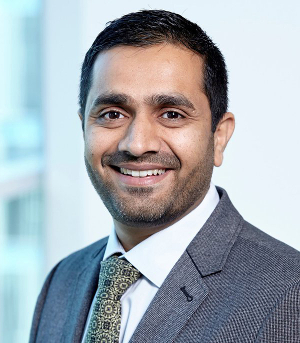 I am a cancer biologist with a background in translational immunotherapy research and experience in leading collaborative drug development projects. As a part of my academic endeavors, I completed M.Sc. from the University of London (UK) and a Ph.D. at the University of Manitoba (Canada). In 2012, I joined Dr. Sheila Singh's laboratory at McMaster University to develop novel in vitro and in vivo therapeutic approaches to strategically target the treatment-resistant cancer cell population that drives recurrence in brain tumor patients.
In 2016, I co-authored the BioCanRx Catalyst program grant awarded to Dr. Singh (McMaster) and Dr. Moffat (University of Toronto) to design immunotherapeutic strategies for brain tumors. The research funding led to the development of therapeutic modalities against cancer cells that escape conventional chemoradiotherapy. The study results were published in Cell Stem Cell journal in May 2020 and led to the formation of a new Hamilton-based start-up company called Empirica Therapeutics.
Where do you work now, and what is your position?
The publicity around the formation of Empirica Therapeutics and demonstration of potential cell therapy for the treatment of Glioblastoma (GBM) brain tumors in preclinical models, as published in Cell Stem Cell journal, caught the attention of Bayer-backed Century Therapeutics. The Philadelphia-based Century specializes in developing cell therapies from induced pluripotent stem cells (iPSCs) that have been genetically engineered to avoid immune rejection. Century recently acquired Empirica to drive the development of allogeneic cell therapies against GBM. As Site-Head of Century research labs in Canada, I now lead a talented team of scientists tasked with developing next-generation, off-the-shelf cell therapy for recurrent GBM. We are developing Empirica's proof-of-principle treatment for recurrent GBM into therapy that can be tested on patients.
What does a typical workday look like for you?
I plan my day/week by prioritizing various ongoing research and operational activities in the company. 80% of my time goes towards research efforts, including project planning, tracking the progress of existing programs, and coordinating with cross-site research teams. I assume much of the overhead, allowing the individual team members to focus deeply on researching and developing the models. A big chunk of my day goes towards writing reports, attending lab & journal meetings, and strategic scoping with other teams in the company.
The remaining 20% of my day goes towards managing research operations of state-of-the-art facilities and equipment, optimizing scientific support for the group, overseeing adherence to project budgets, and planning and executing space use and changes.
How has your experience with BioCanRx contributed to your career development?
As one of the early cadres of BioCanRx's Highly Qualified Personnel (HQP) training program, I am a text-book example of how BioCanRx supports research personnel who want to translate immunotherapies from the lab to the clinic. Over the years, I have actively participated in professional development and clinical translation workshops organized by BioCanRx. I benefited the most from the annual 'Summit for Cancer Immunotherapy' meetings, which broadened my subject knowledge and enabled me to build a network with academic researchers & industry professionals. It helped me gain valuable insights into various job opportunities that guided my career development.
What advice do you have for career development that you would pass on to other BioCanRx trainees?
Remember, there is no 'rule book' for successful career development. Make sure that you are ready when opportunity knocks on the door. Keep learning and enhancing your knowledge constantly for the next 'big role'. Developing your skills proactively will make you stand out. Ultimately, as Rumi said – 'What you seek is seeking you'.