Gain hands-on training in specific skills by signing up for workshops that are near you!

Bench to Bedside for Biotherapeutics (B3) Workshop presentations
Clinical Translation Continuum: An introduction to clinical translation of biotherapeutics for scientists

Brought to you by: BioCanRx, CellCAN, Centre for Commercialization of Regenerative Medicine (CCRM), The Foundation Fighting Blindness, Ontario Institute of Cancer Research (OICR), Ontario Institute of Regenerative Medicine (OIRM), and Stem Cell Network.

Click here or on the image below to learn more and view the workshop video presentations.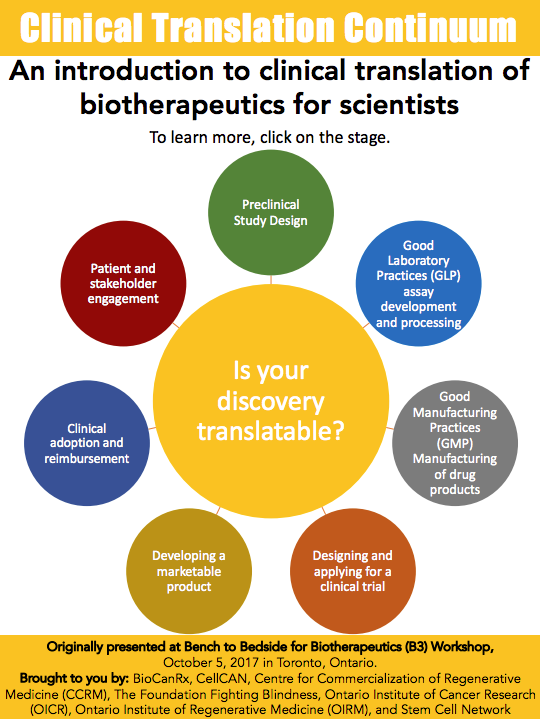 MITACS STEP
CAREER PROFESSIONALISM
TIME MANAGEMENT
NETWORKING SKILLS
PRACTICE YOUR PRESENTATION SKILLS I
PRACTICE YOUR PRESENTATION SKILLS II
SKILLS OF COMMUNICATION
SCIENTIFIC AND TECHNICAL WRITING SKILLS
DISCOVERING THE ENTREPRENEUR WITHIN
FOUNDATIONS OF PROJECT MANAGEMENT I
FOUNDATIONS OF PROJECT MANAGEMENT II
ESSENTIALS OF PRODUCTIVE TEAMS
WRITING EFFECTIVE EMAILS
WRITING STRATEGIC BUSINESS REPORTS