At BioCanRx, we are incredibly proud of our HQP and their dedication to cancer immunotherapy research. Whether they are working on viruses in the lab or examining the socioeconomic barriers to adopting certain treatments in Canada, each one plays a unique role in strengthening our network and expertise in immunotherapy.
BioCanRx is invested in our HQP by providing them with both the training and skills they need to be leaders in academia and industry.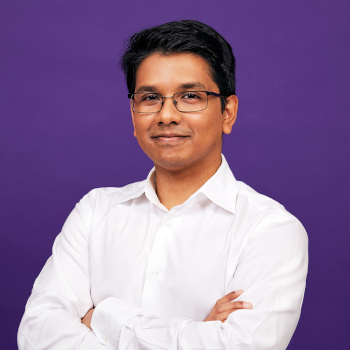 1. Tell us about yourself. Give us a brief background. Who are you? Where did you go to school and what is your association to BioCanRx?
Hi, I'm Sarwat and I became associated with BioCanRx during my time with Dr. Auer at the OHRI. I participated in BioCanRx conferences and workshops, worked on BioCanRx funded projects, and received a BioCanRx Travel Award. I am originally from Bangladesh but I did my BSc in Biochemistry and MSc in Microbiology and Immunology at uOttawa. I spent 5 years at the Ottawa Hospital Research Institute, initially working on T cell immunology in chronic infections with Dr. Crawley and then on oncolytic vaccines with Dr. Auer and Dr. Bell. My love for immunology is only rivaled by my love for FIFA and board games!
2. Where do you work now, and what is your position?
I work at Nexelis in Laval, QC as a Senior Scientist in the CMI (Cell-mediated Immunity) department. As a global CRO, we work to support pharmaceutical companies in various stages of vaccine clinical trials.
3. What does typical work day look like for you?
It usually starts with a cup of coffee. And then each day can be very different. I am usually working on researching and developing new assays (a lot of them to do with SARS-CoV-2, as you may expect), drafting study plans, reports and protocols, and analyzing and reviewing data. I also manage half of the CMI team and oversee lab logistics. Some of my time is spent discussing project plans and outcomes with management and clients as well. I also do lab work from time to time, troubleshooting assays, helping to move projects forward or training new team members. We have a great team at Nexelis and work is fast paced, exciting and relevant, and there is hardly ever a boring day!
4. How has your experience with BioCanRx contributed to your career development?
Through BioCanRx, I have had the opportunity to network with budding scientists and brilliant minds from across Canada. I have attended conferences and workshops through BioCanRx as well, which has helped me enhance my knowledge and broaden my network.
5. What advice do you have for career development that you would pass on to other BioCanRx trainees?
Find something you really enjoy and then work on excelling at it. More importantly, challenge yourself and don't be afraid to take the next step forward in your career!