At BioCanRx, we are incredibly proud of our HQP and their dedication to cancer immunotherapy research. Whether they are working on viruses in the lab or examining the socioeconomic barriers to adopting certain treatments in Canada, each one plays a unique role in strengthening our network and expertise in immunotherapy.
BioCanRx is invested in our HQP by providing them with both the training and skills they need to be leaders in academia and industry. We are pleased to introduce Laura Evgin, who worked in the lab of Dr. John Bell in Ottawa, Ontario.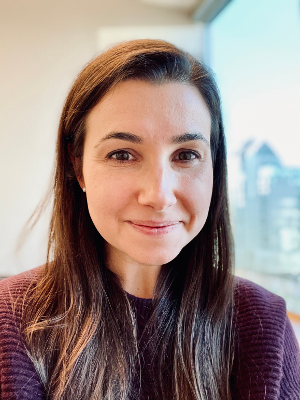 1. Tell us about yourself. Give us a brief background. Who are you? Where did you go to school and what is your association to BioCanRx?
My name is Laura Evgin and I did my PhD with John Bell at the University of Ottawa. I studied the barriers to the systemic delivery of oncolytic viruses (OVs) and developed a strategy to improve the infectious dose delivered to tumours. I then wanted to apply this OV experience to an adoptive T cell setting and I moved to Minnesota to do a post doc with Richard Vile at Mayo Clinic. There I characterized an unexpected mechanism of therapeutic interference between OV-derived type I interferon and chimeric antigen receptor (CAR) modified T cells. I used this understanding to develop genetically edited CAR T cells which could more effectively be used in a combination setting.
Doing a post doc at Mayo was an important step in my career trajectory and I built a great network in the US. However, this time away did leave me a bit disconnected from what was being developed in Canada. BioCanRx was a very useful link back to the cancer immunotherapy efforts in Canada.
2. Where do you work now, and what is your position?
This past month, I started as an assistant professor at the University of British Columbia in the department of Medical Genetics and a scientist in the Michael Smith Genome Sciences Centre at BC Cancer.
3. What does typical work day look like for you?
The pandemic has really up-ended what a typical workday looks like. At the moment several daily zoom calls! I am working to get my lab up and functional so that means developing institutional protocols, ordering equipment and writing funding applications, all while trying to still tie up some loose ends from my old lab.
4. How has your experience with BioCanRx contributed to your career development?
I attended the BioCanRx meeting in Banff a couple years ago and it was a really nice way for me to showcase the work that I had done during my post doc and to network with Canadian scientists and trainees. It was an opportunity to get up to speed with ongoing academic projects and also the clinical CAR T efforts in Canada. For post docs working abroad, these types of connections are very important to navigate the process of coming back home.
5. What advice do you have for career development that you would pass on to other BioCanRx trainees?
Be creative, be open minded, and be willing to follow the science wherever it takes you (regardless of your initial hypothesis). I never set out to characterize why an OV could lead to problems with CAR T cells, but my work uncovered some interesting biology that will help to develop better combination strategies.
My lab is recruiting! I am looking for graduate students to start in September 2021 and a staff scientist to help get things rolling in the lab.
---
Previous where are they now: