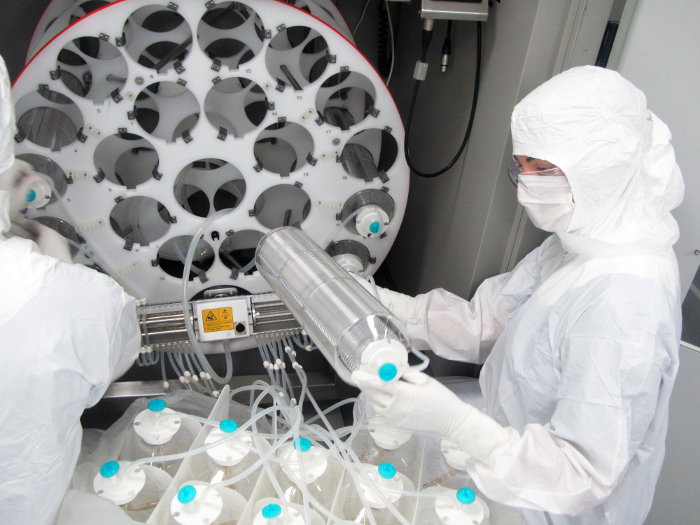 BioCanRx invests in facilities that specialize in GMP viral vectors and GLP immune-monitoring. These facilities provide services, analyses, instruments, technology access, and expertise that enable and enhance the clinical research activities of our investigators.

At this time, we do not invest in infrastructure in immune cell manufacturing but can connect you with facilities with such capabilities. Contact Jennifer Quizi at jquizi@biocanrx.com.

We are dedicated to growing the capacity and expertise of our core facilities. If you have an agent or process not currently in use by these facilities, please contact them directly to discuss the scope and feasibility of your request

GMP VIRAL VECTOR CORE FACILITIES
BIOTHERAPEUTICS MANUFACTURING CENTRE (BMC)
BIOTHERAPEUTICS MANUFACTURING CENTRE (BMC)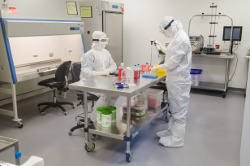 The Biotherapeutics Manufacturing Centre (BMC) (formerly known as the Oncolytic Virus Manufacturing Facility (OVMF)), located at The Ottawa Hospital, is a Grade B-compliant manufacturing facility specifically designed to manufacture Biosafety Level 2 oncolytic viruses for human clinical trials. The 37 m2 GMP production facility houses a RollerCell 40 (RC40) incubator and rotor permitting the simultaneous production from 40 extended roller bottles with a combined 170,000 cm2 of cell growth surface area.

The BMC has successfully undergone GMP audits to FDA and European standards and have manufactured several oncolytic rhabdoviruses and poxviruses for clinical trials currently ongoing or completed in Canada, the United States and Europe. Experienced scientists are responsible for in-house Process Development to aid development of GMP compliant manufacturing processes. Development of Standard Operating Protocols (SOPs), execution, and validation are in accordance with ICH Q2 regulatory guidelines and all the work that relates to GMP manufacturing at BMC, is overseen by our Quality Assurance department. In addition to their research and manufacturing efforts, they provide dedicated Project Management to ensure timelines are met and projects stay within budget. Overall, they aim to progress a multitude of OV therapies from the bench into the clinic by enabling and improving OV manufacturing.

For more information, please contact:
Liana Medynski
(613) 737-8899 ext. 73401
lmedynski@ohri.ca

THE ROBERT E. FITZHENRY VECTOR LABORATORY
THE ROBERT E. FITZHENRY VECTOR LABORATORY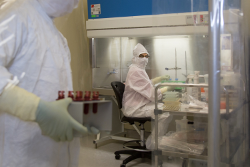 The Robert E. Fitzhenry Vector Laboratory located in the Michael G. DeGroote Centre for Learning and Discovery (MDCL) at McMaster University is a 3000 ft2 GMP facility. Connected by a pass-through, the facility is divided into two suites: the Cell Laboratory Suite and the Vector Laboratory Production Suite, with each cleanroom providing a Grade A/ISO 5 environment within a Grade C/ISO 7 background.

The facility operates on a "campaign manufacturing" basis whereby the facility is devoted to manufacturing one viral vector at a time in campaigns separated by extensive cleaning and environmental monitoring.

GLP IMMUNE-MONITORING CORE FACILITIES
HUMAN IMMUNE TESTING SUITE (HITS)
HUMAN IMMUNE TESTING SUITE (HITS)

The Human Immune Testing Suite (HITs) located in the McMaster Immunology Research Centre is a self-contained 1100 ft2 research laboratory restricted to the immunological analysis of human clinical samples. HITs operates according to Standard Operating Procedures (SOPs), and have developed document process near-GLP.

HITs provides a one-stop shop to the scientific community seeking to perform human immunological analysis. Staff regularly consults on study design and assay design, both for assays that will be performed within HITs and elsewhere. HITs has established a number of routine analyse that are available for studies of cancer immunotherapy:

Immune phenotyping of T cells, NK cells, monocytes and dendric cells
Measurement of CD8+ and CD4+ T cell immunity to common tumor antigens (ex. HER-2, MUC1, NY-ESO-1, MAGE family, TERT)
Flow based analysis of NK function (cytokine production and killing)
Basophil activation based on mobilization of CD63, CD107a and CD203

HITs can also perform multiplex analysis of plasma cytokines using the Luminex MAGPIX platform, which products pictogram sensitivity. Capacity to monitor humoral responses against the tumor using SEREX methodologies based on recombinant lamba and T7 phage libraries and using multiplex MAGPIX with customized antigens produced in-house

HITs has participated in 12 major clinical studies that involve reception, cataloguing and storage of >10 000 clinical specimens and analysis of >5000 specimens.

For more information, please contact:
905-525-9140 ext. 24960
hits@mcmaster.ca

IMMUNOGENOMICS CORE FACILITY
IMMUNOGENOMICS CORE FACILITY

The BioCanRx Immunogenomics Core Facility at Canada's Michael Smith Genome Sciences Centre in Vancouver is led by Dr. Rob Holt (PI) and supports researchers and collaborators across Canada and around the world as they address important questions in the field of cancer biotherapeutics.

The Immunogenomics Core specializes in:
T-cell and B-cell receptor (TCR and BCR) repertoire sequencing
Large scale sequence based HLA typing
MHC binding prediction and neoantigen discovery
Bioinformatics
Molecular cloning
Lentiviral vector design and non-GMP production
GMP-ready plasmid manufacturing at large scale

The Immunogenomics Core, is embedded within the genomics facility at Canada's Michael Smith Genome Sciences Centre (GSC) at the BC Cancer Agency. The GSC is a node within the Genome Canada Genome Innovation Network and also a Compute Canada Node. The GSC provides further high throughput, collaborative services, including

Whole genome sequencing
Transcriptome sequencing (RNA-seq and miRNA-seq)
Custom amplicon sequencing

The GSC currently operates several Illumina HiSeqX, HiSeq 2500 1 Tb, NextSeq500 and MiSeq systems, automated Life Technology-ABI capillary sequencers, and an Oxford Nanopore MinION system. Computational infrastructure includes >10,000 CPUs and > 10 Petabytes of data storage. Since its inception, the GSC has generated and processed more than 1 Petabase of DNA sequence information.

The GSC is College of American Pathologists (CAP) accredited for clinical sequencing and all platforms are supported by dedicated, professional teams for

Quality Systems
Project Management
Laboratory Operations
Biospecimen tracking and handling
Technology Development

Funding for the Vancouver Immunogenomics Core is provided by:




For more information, please contact:
Payal Sipahimalani
payals@bcgsc.ca

MOLECULAR & CELLULAR IMMUNOLOGY CORE (MCIC)
The Molecular & Cellular Immunology Core (MCIC) located at the BC Cancer Agency's Deeley Research Centre (DRC) has state-of-the-art equipment for molecular immunology and pathology studies.

We offer a full spectrum of IHC services including:

tumour tissue preparation (tissue processing, embedding, microtomy and construction of tissue microarrays)
automated staining of tumor tissues with various and custom defined panels, with a special focus on tumour immunology (Intellipath automated slide stainers)
high throughput bright field and fluorescence imaging platforms (Pannoramic Midi and Vectra slide scanners)
multispectral automated analysis (Nuance, inForm software).
cytogenetic techniques (in situ hybridization (ISH) and in situ PCR (isPCR)).

The MCIC is a leading centre in Canada for evaluation of the tumor microenvironment by multi-colour immunohistochemistry (mcIHC). This technology allows for the simultaneous visualization of the interactions and functional relationships between immune cell populations within the tumour microenvironment.

The MCIC routinely collaborates with academic and industry partners to provide world-class IHC services from the initial workup phase to the generation of publication ready images and data analysis.

For more information, please contact:
David Bond, PhD.
David.Bond@bccancer.bc.ca