A message from Dr. John Bell, Scientific Director and Stéphanie Michaud, President & CEO

Cancer is a disease that knows no boundaries. It is a leading cause of death worldwide, responsible for 8.8 million deaths per year. The disease is one of the biggest health challenges facing Canadians: 2 in every 5 of us will face a cancer diagnosis in our lifetime.

World Cancer Day wants to change these statistics. On February 4th, this global initiative will aim to raise awareness and education about cancer and ask governments and individuals to take action to save more lives from this horrific disease. We know that more than one third of these deaths are preventable, and if detected early enough, many cancers are curable.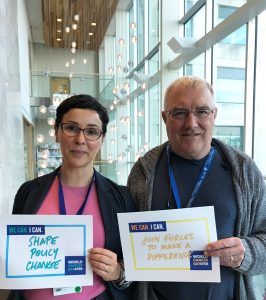 BioCanRx is proud to take part in the effort to unite the world's population in the fight against cancer. Our pan-Canadian network of investigators and partners from patient groups, industry, not for profits and government organizations are working to find new ways to enable the body's own immune system to outsmart and kill cancer. Together we are accelerating the development of leading edge immune oncology therapies for the benefit of patients.

BioCanRx invests in translating Canadian technologies from the lab into early phase clinical trials, and addresses the socio-economic considerations necessary for their adoption by health-care systems. We're also training and developing the next generation of immunotherapy researchers and the talent needed to build capacity for a thriving health biotechnology sector in Canada.

"We can, I can" is the World Cancer Day campaign theme. We can all inspire action and take action – collectively and individually. From creating healthier schools and cities to improving access to cancer care. By making heathier lifestyle choices and understanding that earlier detection saves lives. Find out what you can do by visiting: http://www.worldcancerday.org/ Whether you support a cancer charity, volunteer, participate in events or post on social media, we can all make a difference this World Cancer Day – and every day.