At BioCanRx, we are incredibly proud of our HQP and their dedication to cancer immunotherapy research. Whether they are working on viruses in the lab or examining the socioeconomic barriers to adopting certain treatments in Canada, each one plays a unique role in strengthening our network and expertise in immunotherapy.
BioCanRx is invested in our HQP by providing them with both the training and skills they need to be leaders in academia and industry.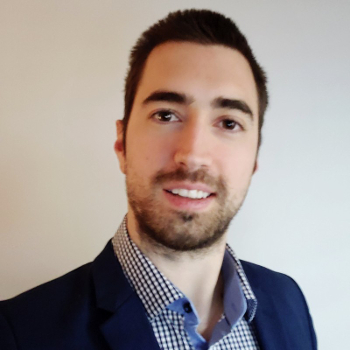 1. Tell us about yourself. Give us a brief background. Who are you? Where did you go to school and what is your association to BioCanRx?
What is up. My name is Rob. I finished my PhD in Pathobiology in 2020 at the University of Guelph where I studied cancer immunotherapy. My thesis focused mainly on cancer vaccines mediated by attenuated viruses or cell-based vaccines. I attended all of BioCanRx's summits for cancer immunotherapy since their inaugural conference hosted in Halifax in 2016. During that time I was a member of the Summit4CI HQP working group, the BioCanRx HQP development committee.
2. Where do you work now, and what is your position?
I work at a biotech company called Ensoma in Boston. We are an early-stage company focused on exciting gene therapies. Our platform uses a helper-dependent adenovirus to deliver genes of interest to many cell types in vivo, sparing patients from cumbersome ex vivo cell collection and conditioning. I'm currently a Scientist I, working on translational biology in the R&D department.
3. What does typical work day look like for you?
I struggle mightily until I have a cup of coffee, so the day generally starts with that. After I've been resurrected by that caffeine-rich goodness I'll check my calendar for what the days of the week entail. One big difference to academia I've noticed is there are lots of meetings in industry. So, a typical day generally involves aligning with teammates on our goals and executing them in the lab. Some days are slam packed with a lot of bench/mouse work, while others are heavy in planning/data analysis, so it varies quite a bit!
4. How has your experience with BioCanRx contributed to your career development?
I'd say biggest impact BioCanRx has had on my career development is refining a lot of my soft skills. Each year I got to communicate my research at a high level, meet new people and make connections. I always found that to be tricky, but I felt each year all of those things got a bit easier, just through the exposure BioCanRx provided. A lot of the workshop/break-out sessions in particular were very helpful in navigating the unknown of post-grad school life.
5. What advice do you have for career development that you would pass on to other BioCanRx trainees?
Get in the mix. It can be uncomfortable to present your research to your peers, strike up a conversation with someone new, join a committee, or network in general. But you have to do it if you want to grow professionally. The good news is that it gets easier the more you do it you put yourself out there. There was something someone said at a Summit4CI workshop that stuck with me. "People like doing business with people they like". I've found that to be very true over the years. It doesn't matter how great a scientist you are, if you don't put yourself out there and have a good set of soft skills it'll be difficult to find a good place to work. What kills a candidate's chances during interviews that I've been on is bad soft skills like being rude, poor communication, or a negative attitude. Very rarely is a candidate disqualified by anything science related. So, get in the mix, you can do it! : – ).
Good luck!!