We are monitoring COVID-19, and may update deadlines if travel advisories are still in effect.
The goal of BioCanRx HQP* Travel Awards and Lab Exchanges is to enable professional and technical development for the benefit of the HQP and for the network at-large. The awards will provide funding to support HQP access to external opportunities not offered by the network. Please see the criteria below to determine the appropriate opportunity for you!
If you have any questions about these programs, please contact Sarah Ivanco at sivanco@biocanrx.com.
HQP Travel Awards
Lab Exchange Program
Purpose
To enrich HQP development relevant to BioCanRx's mission that are offered by external organisations

To establish partnerships focused on training, in particular skills development and technology transfer, as well as strengthen connections between network members and/or industry partners
To create subject matter experts to act as resources for the BioCanRx network

Maximum Funding
Up to $1,200 CAD
Up to $3,000 CAD
Applicant Eligibility

Priority is given to HQP working under a BioCanRx investigator, or at a BioCanRx Core Facility
HQP's project or work responsibilities directly contribute to BioCanRx's mission
o Priority is to HQP who have not previously received an BioCanRx HQP Travel Award**

Event /Exchange Eligibility

Must relate to one of BioCanRx's priority areas:

therapeutic antibodies
adoptive cell therapies
oncolytic viruses
clinical, social and economic implications of cancer biotherapeutics research

Partnering research group/industry partner must provide specialised skills training or technology transfer not widely available***

Knowledge/training gained will benefit all of the following:

HQP's project/work responsibilities
HQP's career development
Research group/team
BioCanRx network

Eligible Expenses****

Travel
Accommodation
Meals

Reporting
Post-event feedback form (required)
Testimonial (voluntary)
Post-exchange report
Testimonial (voluntary)
Application Deadline

Friday, May 27th, 2022 (two awards granted)
Friday, September 2nd, 2022 (one award granted)
Friday, December 2nd, 2022 (one award granted
Subsequent years' deadlines to be announced

Friday, May 27th, 2022 (one award granted)
Friday, September 2nd, 2022 (one award granted)
Subsequent years' deadlines to be announced

Award Details
Award Details
Award Details
Applications
Apply Here
Apply Here
Budget Template
Budget Template
* Highly qualified personnel are defined as any staff member working for a principal investigator, which includes but is not limited to: graduate students, postdoctoral fellows, research associates, technical or clinical research staff.
** This does NOT include Travel Awards to attend the Summit4CI (i.e., those who have received Travel Awards to attend the Summit4CI are still eligible for these open Travel Awards)
*** Priority will be given to exchanges between BioCanRx research/clinical groups or between a BioCanRx research group and industry partner
**** Subject to daily maximums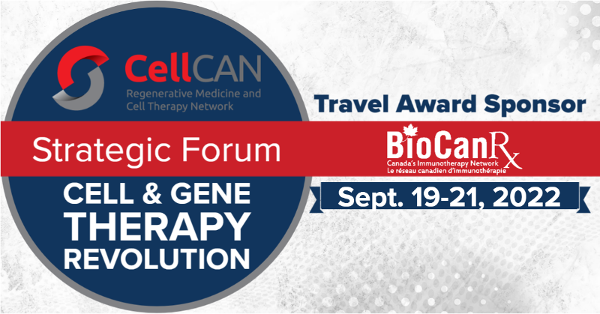 BioCanRx HQP Travel Award
CellCAN pan-Canadian Strategic Forum
September 19 – 21, 2022
The BioCanRx mission is to build and foster a network that accelerates Canada's most promising biologically based cancer therapies into clinical trials. Canadian scientists and students involved in the research and development of cancer biotherapeutics are central to achieving our mission, and we believe that staying current with the field and continually updating one's skill sets are important to your personal success, the network and the entire field. Below is a travel award opportunity for HQP.
The third CellCAN pan-Canadian Strategic Forum is taking place in Ottawa from September 19 to 21, 2022. In partnership with the C3i Center and CCRM, this Strategic Forum represents a great opportunity to identify concrete actions – from manufacturing to commercialization – that can be taken to help stakeholders in our field become better equipped to develop cell, tissue and gene therapies. For more information and how to apply, please check out the application form below:
Travel Award Application Deadline: July 22nd, 2022
Past BioCanRx HQP Travel Awardees Testimonials

Dr. Christopher Helsen, PhD; Bramson Lab, McMaster University

Attended the Immunotherapy: The Ontario Landscape meeting

"Receiving the Travel award was an immense honor. For me the main focus of the award lay in the competition. Preparing the required documents and research proposals as well as future research plans was a very good learning experience. As a young researcher trying to transition into a faculty position these kinds of competitions are very important. In this regard, the award competitions are exactly what are needed. This makes the competition in itself worth it, irrespective of the success in obtaining the award."
Dr. Lee-Hwa Tai, PhD; Auer Lab, Ottawa Hospital Research Institute

Attended the Immunotherapy: The Ontario Landscape meeting

"As a senior PDF transitioning to young PI status, listening to the talks about cancer immunotherapy across Ontario both validated and challenged my own research ideas and projects. In addition, I got to socialize with my peers, get career management advice from mentors and network with potential collaborators."
Angela Ahn, PHD Candidate; Ursini-Siegel Lab, Lady David Institute

Attended the Clinical Application of Tumour-infiltrating Lymphocyte Therapy workshop

"It was an absolute privilege being supported by BioCanRx Travel Award to cover the cost of attending this conference. The application and reimbursement procedure and communication from the coordinators Jovian and Rebecca were exceptionally clear and prompt."
Anne Monette, PHD; Lapointe Lab, Université de Montréal

Attended the Clinical Application of Tumour-infiltrating Lymphocyte Therapy workshop

"My experience attending the Clinical Application of Tumour-infiltrating Lymphocyte Therapy (CATT) Workshop was very memorable. It was a great opportunity to attend this meeting with the Canadian leaders in adoptive cell therapy, to understand the recent advances of TIL-therapy and ongoing and upcoming challenges related to both the clinical protocols, policy and regulatory affairs, costs associated to treatment, and also to learn from international specialists on the status of these subjects in their regions. Overall, I learned many important things there that will most certainly be enriching to my personal career development in this very exciting field of research. I am grateful for having been awarded the BioCanRx travel award, and also for having been given a chance to present some of my own research findings to such an impressive group of experts in the field of onco-immunology."
Victoria Hodgson, Research Assistant II; Nelson/Webb Lab, BC Cancer Agency

Attended the Clinical Application of Tumour-infiltrating Lymphocyte Therapy workshop

"Receiving the BioCanRx Travel Award enabled me to attend the TIL therapy workshop in Toronto to benefit both my own professional development and our newly emerging TIL therapy program in Victoria BC. The Travel Award coverage for my flights, accommodation, and meals was plenty for my experience at this workshop.

My professional development has benefited through networking and connections made at the workshop. I value having the opportunity to discuss the specifics of TIL therapy with other professionals, and to contribute my own expertise and ideas to this field. Contributing as a trainee modulator and as an author on the workshop summary will also positively impact my professional development. Through this experience my perspective of TIL therapy in Canada and worldwide has been broadened, positively impacting my future work in this field."
Scott Walsh, PHD; Wan Lab McMaster University

Attended the Clinical Application of Tumour-infiltrating Lymphocyte Therapy workshop

"The CATT workshop was a unique educational and networking experience. The smaller size of the workshop allowed for an intimate atmosphere which in turn fostered insightful discussions among world experts in the field of clinical TIL therapy. By attending I was able to establish networking connections with these experts and elaborate on the research activities of my lab, which will help foster future collaborations. As a young Canadian researcher in the field of ACT therapy it was inspiring to see that Canada has a strong TIL therapy program that is on par with similar programs in the US and Europe."