The third BioCanRx-Cancer Stakeholder Alliance Learning Institute took place at this year's Summit for Cancer Immunotherapy. This initiative brought together patient/caregiver leaders and Highly Qualified Personnel in an interactive and collaborative knowledge exchange program. We asked two of the participants, a patient scholar and an academic scholar, to tell us about their experience.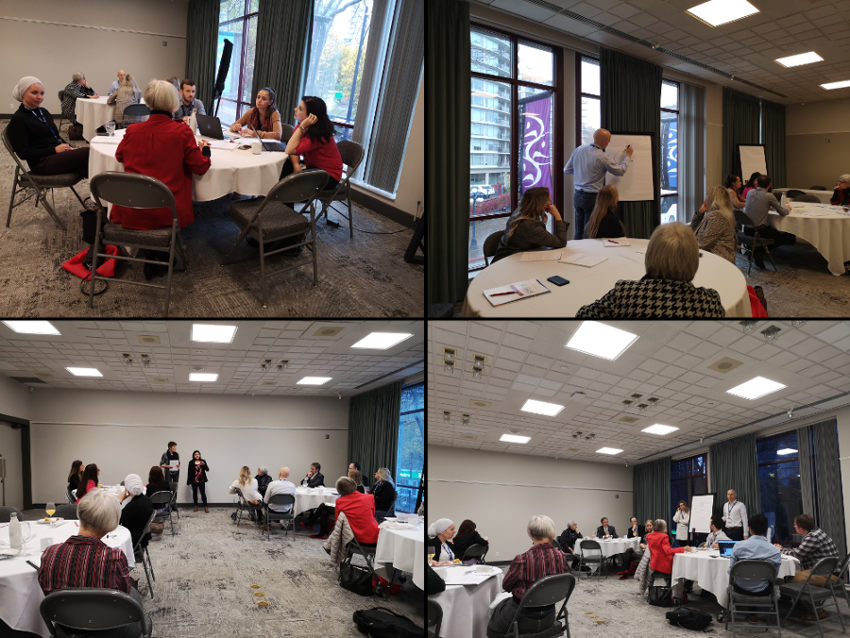 Participation from a Patient/Caregiver Perspective
By: Taylor Wheatley, RN, Alberta Health Services
In 1996, a year into my treatment for pediatric ALL, I vividly recall speaking at a conference with my parents, and the conference was on "jeans." What do jeans and cancer have to do with one another? I knew these doctors and people were smart, but seriously, I just couldn't make the connection. I was well versed in cancer lingo even at that age. I was my own expert! But at six years old, my lay knowledge thought they were crazy; "jeans" those are the things you wear.
My story of the "jeans" has always stuck with me and really it captures the essence of the Learning Institute experience for me. I am now an RN in hematology and bone marrow transplant, pursuing a Master's degree. As a patient, I was the expert of my own world, but now as a patient scholar and nurse, I think of researchers as the experts in new novel treatments, not me. When I was asked to participate as a patient scholar in this Summit, I was not sure what it would entail: Attending sessions with an academic scholar and learning? I can do that. Giving feedback on the session's understandability for lay people? These people are experts, are you kidding me, they don't care what I have to say! Now talking a step back to reflect, my experience was so much more than that, it was compassionate collaboration at its finest making sure that confusion about "jeans" was never a stumbling block. I cannot stop talking about this partnership with my colleagues and patients.
So often the collective 'we' talk about cancer treatment, cures, and research like cancer is a 'thing' that everyone understands and can make meaning of. But it is not. Cancer is a complex life-threatening disease, and the treatments are something we must endure if we want to survive. People with cancer care about one thing – a cure. But that doesn't come at a small cost as was discussed so poignantly at the Summit. I found the plenary session panel on innovation, access, and affordability humanized the previous discussions around all of the new and novel treatments. The uncomplicated nomenclature and relatability of these sessions made them the easiest to make meaning of as a patient scholar. It also highlighted the need to include patients in research.
This Summit highlighted for me that patients and families have voices, and we have a lot to teach researchers. After experiencing cancer, for myself, I have always had an undeniable need to give back to our community. Treating people with cancer is not about individuals, it requires partnerships through the creation of community. As a clinician, I often use the term "patient-centered care," but after listening to some talks at the BioCanRx Conference, I am not sure if this level of "patient" and "care" has extended to basic laboratory research. However, I believe it is possible. Throughout this Summit I saw collaborative bi-directional learning happening where both participant groups; patient scholars and academic scholars, actively learned from one another. I think this is a unique and necessary part of knowledge translation.
Collectively we need to build capacity to bridge the gap between researchers who so evidently embody the compassion to develop new treatments for people with cancer, the people who administer these new treatments, and the patients willing to participate in research. I believe that addressing the differences and gaps in research and knowledge translation will include not just translating the nomenclature and engaging patient scholars in the Summit, but going a step further. We need a conscious effort of researchers to include the key stakeholders – patients – during all phases of development from lab to clinical trials and into standard of care treatments. After all, if I thought that "genes" were "jeans," then what is the understanding of our non-academic partners in this knowledge translation? To build the capacity to engage patients in all phases of development, we cannot continue to do what we have always done – expect that patients will accept a trial because it is new and novel.
The partnerships created from the Learning Institute at the conference must extend beyond the confines of the conference, and take action to collaborate at all stages of trial development. Collaboration is crucial for advancing this novel research – the opportunity it has, and will provide, for future research endeavours is exciting.
Participation from a BioCanRx HQP Perspective
By: Etienne Melese, BSc, PhD Candidate, Department of Microbiology and Immunology, University of British Columbia
When I was invited to participate in the Learning Institute (LI) at the Summit4CI I was excited and grateful for the opportunity. As a PhD candidate in cancer immunology, it is surprising that I almost never have had the opportunity to interact directly with patients. Since my own career is driven by personal experience with cancer, I was heartened to see a conference addressing an often-unfilled gap in how we approach truly translational research. Due to my experience as the primary caregiver to my mother during her cancer, I have been able to approach my research with two lenses; that of an academic scholar as well as a patient advocate. However, as with many other graduate students the stress, failures, and ultimately successes of cancer research all overshadowed my goal to help patients. As part of the Learning Institute, my own patient advocate lens helped me appreciate how important sharing and incorporating patient perspective is for both my own and many of my colleagues' research. Overall, the experience of participating in a group of patient advocates solidified my commitment to incorporate patient's perspective and patient-led dissemination of scientific findings into my graduate career.
Key to the Learning Institute was the buddy system. I was paired with a fellow patient advocate and caregiver, Patricia Pitts, whose two close friends passed of ovarian cancer. Being partnered with Patricia offered me the unique opportunity to communicate science and disseminate key findings of the presentations at the conference. As an academic scholar in the LI, I worked with Patricia to translate the main scientific findings of each plenary session, which will be culminated in a dissemination report on the conference and written by a collaboration of the participating patient and academic scholars. The wide breadth of immuno-oncology topics at the Summit4CI enabled discussions in the Learning Institute about current therapies (i.e. CAR T cell therapies, TCR T cells, and Oncolytic viruses) as well as basic research to validate immunotherapies for use in clinical trials. Through interpreting the exciting research occurring and main takeaway messages at the Summit4CI, Patricia and I communicated and were able to share our own perspectives on several fields, including immunology and cancer therapies described at the conference. As part of Learning Institute, each buddy pair presented their interpretation and conclusions of each talk and session, leading to engaging discussion and identification of ways in which the communication of science and discoveries at these conferences could be improved. One of the main takeaways from the sessions was how important incorporating patient perspective and insight is in design of clinical trials and in how the immune-oncology field presents its scientific research to a wider audience.
Often overlooked in the field of cancer research, patient perspective and involvement are integral to understanding where the field should be heading and what the goals for the future of cancer immunology research should be. All graduate students and principal investigators in translational cancer research should hear the perspectives and knowledge translated in the BioCanRx Learning Institute, as it was representative of the gaps in how researchers communicate their findings to patients. Ultimately, the Learning Institute was an excellent example of how far the cancer immunotherapy field has come, as well as how far it still needs to go in incorporating patients into the research that one day might be used by them. Overall, I thank the learning institute for offering this graduate student an opportunity to remember how fascinating and important cancer immunology research is, and ultimately why we do it; for the patients and, through this program, with the patients.