At BioCanRx, we are incredibly proud of our HQP and their dedication to cancer immunotherapy research. Whether they are working on viruses in the lab or examining the socioeconomic barriers to adopting certain treatments in Canada, each one plays a unique role in strengthening our network and expertise in immunotherapy.
BioCanRx is invested in our HQP by providing them with both the training and skills they need to be leaders in academia and industry.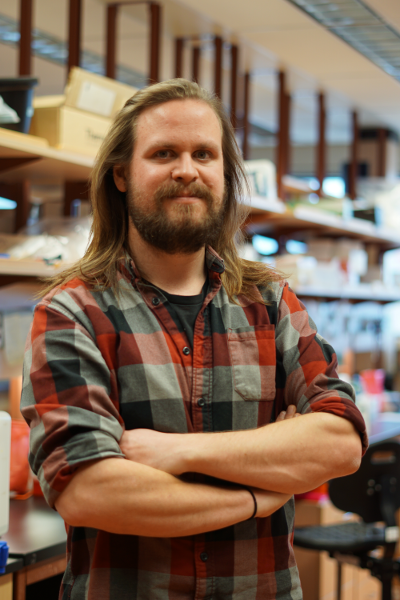 1. Tell us about yourself. Give us a brief background. Who are you? Where did you go to school and what is your association to BioCanRx?
Hi my name is Julian Jasio Smazynski, I grew up in Whistler BC where I completed high school. I started my postsecondary schooling at the University of Victoria right after high school in 2008. Soon after I quickly realized I wasn't ready to take on this academic endeavor and promptly dropped/flunked out following my first semester. Following my brief interlude at university I worked a slew of jobs over the next 3 years ranging from food & hospitality, sales, construction, and first aid, but I could never shake the feeling that I needed to return to school and give it another shot. In 2011, I enrolled at Camosun College in Victoria which was one of the best academic decisions I have made. The smaller size and more personal learning environment of a community college was exactly what I needed to focus on my education this time around. During this time at Camosun I was introduced to Immunology and immediately knew I found my field of interest. Following my 2 years at Camosun I transferred back to UVic for redemption and completed my BSc Honours in Microbiology in the lab of Dr. Julian Lum at the Deeley Research Centre. During my honours I was captivated by the potential of cancer immunotherapy and knew that pursuing a PhD in this field would be my next goal. I then joined the lab of Dr. Brad Nelson and have since completed my PhD in January 2022. Throughout this time I have been fortunate to work with an amazing team of people and explore a wide scope of cancer immunotherapy research areas. During my time as a student I had the opportunity to get involved with BioCanRx, serving as a HQP working group member, attending the annual Summit4CI, and adjudicating summer studentships.
2. Where do you work now, and what is your position?
If my answer above didn't already allude to this, I'm having a hard time seeing myself leave the west coast. Following the completion of my PhD, I began a Research Associate position at the DRC in January 2022.
3. What does a typical workday look like for you?
Never typical, every day is different! Which for me is one of the best aspects of research. Currently I supervise a team of 3 people including technicians and students. I oversee multiple projects in the lab primarily involving Chimeric Antigen Receptor CAR T cell engineering and designing new combinatorial immunotherapeutic strategies. Additionally, I manage our flow cytometry core as part of the Molecular and Cellular Immunology Core (MCIC) at the DRC. My day can involve anything from designing new CAR T cell constructs and chimeric proteins, carrying out proof of concept in vitro and in vivo studies, assisting my team and co-workers with their projects, and running flow cytometry for clinical trial samples as part of the BioCanRx led CLIC-1901 CAR trial. For me, few things provide the same satisfaction as designing and carrying out a completely novel experiment and getting that first data rush. The creativity I get to employ when designing new cell therapies provides a constant source of challenge and intrigue.
4. How has your experience with BioCanRx contributed to your career development?
BioCanRx has played an instrumental role in broadening my scientific network and collaborations amongst the amazing talent we have in Canada. The annual Summit4CI and generous travel support for trainees has made it possible for numerous HQP to attend large scientific meetings and interact with this amazing group of individuals. Further, through the generous funding provided by BioCanRx, I have been fortunate to witness and participate in the implementation of the first made in Canada CAR T cell clinical program. The CLIC-1901 trial has not only provided urgently needed care to cancer patients but has also paved the way for CAR T cell therapies in Canada. Most of all, the CLIC-1901 program has showcased in true Canadian fashion the ability to work together on a national scale and provide cutting edge research and care to patients.
5. What advice do you have for career development that you would pass on to other BioCanRx trainees?
I think it's crucial for all HQP to avoid the trap of dwelling on your past failures and letting them dictate the trajectory you pursue. I was by no means ever a "star" student early on, and now look rather fondly on my earlier failures in university. Unfortunately, too much pressure and importance is still placed on the academic achievements of an individual rather than the genuine curiosity and creativity that may drive someone to succeed. The latter being the characteristics that I believe truly make a good scientist. One of the greatest personal accomplishments an individual can have is finding what truly ignites that creative spark. This is not to say that one's work should be the sole source of this, but rather finding your way to engage that creativity whether it be through the arts or science will only strengthen your academic acumen. I implore those early HQP to explore as many avenues as possible and find an environment that fosters that creativity for you. Lastly, if there is one tendency that I've noticed amongst HQP throughout my time in academia, it is the hesitancy to ask questions. Those that know me know that I love to ask questions, probably to an intolerable extent. However, I consider it the primary duty of a scientist to ask questions, it is literally our job! So, I encourage all HQP to ask questions whether they be "stupid" or brilliant you are helping the greater scientific community with your inquisitiveness.