By Heather Blumenthal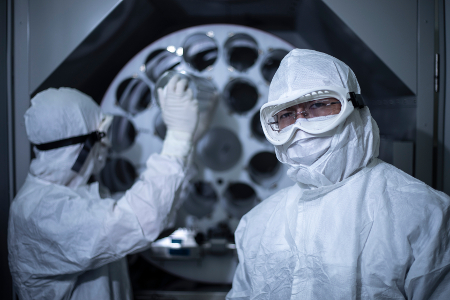 Biomanufacturing in Canada has a bit of a "flavour of the month" feel to it, with its importance made vivid by Canada's lack of ability to manufacture the vaccines that are so critical in fighting COVID-19.
For BioCanRx, though, you can say that biomanufacturing was present at its creation. Long before BioCanRx was established, back in 2014, its founder and Scientific Director, Dr. John Bell, had a vision of producing the oncolytic viruses he needed to advance his research. Thus was born the Biotherapeutics Manufacturing Centre (BMC), part of the Ottawa Hospital. BioCanRx's history is irrevocably intertwined with that of BMC, as BMC was – and still is – the only facility in Canada that could manufacture oncolytic viruses to Good Manufacturing Practices (GMP) standards for use in BioCanRx-funded clinical trials.
Now the two Ottawa-based entities have signed an MOU for a biomanufacturing partnership with the Alberta Cell Therapy Manufacturing (ACTM) to collaborate on advancing Canada's ability to manufacture vaccines, gene therapies, cell therapies and more. This, says Stéphanie Michaud, President and CEO of BioCanRx, is hugely important.
"If you look at BioCanRx's mission statement, it calls on us to accelerate the most promising immunotherapies to the clinic," she says. "That requires supporting the ability to produce the viruses and other biologics, according to GMP standards, here in Canada. From the very beginning, we recognized that investing in this ability to serve all of our researchers would be critical to our success in that acceleration.
"When we heard that the NCE program [the source of BioCanRx's funding] would be shut down, we doubled down on our efforts to develop our core facilities and make them sustainable. Even after our budget was cut by 40%, this remained a crucial priority."
"Biomanufacturing goes hand-in-hand with our research program, our clinical trials," adds Dr. Michaud. "This partnership [with ACTM] is a great example of a network approach to achieving our goals. It's a win-win-win.
"It's this wonderful thing that happens when forces are aligned."
The arrangement arose, as so many things do, from a conversation at a conference. It was a meeting of minds. BMC needed space to expand its offerings and realize its plans. ACTM had the space, and the highly trained personnel who were experts in GMP, the process whereby manufacturers can ensure their products are pure, safe and effective for use in humans.
These facilities were all developed with funding from the Canada Foundation for Innovation. This collaboration, says Dr. Michaud, will help to ensure that Canada reaps the maximum benefit from that investment.
Others realizing the need for biomanufacturing is one of the silver linings of the COVID-19 pandemic, Dr. Michaud says. But realization is only the first step. Building biomanufacturing capacity is an enormously complex task and "building that bright and shiny new building is only a quarter of the way there." To manufacture viruses or vaccine for use in humans requires having things like the clean rooms and special ventilation needed to operate under GMP conditions. It also requires staff trained in GMP biomanufacturing, which is in and of itself enormously complex. And it requires having processes in place to document every step, in order to demonstrate GMP compliance.
That's the benefit of this new partnership, says Dr. Michaud. "That ramp-up you would get out of a new building just doesn't exist."
That means the partners are hitting the ground running. They are working together, for instance, on a potentially curative gene therapy for lipoprotein lipase deficiency, a rare, inherited disease where patients are missing an enzyme that helps the body to break down dietary fats. This can lead to problems with the pancreas and atherosclerosis. The disorder is more common in Quebec, due to a founder effect (lack of genetic variety due to the population's descent from a small number of founders).
Other projects involve manufacturing mesenchymal stem cells for use in treating septic shock (caused by the immune system overreacting to an infection) and, in partnership with Alberta-based Entos Pharmaceuticals, supporting clinical trials of a potential COVID-19 vaccine.
The partnership has also resulted in the two centres being able to apply for additional federal funding via the National Research Council's Health Challenges Program. The capabilities of all the organizations were pivotal is securing this important funding to move forward new therapeutics for Canadian patients.
Also among the benefits are huge cost savings resulting from not having to turn to the US for final products to use in humans. For instance, think about how vaccines travel from the lab to your doctor's office – they arrive in tiny glass vials, ready to use. Previously, this "fill-finish" step had to be done in the US, at a tremendous cost. ACTM is now acquiring this fill-finish capability. With its services, oncolytic viruses used in BioCanRx research projects can be made available to patients much more quickly and cost effectively.
The long-term goal of the partnership is to ensure both facilities remain sustainable, by offering an essential resource for both research and treatment, long after BioCanRx has ceased to exist – or when a pandemic doesn't exist to underscore the need for biomanufacturing capacity here in Canada.
"Both these facilities will still be needed when attention shifts – as it will," says Dr. Michaud. "This partnership allows both bodies to achieve this holy grail of sustainability."
---
Heather Blumenthal has been writing about health and health research for more than 20 years and never loses her fascination with the advances Canadian researchers are making.