We've recently concluded the fifth annual Summit for Cancer Immunotherapy (Summit4CI)! Although we were virtual it was wonderful to gather as a network. The conference this year was an immense success and provided a learning and networking opportunity for undergraduate and graduate students, post-doctoral fellows, faculty, and technical staff.
HQP Development Day
As part of the annual Summit, HQP were invited to attend HQP Development Day. This event provides a unique learning opportunity and a platform to network and develop their professional skills. This year's event included industry talks, a keynote address, a panel on career insights in clinical translation, and our Meet the Experts networking event.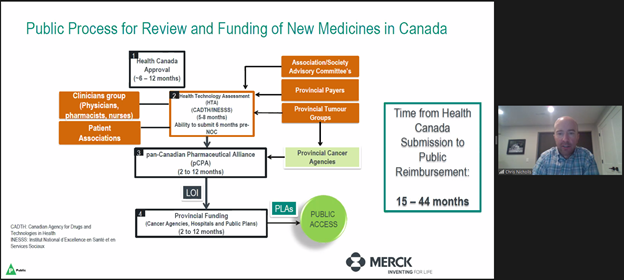 The day started off with two incredible talks from industry sponsors Merck and CellCarta. Dr. Chris Nicholls, Manager of Patient Access for Albera and Manitoba at Merck spoke of his interesting career journey as well as the various career opportunities available in the pharmaceutical industry. Dr. Mélissa Mathieu, Senior Scientist at CellCarta spoke of the transition from academia to working in industry and the landscape of CellCarta. These industry talks gave an amazing insight into the paths and opportunities available in this sector.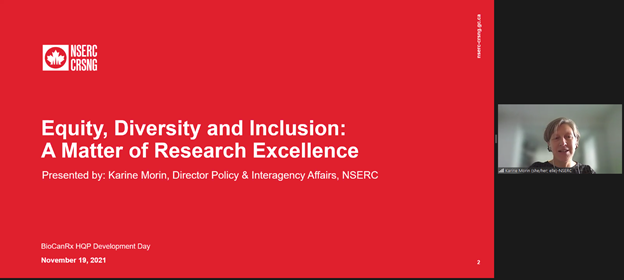 This year's keynote talk by Karine Morin, Director of Policy and Interagency Affairs at NSERC, was focused on Equity, Diversity, and Inclusion in Research and covered data on research funding by identity as well as different areas to create impact when it comes to EDI. You can find the full recording of this keynote address in our online resources found here.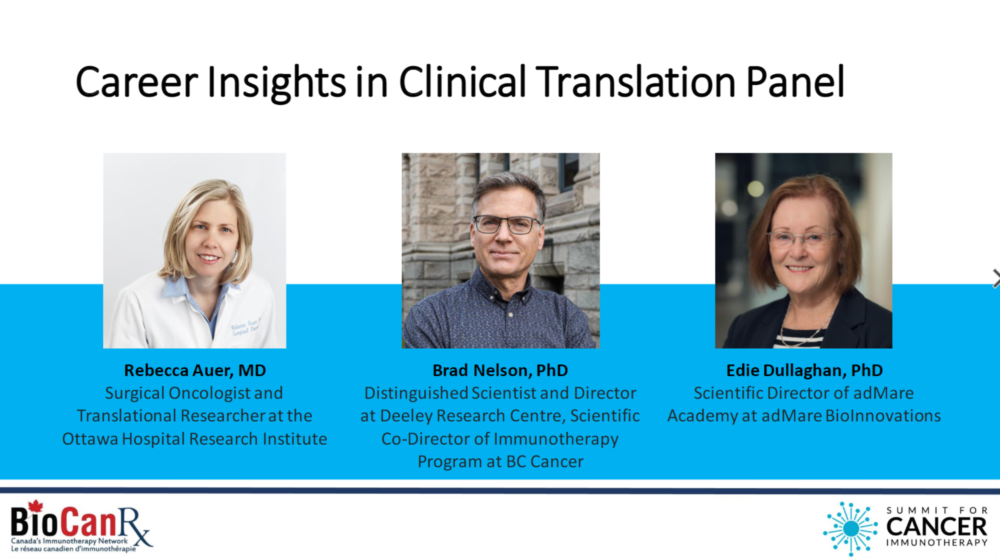 Professional development has always been an inseparable part of Summit4CI. As such, this year's HQP day featured a panel discussion on career insights with a specific focus on clinical translation. This panel hosted: Drs. Rebecca Auer (Research Clinician), Brad Nelson (Translational Researcher), and Edie Dullaghan (Scientific Director of adMare Academy). This panel covered various different paths into the translational research space and gave trainees good insight on what careers in these different sectors look like in the big picture as well as in day-to-day activities.
Meet the Experts
HQP members were given the opportunity to network with experts from various professional sectors during the Meet the Experts event. In this "speed dating" style event, HQP were given a chance to hear from 13 different experts. They learned about the details of their job and had an opportunity to ask the experts questions. This year's experts included Mélissa Mathieu (CellCarta), Terry Hawrysh (patient partner), Tina Gruosso (Science & Policy Exchange), Chris Nicholls (Merck) and many more. The Meet the Experts event was a major success, generating great conversation and detailing potential future careers for the HQP.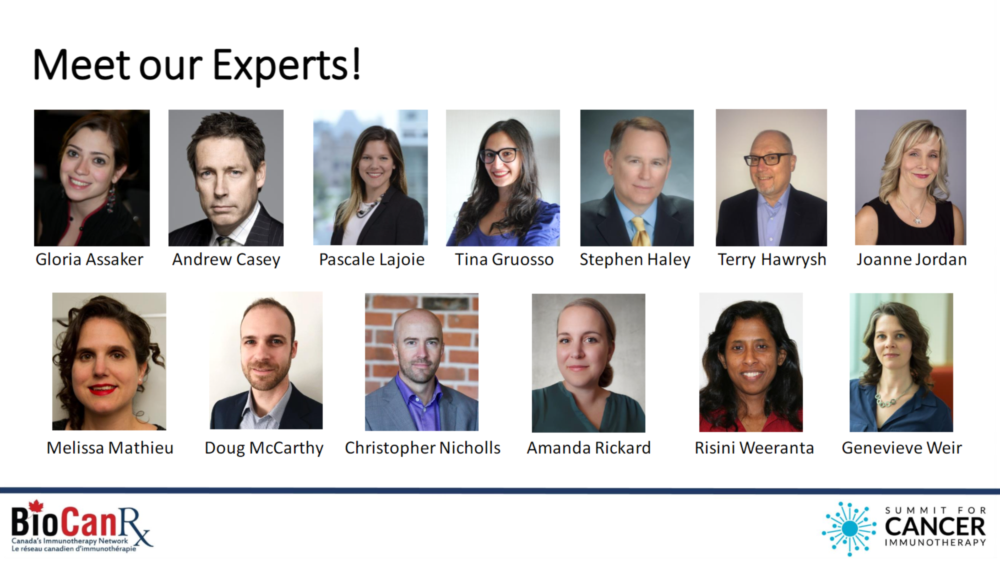 Advice from the Experts for Trainees:
Cultivate perseverance. If you keep trying and never give up, you will eventually reach your goals.
I hear so much talk about "finding your passion" these days. Passion is transient. Find your purpose, and you will set yourself on a lifelong path.
My advice to anyone is to always embrace change and get comfortable with its likely discomforts, because learning something new is the best part of career growth. Your skills are transferable, so be open to the range of brilliant opportunities in the life sciences sector.
Study a subject that you find interesting, that you believe will be important for mankind. As scientists, we are building a big puzzle of knowledge and every piece is important. Diversify your skills by getting engaged in non-scientific activities, this will teach you important soft skills and keep you motivated. If you love and believe in what you do, you will certainly find a rewarding career path.
In your education and in your career, follow your interests and your passions. Identify people who do things that interest you and ask them about their work and their career path. If you have the opportunity to join a project outside your current role, go for it and learn as much as you can; these sorts of projects have opened up new areas of interest and expertise for me and helped to prepare me for my current role.
Learn as much as possible in everything you do, and with every opportunity you have in your career. Always be a team player and collaborator of choice for others to work with. And do it all with a positive attitude.
Solid relationships and trust built during any work-related (or extracurricular!) activity will yield mentoring, development, volunteer, and career opportunities that are beyond those that you could hope to identify alone. Simply talking with people and asking questions about their work or experience is enough to start, then build their respect by showing up prepared where possible, asking challenging questions, and offering your help when appropriate and feasible.
Put the time and dedication to find a career path that you enjoy. When you enjoy what you do; you never work a day in your life.
Don't be afraid to speak up at meetings; ask questions if you do not understand something
Find good mentor to help you along the way and be a mentor to others
Once you are done school, your continuing education will come from your experiences. Everything you do is an opportunity to learn and grow, and everyone you meet could help you on your path. Start with what interests you, and always seek opportunities to gain experience.
Hear from an HQP: Adam Nelson, Dalhousie University
The HQP Development Day at the recent Summit for Cancer Immunotherapy was really interesting and full of thoughtful discussion on a variety of topics. Hearing people from a variety of disciplines and backgrounds speak about their experiences in the scientific/medical field is intriguing and eye opening. As a PhD student close to graduating, I found the Meet the Experts section very useful. Listening to experts from many different fields talk about there career paths and day-to-day job requirements was informative and will be helpful in deciding my own career path.
HQP Working Group
In order to provide an HQP perspective in the development of HQP activities taking place at the Summit4CI, highly qualified personnel (HQP) from across Canada were selected to join the working group. This year's HQP working group included: Oladunni Olanubi (OHRI), Kitty Liu (PMCC), Adam Nelson (Dalhousie University), Taylor Jamieson-Datzkiw (OHRI), Douglas Chung (PMH), and Stacey Lee (Dalhousie University). If you are interested in being a member of the 2022 HQP working group, keep an eye out for the call for applications in the new year!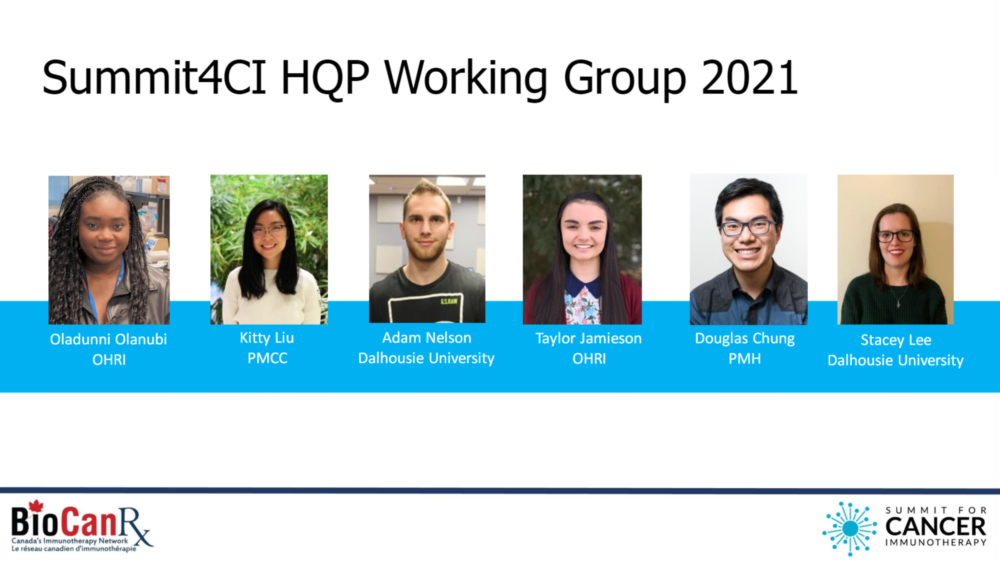 Learning Institute
The BioCanRx-Cancer Stakeholder Alliance Learning Institute brings together leaders from patient communities and HQP members from the immunotherapy research community to engage in interactive and collaborative knowledge exchange activities. The Learning Institute provides HQP with the ability to communicate their research to patients and to learn how to communicate their science from a patient's perspective. This year's Learning Institute provided four HQP with the opportunity to engage with the patient community over the course of the conference. We will be doing a call for applications in the new year so keep your eyes out!
Awardees
Each year, the Summit honours outstanding individuals whose contributions to cancer research and efforts have advanced our knowledge and mission to conquer cancer. This year, five HQP were given awards for the best poster presentations. New this year was the Plain Language Talk award which was awarded on behalf of the Cancer Stakeholder Alliance and patient partners for the best plain language talk. For a full list of the award winners, please see below.
Undergraduate Level
Ashley Hagerman, Ottawa Hospital Research Institute, Michele Ardolino's Lab
PD-L1 boosts Warburg metabolism
Elena Moss, BC Cancer Research Institute, Brad Nelson's Lab
The spatial architecture of PD-1 and PD-L1 in high grade serous ovarian cancer
Master's Level
Soraya Benhaddou, Centre de recherche CHU Sainte Justine, Ellie Haddad's Lab
Engineering of NK cells as a new targeted immunotherapy for rhabdomyosarcoma
PhD/Post-Doc Level
Steven Gamerio, McMaster University, Brian Lichty's Lab
Bioengineered extracellular vesicles specifically target dendritic cells in vitro and activate the pro-inflammatory STING pathway
Clara Soulard, Centre de recherche CHU Sainte Justine, Ellie Haddad's Lab
New cell type-specific promoters enable innovative immunotherapy approach against acute lymphoblastic leukemia using chimeric antigen receptor in hematopoietic stem cells
Plain Language Talk Award
Torin Halvorson, University of British Columbia, Dr. Julian Lum's Lab
Overcoming metabolic competition in the tumor microenvironment: fructose as an alternative carbon source for chimeric antigen receptor T cells