Project summary: Clinical Trial
The Selected Tumor-infiltrating Lymphocyte Against Refractory Melanoma-01 Trial (STAR-M01)
October 1st, 2020 – March 31st, 2024
HIGHLIGHTS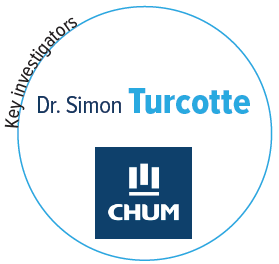 For the majority of cancer patients, their endogenous antitumor T-cell response cannot be sufficiently reinvigorated with just immune checkpoint blocking (ICB) antibodies. As a promising alternative, BioCanRx is emphasizing the development of T cell-based immunotherapies.
Cell sorting is based on the expression by T cells of a cell surface marker called PD-1, which acts as a "tag" for tumour-reactivity. The researchers have optimized a cell sorting technique and the cell culture conditions to expand sorted T cells into large numbers that can be used for infusion into patients.
This is likely the first project in Canada that has optimized cell sorting for clinical research, a technology that can be repurposed to enhance T cell products developed by other researchers.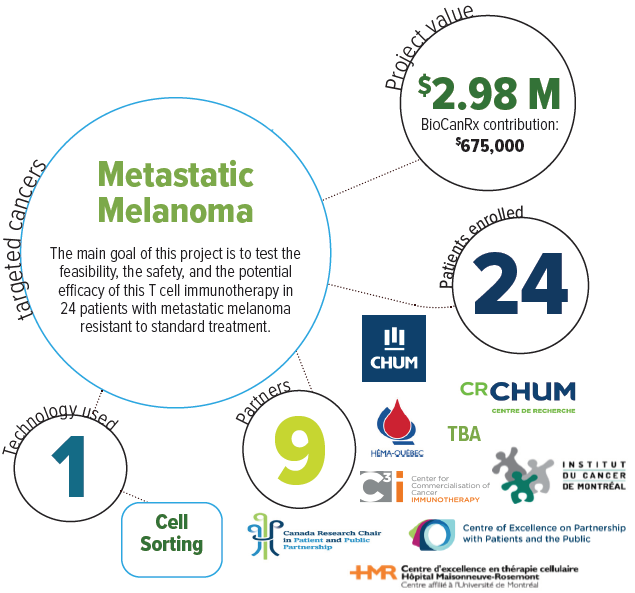 About the Project
The infusion of ex-vivo expanded tumour-infiltrating T lymphocytes (TILs) is a promising approach for the treatment of solid tumour cancers because it addresses the problem of tumour heterogeneity by targeting multiple tumor antigens. An important challenge remains: since bystander (non tumour-reactive) T cells are attracted intratumorally by inflammation, only a small proportion of TILs are tumour-reactive, and standard bulk ex vivo expansion often favors the overgrowth of bystander T cells.
In Cycle 1, Dr. Turcotte and team were funded through the Catalyst Study Program to enhance TIL efficacy by selecting tumor-infiltrating T cells expressing PD-1, that act as a "tag" for tumor reactive T cells. To do this, the team optimized the use of a clinical-compliant flow cytometry cell sorter to select reactive TILs from tumors prior to ex vivo expansion.
The STAR-M01 is a prospective, open-label, two-cohort, non-randomized, single center phase 1b study in stage IIIC unresectable or stage IV metastatic melanoma patients refractory to PD-1 immune checkpoint blockade. The primary objective of this trial is to test the feasibility, the safety, and the potential efficacy of this T cell immunotherapy after lymphodepletion and with intravenous IL-2, in 24 melanoma patients.
Additionally, enrolled patients will have the option to participate in a patient-led support group to help them understand and communicate with others about what to expect from anti-tumour T-cell transfusion immunotherapy.