By: Patrick Sullivan, Chair of the BioCanRx Cancer Stakeholder Alliance Working Group

I have been asked to give an update on the Cancer Stakeholder Alliance (CSA) created by BioCanRx. BioCanRx created the CSA because they (rightly) recognized that patients have an important and powerful voice that is critically important to advancing cancer immunotherapies.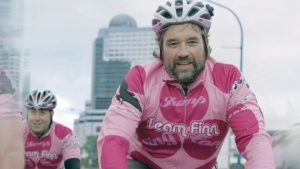 2017 was an extremely exciting year for the CSA. Leadership at BioCanRx brought us together as a group in October 2016. As a partnership, both the CSA and BioCanRx knew we wanted to include the experience and perspective of cancer patients and their families in what BioCanRx was attempting to achieve, but did not know how we were going to do that.

Using the October 2016 CSA meeting as a priority setting process, by early 2017, the CSA and BioCanRx had established a Joint Action Plan outlining our priority objectives and activities for 2017. In terms of priorities, as much as we wanted to try and boil the ocean, we knew it was really important to focus if we wanted to make a difference.

With that in mind, as a group, the CSA (with the support of BioCanRx) elected to focus on the following:

The Learning Institute
Patient Clinical Trials Information
Patient Perspective in Research

Then it was time for all of us to get to work.

The Learning Institute was implemented at the June 2017 Summit for Cancer Immunotherapy and was a huge, huge success. Via constant interaction and knowledge exchange, the Learning Institute helped forge connections between the BioCanRx research community and cancer patients, charities and NGOs. Patients were able to learn a tremendous amount about cancer immunotherapy and scientists, particularly younger scientists, were able to learn a tremendous amount about cancer patients and advocates.

BioCanRx has worked closely with members of the CSA to design a clinical trials map and clinical trials fact template for BioCanRx-funded clinical trials. Both were presented at the June 2017 CSA Meeting for discussion and input. An REB application was submitted in the fall of 2017 to conduct an online patient feedback survey to validate the clinical trials map and clinical trials fact sheet template prior to publication. Once REB approval is obtained, the survey will be launched.

With respect to integrating the cancer patient perspective in BioCanRx research, BioCanRx and the CSA co-organized a panel at the June 2017 Summit for Cancer Immunotherapy to discuss best practices in integrating patient partnerships in the development of research strategies and programs. This process taught us a tremendous amount and we have already started planning how to build on this at the 2018 BioCanRx Summit for Cancer Immunotherapy.

Discussions following the June 2017 Summit have been extremely exciting. We are starting to germinate plans on how to build on our early successes. Our next CSA meeting is planned for early February 2018 so stay tuned as we continue to build on our goal of meaningfully integrating the experience and perspective of cancer patients and families into the work of BioCanRx.


---
Patrick Sullivan is a passionate childhood cancer advocate, the President and a founder of the Team Finn Foundation and a founding member of Ac2orn (Advocacy for Canadian Oncology Research Network). Patrick is the Chair of the BioCanRx Cancer Stakehoder Alliance Working Group, and a director of several organizations including the Canadian Cancer Research Alliance, Childhood Cancer Canada and Coast to Coast against Cancer. Patrick is also a member of the Executive of Terry Fox Profyle, a pan-Canadian pediatric genomic initiative.

Patrick became an advocate after his twin son Finn was diagnosed with Rhabdomyosarcoma in 2007 and he heard the word incurable for the first time in May 2008. By profession, Patrick is a securities and corporate-commercial litigator and one of the founding partners of Taylor Veinotte Sullivan.

Patrick is the proud father of three remarkable children, Baird, Sarah and Finn. And would do almost anything for the simple pleasure of holding Finn's hand again.