CSA Member Profile Paul O'Connell of The Leukemia and Lymphoma Society of Canada & member of the BioCanRx – Cancer Stakeholder Alliance Working Group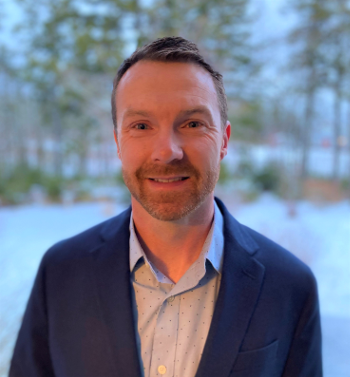 How did you get involved with the Leukemia & Lymphoma Society of Canada? What attracted you to the organization?
Part of my Doctoral work at Dalhousie University in Nova Scotia was focused on the complications that arise in a subtype of leukemia called Acute Promyelocytic Leukemia so I was already familiar with the blood cancer research landscape. After completing Post-doctoral work, I made the decision to stay home with my children but I always planned on getting back into research in some capacity. The opportunity presented itself to become involved with The Leukemia & Lymphoma Society of Canada and help to run the Research Funding program. This allowed me to become directly involved in the ground-breaking blood cancer research that is happening across Canada so I jumped at the chance to join the LLSC.
I was familiar with The Leukemia & Lymphoma Society of Canada through attending the Light the Night walks for a number of years and lost my grandmother to multiple myeloma so this was an organization that has always been close to my heart. I am very fortunate to have this role within the organization and I take pride in the fact that I have the chance to have a positive impact on the lives of those affected by blood cancer.
Tell us about your role in the organization? (How did your background and experience prepare you for the work you're doing?)
I have been at the LLSC for a little over 2 years as the Manager of Medical and Scientific Engagement. While my role has evolved during that time, my main responsibilities include administration of our grant competitions, organizing and mediating (along with the chair) our Scientific Review Panels, leading the LLSC's Medical and Scientific Advisory Committee, developing research funding partnerships, and communicating research-related news to all of our constituents.
Coming from a background in research, I was well suited to this role. I had been involved in research grant applications from the other side of the coin in the past so had a unique perspective. This has allowed me to structure the grant program through the lens of a scientist as well as that of a charitable organization.
What inspires you most about working for the Leukemia & Lymphoma Society of Canada? What are you most proud of?
I am proud to be part of a wonderful organization that is dedicated to improving the lives of those affected by blood cancer, whether it be through patient support and services or providing funding for cutting-edge blood cancer research in Canada.
The mission of The Leukemia & Lymphoma Society of Canada (LLSC) is to cure leukemia, lymphoma, Hodgkin's disease and myeloma, and improve the quality of life of patients and their families.
Since 1955, LLSC has been on the forefront of blood cancer advances such as chemotherapies and stem cell transplantation leading the way to the targeted therapies and immunotherapies that are saving thousands of lives today.
LLSC is changing the landscape of cancer with more than 37 active research projects that explore different avenues of new and adventurous research; ones with promise and ones that will save lives not someday, but today.
Whenever we talk about cancer, we always use the same word. Someday. Someday there will be a cure. Someday we won't lose the people we love. But when is someday? With LLSC's research partnerships and patients support services and advocates working for blood cancer patients everywhere, someday is today.
COVID-19 has brought many challenges to cancer patients and to the not-for-profit organizations supporting them. How has the pandemic affected your stakeholders and your organization? (How have you had to adapt?)
The COVID-19 pandemic posed a number of challenges that we had to adapt to very quickly. We cancelled all of our in-person events early on and, because of that, we had to rapidly adjust our fundraising strategy. Fundraising during a global pandemic is a difficult task but our campaign staff were able to adjust their approach to ensure that our stakeholders were engaged.
For the research funding program specifically, we had already made the arrangements (venue, flights, accommodations) for our usual face-to-face Scientific Review Panel meeting in April to discuss the grant applications. In the interest of the safety of everyone involved, we cancelled that meeting and successfully shifted to an online format.
Our organization is a spread across the country with 5 regionally offices as well as a number of other remote staff. As with many other organizations, all employees were asked to work from home and this required our employees to be managed remotely. The leadership at the LLSC has done a wonderful job to maintaining the sense of close community within the organization despite being at home.
The LLSC prides itself on the resources it offers to all Canadians affected by blood cancers. Throughout this pandemic we have increased the resources available to the blood cancer community through articles, webcasts, and podcast that cover a wide range of topics from the latest advancements in research to keeping your children busy and healthy during the pandemic.
These resources are available on our website (https://www.llscanada.org) and through our COVID-19 resource centre (https://www.llscanada.org/covid-19-resource-centre).
Many things have slowed down or stopped as a result of the pandemic but cancer has not and neither will we!
Looking forward, what are you hopeful about for cancer organizations such as the LLSC?
Despite the challenges faced this year, cancer organizations such as the LLSC will find a way to support those affected by these terrible diseases. We will continue to grow and advocate for the needs of our constituents whether it be gaining access to the latest treatment or providing informational resources.
From a research funding perspective, one of our immediate priorities is to increase grant-funding partnerships. The pandemic has taught us that in order to create sustainable research program we need to develop a funding strategy that will maintain funding for researchers despite any global issues.
Though 2020 has been a challenging period for our organization, we continue to fund blood cancer research and have actually increased the number of resources available to our constituents.
What else would you like to share about LLSC?
2021 will be an exciting year for the LLSC as we will soon be launching our new website (bloodcancers.ca). We are in the process of developing the Virtual Blood Cancer Navigator, an interactive digital platform to provide a customized experience that empowers blood cancer patients, their families and survivors to navigate the complex cancer landscape, armed with the right information at the right time.
What do you like to do outside of work?
Life is never dull raising 3 kids involved in hockey but outside of work we love to explore beautiful Nova Scotia and get away from it all at our cottage.