A look at Let's Talk Science (LTS) outreach activities offered by the University of Ottawa and Carleton University chapter. LTS helps youth build the skills they need for their – and Canada's – future success. Through STEM education, LTS helps youth learn to take risks, develop the persistence to find innovative solutions to real-world problems, and the competencies required to thrive in an ever-changing world.
By Heather Blumenthal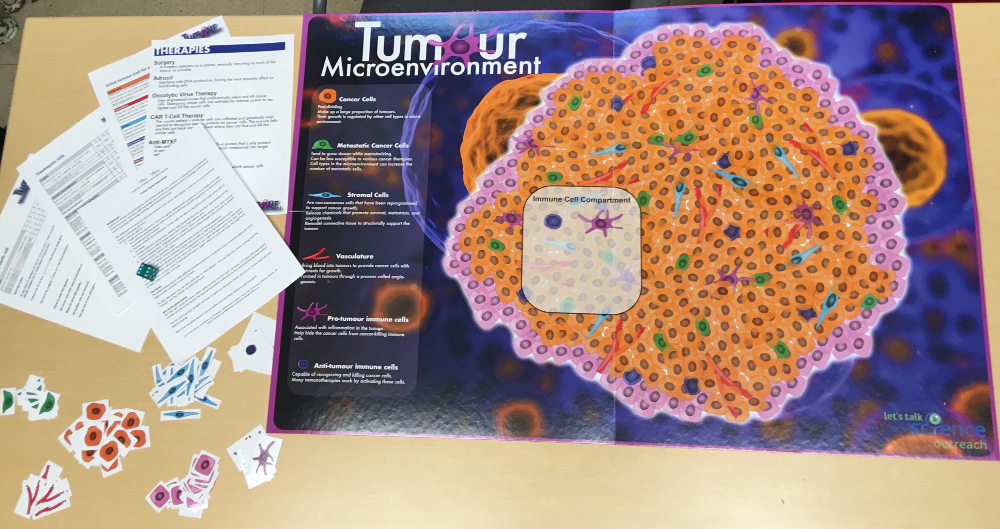 Roll the dice and choose your action. You're playing the Tumour Game and your dice rolls can affect what kinds of cancer cells you have (fast-growing cancer cells, metastasizing cells, stromal cells that support cancer cells), your cancer treatment choices (surgery, oncolytic virus therapy, CAR T therapy) and your outcomes. Gamification of a very serious condition affecting so many of us has been a 'game-changer' in teaching the myriad ways in which cancer evolves and responds to its environment.
The Tumour Game was developed by Let's Talk Science at uOttawa with support from BioCanRx as a substitute for the organization's in-person activities with elementary and secondary students, part of its pandemic pivot to virtual and distant activities.
Let's Talk Science is a national charitable organization committed to inspiring and empowering Canadian youth to develop the skills they need to participate and thrive in an ever-changing world. BioCanRx has been part of the Let's Talk Science at uOttawa since before the cancer immunotherapy-funding organization was even created, through Barbara Vanderhyden, a BioCanRx-funded researcher who founded Let's Talk Science at uOttawa back in 1993 and directed the program for 25 years.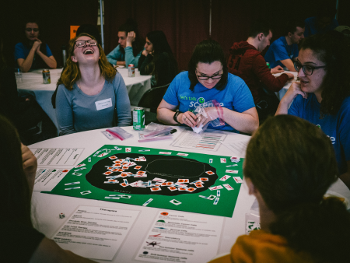 Let's Talk Science at uOttawa, and now including Carleton University, is one of the largest of more than 50 Let's Talk Science sites across the country, last year reaching more than 56,000 youth in Ottawa and rural and remote Indigenous communities. BioCanRx sponsors activities related to cancer, in which the Tumour Game is playing a significant role. This year, further support from BioCanRx has seen the game translated into French, increasing its reach.
One of the major activities supported by BioCanRx is the Let's Talk Cancer symposium, which under normal conditions is a one-day event held at the University of Ottawa Faculty of Medicine for anywhere from 80-300 high school students. The symposium had to go virtual last year. But this year, they are trying a new initiative called "Let's Talk Cancer ON WHEELS." On June 2 and 3, they'll visit different schools and classrooms to give engaging, fun talks and will have lots of interactive activities for students.
According to Zaid Taha, a uOttawa PhD candidate who is leading a team of volunteers, the Let's Talk Cancer events attract both students interested in a career in the health sciences and those who are interested in cancer, often due to personal experience with the disease.
In past years, students took part in on-site activities such as extracting DNA from fruits and veggies and visiting the anatomy museum, with its collections of real human organs and tissues.
This year's participants will learn about the latest advances in cancer treatment, hear from a cancer survivor and play games to test their newfound knowledge, including Cancer Jeopardy! As well, they will have the chance to talk with undergraduates, post-graduate students and medical students to find out more about potential career paths.
The pandemic forced Let's Talk Science at uOttawa to take its other activities online. While the organization is slowly moving back to its normal in-person activities, for the past two years, it has been delivering kits to educators in town, in rural communities and northern Indigenous communities and then having volunteers facilitate the activities online.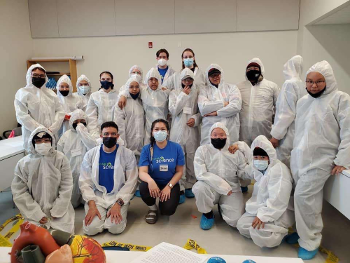 Ironically, this switch to virtual activities has enabled Let's Talk Science at uOttawa to increase its outreach to northern Indigenous communities. This has been an area of focus for the chapter for many years. Dr. Vanderhyden started an Aboriginal Mentorship Program and a travel program to schools in northern Indigenous communities more than a decade ago. In 2020-2021, through these programs, the Ottawa chapter reached more than 20,000 Indigenous youth (81% of all Indigenous youth reached by chapters throughout the country), an increase of 55% over 2018-2019. And the Tumour Game has been a big part of this outreach, being given to 105 rural Indigenous students participating in the Aboriginal Mentorship program and sent to classrooms and youth in many northern communities.
"Many of the northern Indigenous communities we usually visit have unreliable internet, so having this easy-to-learn, hands-on, minds-on Tumour game has been an excellent way to continue to support science learning in the classrooms during the pandemic," says Sue McKee, the current director of Let's Talk Science at uOttawa.
The game's most recent trip was made to Iqaluit at the beginning of May of this year, where it was featured in a health-focused summer camp for 20 Inuit youth from throughout Nunavut. This is the first year that Let's Talk Science at uOttawa has participated in the camp, but McKee is sure it won't be the last.
The pandemic may have pushed things into the virtual world. But Let's Talk Science at uOttawa is still having a real-world impact on elementary and high school students in Ottawa, rural communities, and northern Indigenous communities, and BioCanRx is proud to be its partner.
---
Heather Blumenthal has been writing about health and health research for more than 20 years and never loses her fascination with the advances Canadian researchers are making.