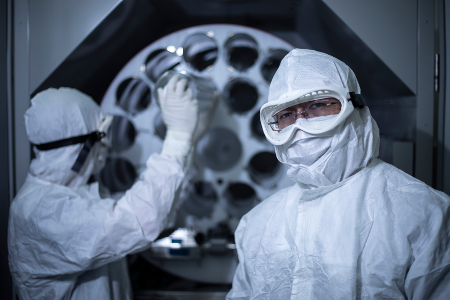 It may not be the biggest such facility. But it is, according to Jennifer Quizi, one of the best-kept secrets – in Ottawa, definitely; in Canada, almost certainly; and throughout the world, very likely.
It is the Biotherapeutics Manufacturing Centre (BMC), part of The Ottawa Hospital, and a BioCanRx-funded biomanufacturing facility and, for the past 15 years, an essential player in the transition of biologics, or living drugs based on therapeutic viruses and cell products, from the laboratory to the clinic. The BMC is the only facility of its kind in Canada; over its lifetime, it has been manufacturing these types of biologic therapies for use in early phase clinical trials, and demand for its services and unique expertise has never been higher.
The BMC's services respond to, and help to overcome, a gap in that journey from idea to approved treatment. The first part of that journey involves a researcher developing a biologic in the lab and testing it in animals. But the standards for testing a new biologic in humans are far more stringent than for animals. To be able to test a new biologic therapy in people, there is an entirely different type of research that focuses on the development of a safe and effective manufacturing process that is needed. This is where the BMC first comes in.
Process development, or PD, takes the laboratory innovation and turns it into something that can be manufactured to an acceptable scale and level of purity to be given to people. It creates the step-by-step instruction manual that will be used to manufacture the product according to Good Manufacturing Practices (GMP), an international standard that ensures safety for use in humans.
This area of research is very expensive and also very high risk –as Dr. Quizi, an Investigator at the Ottawa Hospital Research Institute, and the Director of the Virus Manufacturing Program at the BMC, points out, "translating animal studies to humans doesn't always work the way that we would hope or expect". Furthermore, this area of research lacks funding opportunities and is often considered a valley of death for translational research"
That's why Canada needs facilities like the BMC. With its experience supporting clinical trials in Canada, the United States, Europe and Asia, and with its core team of more than 40 highly-qualified personnel, the BMC has the expertise, experience, and existing processes to GMP manufacture these living drugs for human trials quickly and affordably. And, in doing so, the BMC is contributing to innovative jobs and economic growth in Canada. As well as providing its services to academic researchers, the BMC also works with start-up and large biotech companies. Being able to provide these services here in Canada is vital to these companies staying and scaling up in Canada, as, points out Dr. Quizi, "they will go to where the biomanufacturing is."
As well, the BMC has two GMP manufacturing facilities at The Ottawa Hospital, one for viruses and one for living cells. This, says Dr. Quizi, is "relatively unheard of in an academic setting, and we are eager and poised to expand and do more."
Indeed, in its first 15 years, the BMC has produced 13 different kinds of cells and viruses in areas including cancer immunotherapies, CAR-T therapies, mesenchymal stem cells, adenoviruses for gene therapy and vaccines for COVID-19.
It is this last, and the pandemic more generally, that has underscored just how important it is to have this manufacturing capacity in Canada – and how much we lack it. Having a self-sustaining and functioning manufacturing facility means that when this capacity becomes vital, in a pandemic situation, for example, it is ready to go.
Ultimately, though, the best facility in the world cannot function without the best people. And, says Dr. Quizi, "we were having significant issues finding the right kind of people."
So the BMC decided to build its own workforce. It entered into a partnership with Ottawa's Algonquin College, University of Ottawa, Mitacs and BioCanRx to create CanPRIME, an eight-month paid internship that provides participants with training in all aspects of manufacturing in a GMP environment. Students spend part of the time rotating through the various BMC departments, trying their hand at everything from process and assay development, quality control and quality assurance to production. Then, once they've had a chance to sample it all, they can choose to spend the rest of their time in the area that interests them most.
The program is now on its third cohort of five participants, with many of the 10 previous participants now working full-time at the BMC at a job that, thanks to CanPRIME, they already know they are going to enjoy.
"In biologics manufacturing, because of their complexity, we refer to the process being the product. But I would go one step further and say that the people are the process and so without these highly trained people, there is no product" says Dr. Quizi. And the product means that patients will get access to the therapies they need, whether cancer immunotherapies, new treatments for rare disease or any of the growing number of conditions that are now starting to be successfully treated with biologics.