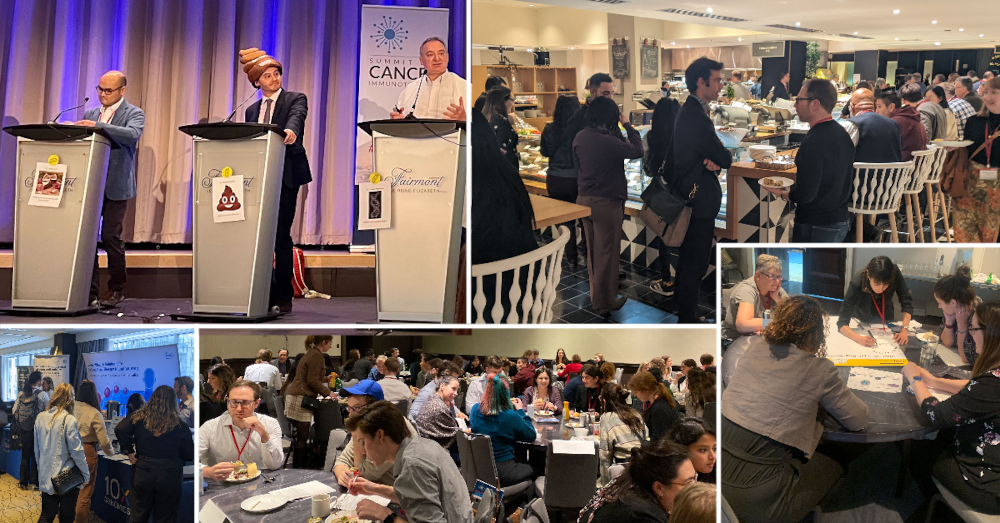 The long-awaited return of BioCanRx's annual scientific conference finally came to fruition as scientists, patients, clinicians, trainees, and government and industry representatives joined together at Montréal's Fairmont The Queen Elizabeth Hotel this past November 19-21. With a packed agenda offering plenaries, expert panels, social events and other networking opportunities, there was no time to waste for attendees eager to meet face-to-face.
Also returning in person this year, the BioCanRx-CSA Learning Institute brought together Patient Scholars and Academic Scholars from across Canada to connect and engage at the Summit. Participants had many dynamic and insightful conversations; discussed the science being presented and shared their perspectives on what patient engagement can and should look like in research. The high energy of this initiative helped forge many new connections among researchers and patients alike.
As always, the Summit kicked off with a busy HQP Development Day. Programming developed by the HQP Working Group, with support from Merck and GSK, included informational breakout sessions and industry talks for those at the beginning of their career journey. HQP had a chance to network with their peers, soak in career development advice, and bring their enthusiasm to the first scientific poster reception – the official start of the main conference.
This led directly into the Opening Night Dinner. BioCanRx's President & CEO, Dr. Stéphanie Michaud, Scientific Director, Dr. John Bell, and Board Chair, Ken Newport, provided an update on the positive impact of BioCanRx and expanded on what the future of the network might hold. This was followed by an inspiring talk from Patient Representative Marie-France and her son, Lucas Langlet, on their involvement in an immunotherapy trial run by BioCanRx network investigator Dr. Michel Duval, of the Université de Montréal, which ultimately led to a positive outcome in Lucas' pediatric cancer. To top it all off, keynote speaker Dr. Laurence Zitvogel, a renowned Paris-based scientist, presented her research on the impact of gut microbiota on tumour immunosurveillance.
Sunday began bright and early with the first plenary session, Applications of Synthetic Biology and Next Generation Engineering Strategies. This was followed by several convincing speed presentations from our Summit exhibitors and a quick coffee break before attendees were back in the plenary room for Session Two: Cancer Immunotherapy and the Microbiome. During the lunch break, HQP attended a 'Meet the Experts' session, supported by GSK, where they had the chance to learn from industry leaders on a small group basis. After the trainee speed poster presentations, which were very well-received, Imagine Lecture Award recipient Grace Fox spoke on the benefits of including patients in graduate student research.
Next came the arguably most fun portion of the conference – the debate. Three contenders were looking to answer the question: Who's Running the Immunology in a Tumour? Dr. Laszlo Radvanyi of OICR argued for mutational, Dr. Julian Lum of the University of Victoria was in favour of metabolomic and the ultimate winner, Dr. Bertrand Routy of CHUM, spoke in favour of the microbial influence (wearing a poop emoji hat for effect). It was certainly a spirited discussion!
Day two ended with another lively poster reception and a fun "Night In" at the Fairmont's own Marché Artisans, which featured a sparkling holiday display of local artisan goods, along with a wide array of food & drink for all to enjoy.
"It was wonderful to see familiar and new faces back in person at this year's Summit for Cancer Immunotherapy. BioCanRx looks forward to hosting this event next year, with the aim of promoting information sharing among Canada's immunotherapy researchers and engaging in productive discussions regarding the exciting future of immunotherapy in Canada. Thank you to all who attended and participated!" – BioCanRx President & CEO, Stephanie Michaud
The final day began with Plenary Four speakers presenting on the current state and future directions of Adoptive Cell Immunotherapy. This was followed by the last plenary of the Summit aiming to answer the question, "What's the endgame for cancer immunotherapy in Canada?" After lunch, which included a Patient-Researcher Roundtable discussion for some participants, attendees were treated to an exceptional virtual Closing Keynote from the esteemed Dr. Carl June of the University of Pennsylvania and Parker Cancer Institute who gave an update on CAR T cells.
Alongside the Closing Award Ceremony, it was the perfect way to end this year's Summit for Cancer Immunotherapy. The BioCanRx team extends a hearty thanks to all who supported, attended, and participated! Be sure to mark your calendars to attend Summit4CI at the Fairmont Château Laurier in Ottawa, happening Oct 1-4, 2023 – check out cancersummit.ca for updates!