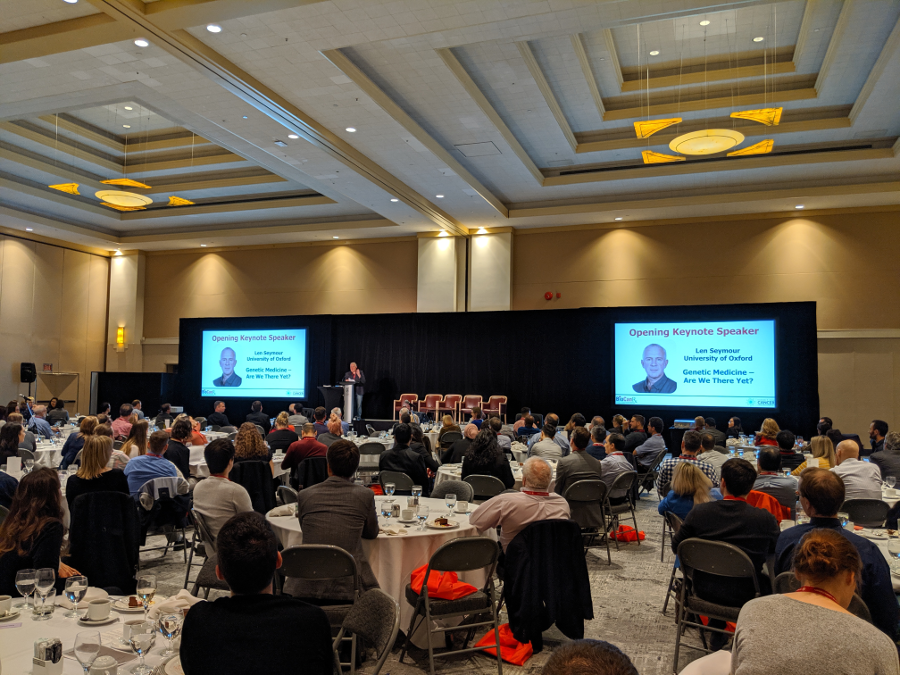 Victoria, BC, was the back drop for BioCanRx's fourth scientific conference. From October 20 to 23, 2019, the Summit for Cancer Immunotherapy (Summit4CI) brought together 300 delegates including leading scientists, clinicians, trainees, economists and representatives from industry, patient groups, charities and government.
Summit4CI explored the latest cancer immunotherapy developments from scientific, clinical patient and industry perspectives. The Scientific Programming Committee planned an outstanding lineup of plenaries and speakers including distinguished keynote Dr. Len Seymour, of the University of Oxford, who gave a talk titled Genetic Medicine – Are We There Yet?
"The calibre of the talks set the bar high for future summits," said Dr. John Bell, BioCanRx Scientific Director and Co-chair of the Summit. "We were also particularly impressed with the outstanding presentations of our HQP speakers. The future of immunotherapy research in Canada looks very bright!"
Plenary session topics ranged from Gene Editing in Cancer Immunotherapy to Biomarkers and Mechanisms of Resistance. Additional highlights included a Patient Plenary focusing on Innovation, Access and Affordability and a session exploring Brain Cancer Immunotherapy. New this year was the addition of an Oxford-style debate. The topic was Cancer vaccines have no place in the era of cell therapy with combatants Dr. Rebecca Auer of the Ottawa Hospital Research Institute (Against) and Dr. Jonathan Bramson of McMaster University (For). After a lively, witty discussion, Dr. Auer swayed more audience members and won the debate!
"The Summit has become a place for making new connections with others interested in immunotherapy research," said Dr. Stéphanie Michaud, BioCanRx President & CEO and Summit Co-chair. "It's a great opportunity for our network investigators, partners, sponsors, trainees and member of the patient community to share insights and the latest from their respective areas." Dr. Michaud highlighted the Patient Researcher Round Table as an example. "At the Round Table, oncology patients and representatives from charities and patient-advocacy NGOs joined junior and senior BioCanRx researchers where they presented their research projects and discussed ideas around opportunities and challenges for patient-researcher partnerships."
This year BioCanRx was pleased to have two of our Highly Qualified Personnel (HQP) present key talks. Alyssa Vito, of McMaster University, shared her personal story of being a breast cancer survivor and her shift to a career in cancer research. Brittany Umer, of the University of Alberta, presented the inaugural Trainee Imagine Lecture as part of the Patient Plenary.
BioCanRx's trainees took part in an HQP Development Day supported by AbCellera and AdMare Bioinnovations as well as poster sessions, a Meet the Experts lunch and more. Learn more about HQP activities at this year's Summit.
The Learning Institute (LI) returned for its third year as a key part of Summit4CI. BioCanRx's Cancer Stakeholder Alliance LI Working Group and members of BioCanRx's HQP, developed a program that brought together leaders from the oncology patient community and academics from the immunotherapy research community. LI members took part in webinars leading up to the conference and then attended all plenaries, engaged in knowledge exchange activities and a Patient-Researcher Roundtable event. Our goal is patient scholar-researcher collaboration. Our thanks to CIHR Institute of Cancer Research for sponsoring this important initiative. Learn more about this year's LI.
Many thanks to Novartis, our Platinum sponsor, Merck our Gold sponsor and all of the 2019 Summit4CI sponsors. The Summit wouldn't happen without this industry support! Our thanks also to the dedicated work of the Scientific Program Committee, HQP Working Group, Learning Institute organizers, and all of the speakers.
Stay tuned for details about the 2020 Summit!