By: Heather Blumenthal
Immunotherapy is enormously promising for cancer treatment. But while every day research is every day advancing the area, thanks in part to funding from BioCanRx, it is expensive – and that expense pales in comparison to the cost of bringing a discovery out of the lab and into human trials and then into clinical use. Viruses and other vectors need to be produced in large quantities and according to Good Manufacturing Practices (GMP), while immune testing to assess the effectiveness of potential treatments needs to be carried out according to Good Laboratory Practices (GLP).
That's where BioCanRx steps up to the plate for its funded researchers – and for all researchers, in Canada or worldwide – conducting immunotherapy research and translating it into clinical use. BioCanRx supports five core facilities across the country, each offering services to researchers on a cost-recovery basis. And each of these five facilities is open for business, not only for BioCanRx-funded researchers, but for all researchers, in Canada or throughout the world.
Two of the facilities are viral vector facilities, located at the Ottawa Hospital and McMaster University, both offering GMP manufacturing services.
The other three facilities, located at McMaster University, Canada's Michael Smith Genome Sciences Centre and the BC Cancer Agency's Deeley Research Centre, are immune-monitoring facilities.
"These facilities further academic research, they help in its translation to the clinic, and enrich clinical trials information," says BioCanRx Director of Scientific Affairs Kelley Parato.
Viral vector core facilities
Viral immunotherapy, to put it simply, relies on delivering viruses to the cancer that will elicit a tumour-fighting immune reaction. Not just any virus will do, though. Viruses must be modified in the laboratory to elicit the needed reaction and take them to the place they need to go.
BioCanRx supports two viral vector manufacturing facilities that manufacture these viral vectors to a Good Manufacturing Practice, or GMP, standard, one at The Ottawa Hospital (TOH) and one at Hamilton's McMaster University. (GMP is a system that ensures that products are manufactured consistently to a high standard that enables their safe use in humans.) Each of these produces different types of viral vectors.
The Biotherapeutics Manufacturing Centre (BMC), led by Dr. John Bell (also the Scientific Director of BioCanRx), is specifically designed to manufacture oncolytic viruses for human clinical trials, specializing in oncolytic viruses.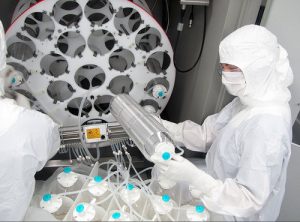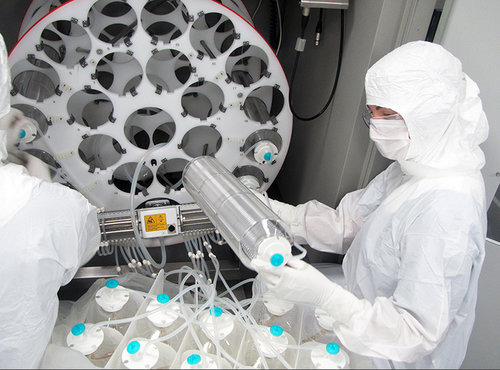 BMC operates along the continuum from research to manufacturing for clinical trials, developing assays and processes for viruses that start out as an academic endeavor. But, say Acting Centre Director Liana Medynski and Operations Manager Dr. Megan Mahoney, they go beyond this, to "get everything in place to upscale and manufacture products in large quantities" for phase I and II trials. The Centre doesn't currently manufacture for phase III trials, but that could happen in the future, they say. The Centre maintains a client's virus seed bank for use in R&D, but moving viruses from a seed to upscale manufacture of a GMP product for clinical trials can take up to two years.
Their current client mix is about half academic and half commercial, usually small biotech companies, and they tend to work with as many as ten clients at a time. Some clients just need access to the GMP space to manufacture their product, while others need help right from the viral seed stage.
"We are able to work with them from the ground up," says Medynski.
For more information, please contact:
Megan Mahoney, PhD
613-737-8899 ext. 75234
memahoney@ohri.ca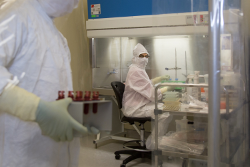 The Robert E. Fitzhenry Vector Laboratory, led by Dr. Brian Lichty, is what is known as a campaign laboratory. It devotes its resources to manufacturing only one viral vector at a time, followed by extensive cleaning and environmental monitoring, to ensure the purity of the process.
The facility's viral vaccine vectors are used for preclinical testing, clinical trials and, somewhat unusually, veterinary medicine, treating dogs with cancer. It makes sense, though, when Dr. Lichty explains that, "dogs with cancer are more similar to humans that the mouse models that most researchers use."
As one of only two academic viral vector labs in Canada, Dr. Lichty says they could be busier, but that it's difficult for researchers to find funding, particularly for clinical trials. Still, without the BioCanRx support, the Fitzhenry Lab would not be there for those researchers whose grants include funding for viral vector production.
For more information, please contact:
Brian Lichty, PhD
905-525-9140 ext. 22478
lichtyb@mcmaster.ca
Immune-monitoring core facilities
The measure of a treatment, of course, is whether it works. But at the research stage, it's important to find out what effect a treatment is having on the immune system – even if it doesn't create the desired outcome in terms of a tumour response, it is important to know whether it is eliciting the desired immune system reaction, just not one that is strong enough, or whether it is not eliciting the desired immune response at all. This knowledge is crucial to moving research forward, to the point where it can become a potentially effective treatment.
BioCanRx supports three immune-monitoring core facilities, two in BC and one in Hamilton, Ontario, each of which complements the others' work.
The Human Immune Testing Suite (HITS), led by Dr. Jonathan Bramson, is a one-stop shop for immunological analysis of human clinical samples, possessing the ability to monitor immune cells before, during and after treatment with an oncolytic virus.
The challenge, he says, is to know whether treatment with an oncolytic virus didn't work because the immune cell didn't hit its target, which gives one kind of information, or whether the immune cells didn't develop in the first place after administering the oncolytic virus, which dictates a different path for research to take. Either way the monitoring allows you to know if the treatment worked or, if it didn't, why not.
HITS has developed specialized assays, unique to the facility, to assess immune response to treatment with an oncolytic virus. Immunotherapy researchers are among the most frequent users of the lab's services, but so are researchers looking at other diseases, or contract research
organizations that deliver clinical trials but subcontract immune monitoring to HITS. The lab also delivers services including next generation genomic sequencing, biomarker platforms and histology through its partners, making it truly a one-stop shop for researchers, who, Dr. Bramson says, "don't have the technologies and expertise in-house."
For more information, please contact:
Alina Lelic, PhD.
905-525-9140 ext. 22637
alinalelic@hotmail.com
Genomics and immunotherapy are so closely linked, according to facility Director Dr. Rob Holt, that it's hard to disentangle the two. "Cancer is a disease of the genome," he says, a collection of genetic mutations that the immune system sees as foreign.
The Immunogenomics Core Facility uses genomic technologies and bioinformatics to examine the genetic properties of both tumours and the immune responses to them. For example, it uses DNA sequencing to identify the immune cells that are best placed to target the tumour, so that these cells can be modified to enhance their abilities to do so.  The core also designs, manufactures and tests Chimeric Antigen Receptors (CARs) for genetic engineering of T cells.
A relatively new area of activity for the facility, which is embedded in the genomics platform of the Michael Smith Genome Sciences Centre (the largest Genomics Centre in Canada), is analysis of the tumour microbiome, the collection of microbes present in the tumor environment. Some
microbes can be directly related to cancer development and progression and potential targets for vaccination and other immunotherapies, Dr. Holt says, and the facility has already discovered novel infectious agents linked to cancer.
For more information, please contact:
Payal Sipahimalani, PhD.
payals@bcgsc.ca
Molecular and Cellular Immunology Core (Deeley Research Centre, BC Cancer Agency)
The Molecular and Cellular Immunology Core (MCIC), under the leadership of Dr. Brad Nelson,
is a leading centre in Canada for the evaluation of tumour microenvironments, with leading-edge technologies that allow it to visualize the interactions and functional relationships between immune cell populations within a tumour.
Through special imaging equipment and software, the lab can assign colours to different kinds of immune cells and then watch to see what they do, in a process called immunohistochemistry. MCIC works with partners within the Deeley Research Centre of the BC Cancer Agency, as well as with researchers from across Canada and around the world, according to the facility's manager, Katy Milne.
MCIC hopes to expand its technologies and expertise to be able to look directly at RNA and DNA, developing the molecular side of things, Milne says, in part with the support received through BioCanRx.
Funding the big discoveries is rewarding. Infrastructure such as BioCanRx's core facilities is less glamorous. Without these facilities, though, the big discoveries would take much longer, be much costlier and, possibly, wouldn't be made at all. The relatively small investments BioCanRx is making in its core facilities are poised to generate big payoffs for Canadians.
For more information, please contact:
David Bond, PhD.
David.Bond@bccancer.bc.ca
BioCanRx Network Members & Core Facilities Map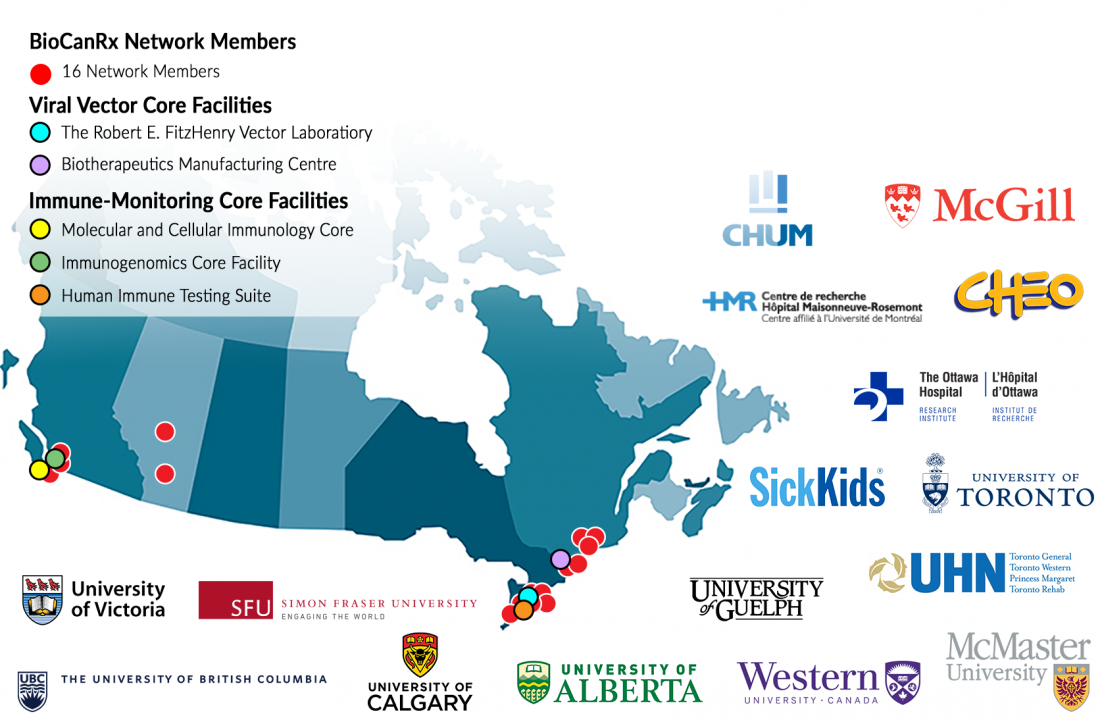 ---
Heather Blumenthal has been writing about health and health research for more than 20 years and never loses her fascination with the advances Canadian researchers are making.