Partners congratulate Turnstone Biologics Inc.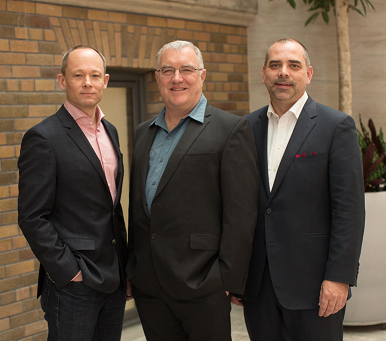 Canadian academic institutions and research organizations are congratulating Turnstone Biologics on a new partnership with AbbVie to develop cancer-fighting viruses (also called oncolytic viral immunotherapies).
Turnstone was founded in Ottawa based on research led by Dr. John Bell (from The Ottawa Hospital and uOttawa – middle), Dr. Brian Lichty (from McMaster University – right) and Dr. David Stojdl (from the Children's Hospital of Eastern Ontario and uOttawa – left). The Ontario Institute for Cancer Research (OICR) and BioCanRx have also played a key role in advancing the technology.
Quick Facts and Links
Turnstone was recently recognized as one of the top 15 biotech start-ups in the world.
In 2016, Turnstone secured US$41 million in venture capital (VC) funding. This is believed to be the largest VC deal in Ottawa since 2013 and the second largest biotech VC deal in Canada in 2016.
As of October 2017, Turnstone had 25 employees in Ottawa, Hamilton and New York. It expects to approximately double its employees by the end of next year.
Turnstone's most advanced product is called Ad-MG1-MAGEA3. It is produced in The Ottawa Hospital's Biotherapeutics Manufacturing Centre and the McMaster Immunology Research Centre.
Top journal Science called cancer immunotherapy the "breakthrough of the year" in 2013.
Ad-MG1-MAGEA3 is currently being tested in clinical trials at several hospitals across Canada. People who are interested in participating in these trials can read these frequently asked questions.
While public funding is crucial for cancer research discoveries, private investment is almost always necessary to advance the development of new therapies, as this can cost more than US$2.5 billion.
Turnstone was co-founded by FACIT, The Ontario Institute for Cancer Research's commercialization partner, which provided initial management, seed financing, intellectual property consolidation and hiring of initial employees including the CEO.
Numerous organizations have supported the research team, including the Alliance for Cancer Gene Therapy, Angels of Hope, BioCanRx, the Canada Foundation for Innovation, the Canadian Cancer Society Research Institute, the Canadian Institutes of Health Research, CHEO Foundation, Hair Donation Ottawa, the Ontario Institute for Cancer Research, the Ontario Ministry of Research, Innovation and Science, The Ottawa Hospital Foundation, the Ottawa Regional Cancer Foundation and the Terry Fox Research Institute.
Quotes from Founding Scientists
Dr. David Stojdl, senior scientist, Children's Hospital of Eastern Ontario; associate professor, University of Ottawa:
"This partnership is incredible validation of our promising science. We all want to help cancer patients. I believe that our two-in-one immunotherapy approach has the potential to make a meaningful difference for patients."
Dr. Brian Lichty, associate professor at McMaster University:
"Our technology has strong preclinical and Phase 1 data, and AbbVie entered into this collaboration based on its data and promise. This partnership will allow us to rapidly move additional therapies into clinical trials, with the goal of helping patients."
Dr. John Bell, senior scientist, The Ottawa Hospital; professor, University of Ottawa:
"Immunotherapy has the potential to cure even advanced cancers, but so far, it only works in a minority of people. We believe that our unique approach has the potential to significantly expand the number of people that can benefit from immunotherapy."
Additional Quotes
Reza Moridi, Minister of Research, Innovation and Science
"Ontario is proud of its commitment to cancer research and innovation. Congratulations to Ontario's Turnstone Biologics research team. This global collaboration means patients are closer to receiving ground-breaking cancer-fighting discoveries developed in Ontario. It means another Ontario start-up is scaling up and creating jobs in Ontario."
Dr. Martin Osmond, CEO and Scientific Director, CHEO Research Institute; professor, University of Ottawa:
"CHEO is proud that the Stojdl lab was involved in the initial discovery and development of the Maraba virus! Today it's the lead asset in Turnstone's impressive portfolio, which is nothing short of inspiring. My heartfelt congratulations to the entire team at Turnstone for this major milestone which boosts the trajectory towards improved patient outcomes through research."
Dr. Duncan Stewart, Executive Vice-President of Research, The Ottawa Hospital; professor, University of Ottawa:
"It is incredibly challenging for academic researchers to take a discovery all the way from the lab bench to the patient's bedside, so I want to offer my heartfelt congratulations to Dr. Bell and his colleagues. Their success has helped to create a culture of translational research at The Ottawa Hospital that has huge potential for patients as well as the economy."
Dr. Sylvain Charbonneau, Interim Vice-President of Research, University of Ottawa
"This partnership represents a major milestone in the development and translation of academic research discoveries into the clinic. The University of Ottawa congratulates Turnstone and our researchers on their success. We look forward to working with Turnstone and the research team to advance this technology further."
Dr. Paul O'Byrne, Dean and Vice-President, Faculty of Health Sciences, McMaster University
"Commercialization of discoveries in our academic laboratories is an important move forward to a healthy society, both economically and physically. We are extremely thrilled by the work of Dr. Lichty and other McMaster scientists, and the collaboration on this project with CHEO, The Ottawa Hospital, University of Ottawa, other supporters and now, Turnstone. This significant investment being made in Turnstone is much appreciated."
Peter Goodhand, President of the Ontario Institute for Cancer Research:
"The Ontario Institute for Cancer Research (OICR) congratulates Turnstone on this exciting new partnership. OICR has proudly supported the multi-institutional research behind Turnstone from the project's inception and has provided significant financial and in-kind support for one of the clinical trials currently underway. Working together with our institutional collaborators and our commercialization partner FACIT (the Fight Against Cancer Innovation Trust), which co-founded and continues to invest in Turnstone, we were able to achieve far more than we could have working alone. We look forward to seeing the further development of Turnstone's technologies and the benefits they will have for cancer patients and the Ontario economy."
Dr. Stéphanie Michaud, President and CEO, BioCanRx
"On behalf of BioCanRx, I wish to extend my congratulations to Turnstone Biologics on the significant partnership announced today. This announcement not only reflects the accomplishments of Turnstone but also of the advancements in the oncolytic virus platform in Canada, and around the world. These novel therapies potentially offer a unique opportunity to change the way we treat cancer patients. We are delighted to continue working with Turnstone in transitioning these important new discoveries out of the lab and into the clinic."
Media Contacts