By Heather Blumenthal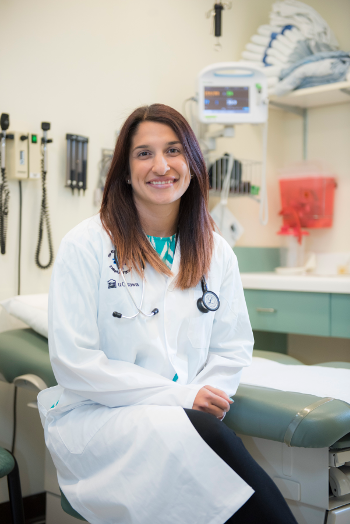 Ostensibly, it's a clinical trial of an immunotherapy for blood cancer patients with specific kinds of leukemia or lymphoma, for whom other treatments have not been successful. A better result could mean the difference between life and death for these patients; the importance of this trial for them cannot be overstated.
But the implications of the Canadian-Led Immunotherapies in Cancer (CLIC-01) clinical trial, funded in part by BioCanRx, go far beyond this one trial, says lead investigator Dr. Natasha Kekre of The Ottawa Hospital and the University of Ottawa. It is the first trial that uses Canadian-made CAR T cells and, if successful, it means that further research innovations will be available to Canadian patients.
CAR T cells, or chimeric antigen receptor modified T-cells, are not simple, off-the-shelf products. They are, says Dr. Kekre, much more complex than drugs. They work by enhancing the body's own immune system to better attack cancer.
The cells are made from patients' own T-cells, a type of immune system cell. The T-cells are extracted from their blood, genetically modified in the lab to be more active, and then re-administered to the patients. These "souped-up" immune cells are then better able to attack and kill cancer cells.
CAR T cells have shown tremendous promise in treating cancers that haven't responded to other treatments. To date, two CAR T cell therapies are on the market, targeting certain types of B-cell lymphoma and acute lymphoblastic leukemia. Both of these treatments have been approved for use in Canada.
But, says Dr. Kekre, Canadians don't have the same ability to participate in clinical trials that are testing new uses of CAR T cells because we have very limited domestic infrastructure for manufacturing the cells. That, she says, is at the base of this trial.
"We are building the research infrastructure, to make this research available to Canadians," she says. "Canadian cancer patients shouldn't have to wait for the research to be done elsewhere, but be able to participate in innovative clinical trials here at home."
Thanks to support from BioCanRx, Canada now has the ability to manufacture CAR T cells using patients' own T-cells. Two previous studies, both of which Dr. Kekre was involved in, built the manufacturing capacity for CAR T cells and examined the clinical, social and economic impacts of having this capacity available in Canada. The end goal of the latter project was to design a feasible, safe, and effective clinical trial protocol – the protocol that has since become CLIC-01.
Dr. Kekre is uniquely suited to lead this trial. Her background is in the highly technical areas of stem cell transplantation and immunotherapy. But she also possesses a master's degree in public health from Harvard University, where a major focus was learning the skills needed to execute well designed clinical trials.
CLIC-01 is underway now. The first phase of the trial, with about 20 patients, will establish the safety of the home-grown CAR T cells. The second phase, which will involve another 40 patients, will then look at their efficacy in fighting leukemia and lymphoma. The trial is currently open and accruing at sites in Ottawa and Vancouver.
And after that? It's anybody's guess, but the potential is huge. The most likely avenue, says Dr. Kekre, is extending CAR T therapy to other forms of cancer, either alone or as part of a combination therapy, to stop the cancer cells from repelling an immune system attack into the game, as well as to supplement the CAR T cell-fuelled immune attack.
CLIC-01 is critically important for the patients involved. But it is also being watched closely for its impact on future research that will be carried out in Canada, for the benefit of Canadian patients. A giant step in cancer treatment, indeed.
---
Heather Blumenthal has been writing about health and health research for more than 20 years and never loses her fascination with the advances Canadian researchers are making.