At BioCanRx, we are incredibly proud of our HQP and their dedication to cancer immunotherapy research. Whether they are working on viruses in the lab or examining the socioeconomic barriers to adopting certain treatments in Canada, each one plays a unique role in strengthening our network and expertise in immunotherapy.
BioCanRx is invested in our HQP by providing them with both the training and skills they need to be leaders in academia and industry.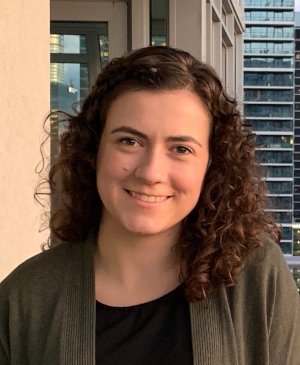 1. Tell us about yourself. Give us a brief background. Who are you? Where did you go to school and what is your association to BioCanRx?
Hi, I'm Hayley. I grew up in Ottawa and have always been fascinated by biology and medicine. Ottawa was a wonderful city to live and learn, spending my time outside of the lab either skiing in Quebec or on the soccer pitch. After completing my Bachelor of Science at Queen's, I returned to Ottawa and joined Dr. Carolina Ilkow's lab for my MSc. Throughout my MSc, I had the opportunity to attend the 2018 BioCANRx Summit for Cancer Immunotherapy in Banff and was an HQP Working Group Member for the Summit as well.
2. Where do you work now, and what is your position?
I work at SickKids as a Clinical Research Project Manager in the Inflammatory Bowel Disease Centre. I manage our research program, consisting of both industry clinical trials and academic-sponsored studies within the Canadian Children's IBD Network (CIDsCaNN). This position has enabled me to combine my passions for science and medicine in a meaningful career.
3. What does typical work day look like for you?
I love that every day looks a little different. I would say that 60% of my role is managerial and 40% involves patient-facing activities. Sometimes, my day consists of recruiting inpatients or outpatients into our research studies. Other days, I prepare research ethics applications, collect and analyze research data, or develop standard operating procedures. I am lucky to lead a team of 4 coordinators/assistants who I guide in attaining our research objectives.
4. How has your experience with BioCanRx contributed to your career development?
It was at the BioCANRx Trainee Development Day in Banff that I first realized clinical research was an exciting and viable career option. I hadn't been exposed to clinical research before meeting a Clinical Research Associate at the Meet the Experts event. Thank you BioCANRx!
5. What advice do you have for career development that you would pass on to other BioCanRx trainees?
Look for opportunities to step outside the lab and gain valuable skills you can apply to your future career. When I was looking for a job near the end of my MSc, it was the volunteer positions like Working Group Member with BioCANRx that set me apart. Aside from this, start exploring career options early so that you can develop the skills relevant to your desired career path.