At BioCanRx, we are incredibly proud of our HQP and their dedication to cancer immunotherapy research. Whether they are working on viruses in the lab or examining the socioeconomic barriers to adopting certain treatments in Canada, each one plays a unique role in strengthening our network and expertise in immunotherapy.
BioCanRx is invested in our HQP by providing them with both the training and skills they need to be leaders in academia and industry.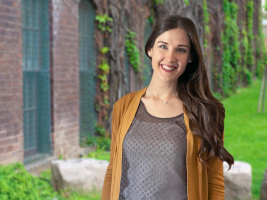 1. Tell us about yourself. Give us a brief background. Who are you? Where did you go to school and what is your association to BioCanRx?
I'm Brittany, a recent graduate from the University of Alberta who defended my PhD in January. I did my PhD in Microbiology and Immunology where I investigated how to use genetically modified oncolytic viruses to redirect immune responses towards breast cancer. I became involved with BioCanRx in 2016 after attending the Summit for Cancer Immunotherapy in Halifax. Over the years, I was a member of the Summit4CI HQP working group, the BioCanRx HQP development committee, and the BioCanRx Cancer Stakeholder Alliance Learning Institute, where I helped develop the program in 2017 and served as co-chair for 2018.
2. Where do you work now, and what is your position?
I work at a service design consulting agency called Bridgeable as a Senior Design Researcher. We specialize in creating more human experiences using design thinking. While the agency works across many sectors, I specialize in research and designing pharmaceutical and health care experiences. This means working with patients, caregivers, and other stakeholders to make healthcare and pharma more patient-centric.
3. What does a typical work day look like for you?
As I'm sure most people would say, there is no typical work day! Every day and every project is different, which keeps it fresh and exciting. I'm always learning! A day in the service design world might involve planning or facilitating design and co-creation workshops with patients, caregivers, or other stakeholders, synthesizing research to develop insights into the user-experience, meeting with clients and project leads, or even just helping out my colleagues by providing scientific or research support while scoping projects.
4. How has your experience with BioCanRx contributed to your career development?
BioCanRx has helped me immensely over the years with my career development, and got me started on the path towards my current career. While the professional development and networking sessions hosted by BioCanRx for HQP were certainly helpful along the way, it was my involvement with the Learning Institute and this work in patient engagement that really altered my career path. In 2017, after developing and participating in the Learning Institute, I wrote a testimonial about my experiences for BioCanRx (https://biocanrx.com/learning-institute-testimonials). In it, I talk about the impact that this experience in patient engagement with the learning institute had on me. In that article I wrote " My participation in the Learning Institute changed how I listen to scientific presentations, altered how I conduct and evaluate my own research, and perhaps even altered the direction of my career path…" Now, 4 years later, that statement is truer than ever! Here I am, doing patient engagement for my career!
5. What advice do you have for career development that you would pass on to other BioCanRx trainees?
The biggest piece of advice I can give is about networking: do it early, often and talk to everyone you can. You hear it so much, but networking really is the most important part of finding a career that is the right fit for you.
My experience in my job hunt is a perfect example of this. After working with the BioCanRx-CSA Learning Institute, I knew I loved patient engagement, but I wasn't sure how I could make a career out of it. I kept involved and active in patient engagement initiatives, and would search on LinkedIn for different ways I could integrate patient engagement into my career. I contacted people in pharma who I found on LinkedIn, did informational interviews, and always kept active in patient engagement communities. However, it was a chance meeting at the 2019 BioCanRx meeting in Victoria that led me to Bridgeable. I was chatting with one of the experts from the "meet the experts round tables" after I delivered a talk on patient engagement. I expressed how much I loved that line of work, but that I wasn't sure I would be able to find patient engagement roles in Canada. It turns out he had a personal connection at an agency in Canada that did just that! And lo-and-behold, he was kind enough to facilitate an introduction to a Director at Bridgeable. Over a year later, the stars aligned and as I was wrapping up my PhD and preparing to defend, an opportunity opened up at Bridgeable.
I think my story illustrates why it is so important to network and prepare yourself for when the right opportunity comes up. I had the tools, skills, training, and passion, but it took over 4 years to get to this place. They say luck is when preparation meets opportunity-so if that is true, I'm lucky to have landed where I am!