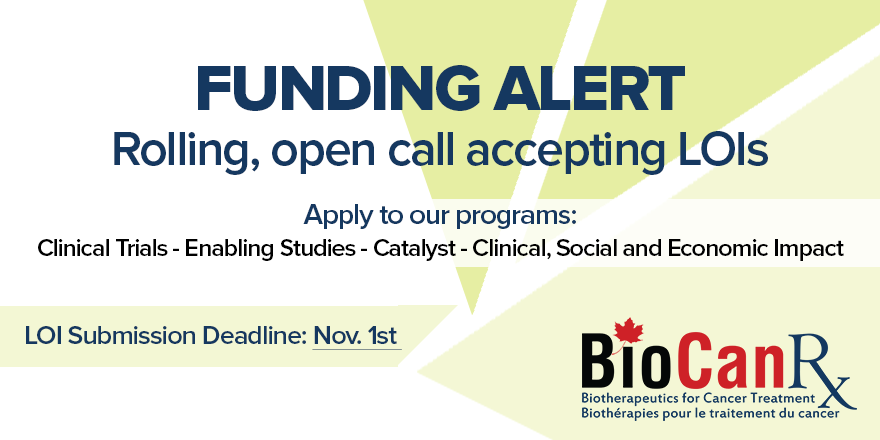 *PRIORITY FUNDING CALL: BioCanRx is pleased to announce that the next call for applications is now open in all of the Catalyst, Enabling, Clinical Trial, and Clinical, Social & Economic Impact (CSEI) programs. At this time, BioCanRx is placing highest priority on the intake of new applications for funding, proposing research activities that would be likely to add value to, facilitate the implementation of, or enhance the translation to clinic of, technologies within the existing BioCanRx portfolio of research investments. The projects contained within the BioCanRx research portfolio are found here. Of important note, new applications will be expected to speak very specifically to the value-add of their proposed research deliverables and the complementarity to support the successful development of BioCanRx technologies or research projects.

Funding timelines: Applicants should be aware that all projects must plan to be completed no later than March 31, 2020. Given this time constraint, it is unlikely that new clinical trial projects will be funded in this next call for proposals, unless the trial is of a small pilot scale AND the applicant(s) can convincingly demonstrate feasibility of completion of the study by March 31, 2020.

Application deadlines: Next LOI submission deadline will be 11:59 am EST on November 1, 2017 invited full applications are anticipated by mid-February (date TBD) for funding to commence by April 1, 2018.

Find application process and instructions here.

*Stay Tuned: BioCanRx is developing an upcoming targeted call to our Clinical, Social & Economic Impact (CSEI) Program, seeking proposals in the area of early health technology assessment (HTA) tools and methodologies, and their application for early stage clinical development of BioCanRx biotherapeutic platforms and technologies. We anticipate launching this call in the coming weeks, check back here for further details!