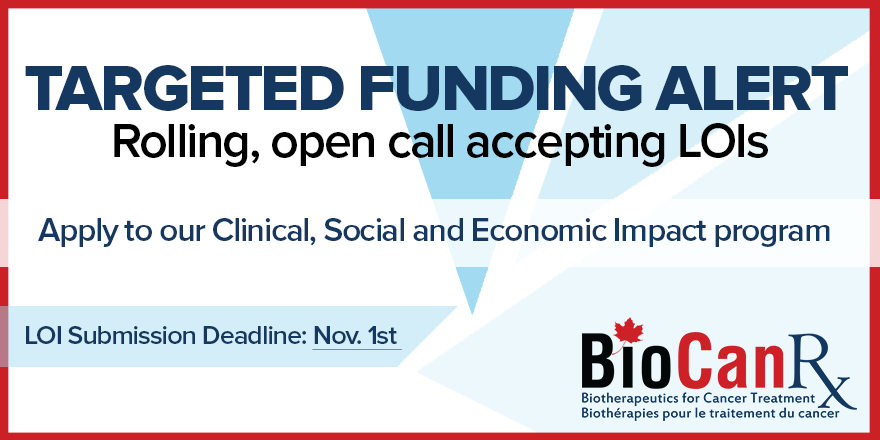 *TARGETED FUNDING CALL: BioCanRx is pleased to announce that the next call for applications is now open in the Clinical, Social & Economic Impact (CSEI) program. At this time, BioCanRx is placing highest priority on the intake of new applications for funding, in the area of development and application of early Health Technology Assessment (HTA) tools and measures, to apply to phase I Clinical Trial applications or funded projects in the BioCanRx technology portfolio. Of important note, these CSEI program applications will be expected to speak very specifically to the value-add of the proposed research deliverables on the successful forward development of BioCanRx technologies, the impact of the intended research deliverables on their later stage adoption, regulatory approval, and/or health system payer decisions or policies.
BioCanRx expects that applications received in this funding call may be of pilot scale, such that successful outcomes of funded research may inform a follow-on larger implementation project or program within BioCanRx's next funding cycle. Applicants will be expected to speak to how research conducted in this funding round will inform later stage and larger scale implementation of research outcomes.
Examples of research objectives, methods, or activities under this current call may include:

Creation of guidelines for early HTA, including description of tools/methods, which could be used in the Canadian landscape.  The guidelines would be both practical and beneficial for the transition from development of BioCanRx early stage technologies (late preclinical, phase I clinical trial research) to traditional later HTA efforts.

Proposals in this area would answer questions like:

What data should be collected for early HTA?
How should they be collected?
What analyses should be done?
How to characterize the uncertainty of the findings?
Identification of early HTA and policy drivers and barriers in the Canadian landscape, and proposed strategies to address hurdles and take advantage of opportunities

Proposals in this area would answer questions like:

Given the results from a pCODR review, what could have been done differently in a Phase I trial?
Are there unique features that suggest when Phase I trials might benefit most for HTA data collection or HTA data analysis? And when they will not benefit from HTA data?
A knowledge translation proposal, to develop a strategy/framework to apply early HTA tools and methods to a specific BioCanRx technology project;

Proposals in this area would answer questions like:

Once early HTA has been completed at the Phase I stage, how should that information inform

The decision and adoption to proceed to Phase II studies (or even directly to Phase III studies) or not ?
The funding recommendation process
Other Phase I activities?
What are the barriers for obtaining and using the information?
What are potential strategies to enhance potential use and impact in later-stage activities?
Available Budget: $100k/project.

Funding timelines: applicants should be aware that all projects must plan to be completed no later than March 31, 2020. The anticipated start date of projects awarded in this funding cycle is April 1, 2018. Funded projects are expected to be milestone and deliverable driven, and progress will be monitored by the BioCanRx Research Management Committee every 6 months. 

Connecting with BioCanRx: As this Call for Proposals is seeking research directly applicable to the BioCanRx technology portfolio (view our funded projects here: https://biocanrx.com/research/project-portfolio/clinical-trials), please contact Drs. Kelley Parato (keparato@biocanrx.com), Stéphanie Michaud (smichaud@biocanrx.com), or John Bell (jbell@ohri.ca) at any time to connect with any of our Network's technology experts or project leaders, to collaborate in the development of  your submission.

Application deadlines: Next LOI submission deadline will be 11:59 am EST on November 1, 2017 invited full applications are anticipated by mid-February 2018 (date TBD) for funding to commence by April 1, 2018.