June is National Indigenous History Month and is a time to honour the history, diversity, and strength of Indigenous peoples across Canada. It is also an important time for us to reflect on how we can be better allies to Indigenous peoples and to actively engage in reconciliation. We talked with BioCanRx HQP and member of the BioCanRx EDI committee, Gillian Carleton (PhD candidate in Dr. Julian Lum's lab), about what the lab is doing in their ongoing commitment to reconciliation.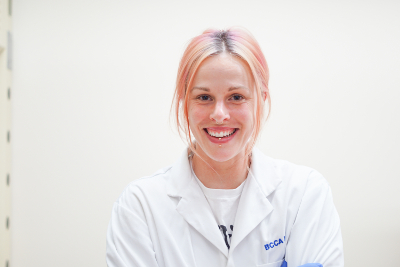 1. What does reconciliation mean to you and the Lum Lab?
When we think about reconciliation it's very easy to fall into the trap that we are moving forward and reestablishing a good relationship. While that is the end goal it does not touch on the fact that there has to be a level of reflection, learning, awareness, and most of all understanding of these truths that are requiring us to engage in reconciliation to begin with.
For us, when talking about reconciliation it was very important that before we started talking about what collective action we could take we wanted to do it from a place of understanding where we as settlers and as scientists may have been complicit in the harms that were perpetuated against Indigenous peoples. Only from that level of understanding and awareness can you really make any kind of forward steps that are going to have meaning rather than an empty gesture with no real understanding of what was done in the first place.
2. What steps has the lab taken to work on reconciliation with Indigenous peoples in Canada?
When we sat down to talk about what we wanted to do, education was our highest priority. Although more and more people are now becoming aware of how serious this issue is and how much harm was done, particularly in the role that scientists played, many of us are still ignorant to the extent of these issues.
The first step that we took was we registered the entire lab in a course at the University of Victoria on Indigenous cultural acumen training. It was facilitated by 2 Indigenous leaders who also hold teaching positions at University of Victoria. The course was so well done and contained those critical historical components as well as what reconciliation means and how we can move forward. Learning the uncomfortable truths of the Indian Residential School program, the various experiments conducted on those students, and the Indian Hospital System was of course uncomfortable but is our responsibility in order to be able to effectively engage in reconciliation.
After that course we drafted our own land acknowledgement which includes what actions we want to take towards reconciliation. These next steps include furthering our education and attracting more Indigenous individuals to our lab. Of course, there are certain structural barriers that cause a lack of Indigenous representation in higher level STEM positions that we can't tackle but we are trying to combat this through preferential hiring practices of marginalized groups as well as ensuring the lab is a safe space for Indigenous students by continuing our education in cultural safety and cultural competency in order to fully support these students.
3. On your website you have written your own land acknowledgement statement, can you tell us a bit about that process and what you believe was important to include?
The first thing that we needed to do was obviously ask ourselves whose land we are on in order to properly acknowledge the land and the people. In Victoria we are on Coast Salish land specifically lək̓ʷəŋən speaking people, that is the Songhees and Esquimalt First Nations.
Another big component was learning how to properly pronounce these names for any oral presentations we may be giving, in order to truly show respect. It was also noted by one of the facilitators at the training we attended how it was interesting that many land acknowledgement statements tend to say, "we acknowledge with respect this land that we are on", when what he would prefer and what means a lot more is "we acknowledge and respect", which is something I hadn't thought about before. So rather then, "we are only respecting you when we are acknowledging your land that we have taken" instead when we use "we acknowledge and respect" we are acknowledging your land and respecting you as a people as visitors on your land.
It was also really important for us to include what steps we are taking in our ongoing commitment to reconciliation such as education, preferential hiring of Indigenous students, commitment to training, and specifically laying those things out there in order to hold ourselves accountable. It was also important to have this acknowledgment public and accessible on our website so maybe other labs that come across it will see it and think "we should start implementing some of those things too".
On our website we have our land acknowledgement followed by our EDI statement front and center because not only are we dedicated to science, but we are equally dedicated to making our lab an anti-oppressive research environment. Of course, this statement will be constantly evolving and updated with new goals as we further our education.
4. What is some advice you would want to share with other non-Indigenous researchers embarking on this ongoing commitment to reconciliation?
I really think before we can take any steps towards reconciliation especially in the context of our healthcare system and settler colonial scientific system, we really have to educate ourselves on what our role has been and continues to be in this ongoing genocide against Indigenous peoples. I think that if there is not that level of understanding we could end up causing more harm with empty actions.
For other researchers and labs this education piece is an incredibly big deal and is a great starting point. Many universities have many training programs that are available, but you should also make sure that these trainings are led by Indigenous facilitators, it is very important and meaningful to listen to Indigenous leaders and uplift their voices. You can also embark on your own personal education. There are various articles recently about the specifics of the Indian Hospital System and nutrition experiments done at Residential Schools, they are not pleasant to read but it is our responsibility to understand what has happened to move forward.
Of course, you can't have education without action, so coming up with attainable goals that can be done by small groups of people is imperative. I believe the bare minimum for labs should be to research and understand whose land they are on, how to properly pronounce those names, whether it is treaty land or unceded, and what do these terms mean. This will provide true meaning behind your land acknowledgement statements.
Personally, I'm really in favour of the idea of searching for students and staff that are from historically left out groups, which includes Indigenous peoples. In science we tend to just look at the data as right or wrong and means we should hire the most accomplished candidate with the most skills. That idea is just a fallacy because it completely disregards any structural mechanisms that have prevented someone who is different from achieving those same skills. Anyone can be taught a skill and we should start actively making space to be able to teach those who are not generally given the same opportunities.
The last thing I'll say is recognizing the importance that we don't want to come at this through a saviour lens to make ourselves look good. What we want to do is create space for Indigenous students to flourish, to attain positions of leadership, so they can teach their students and go back to their communities. At the end of the day what we want is Indigenous doctors, Indigenous scientists, and other Indigenous leaders so they can take what they've learned and their talents so they can help their communities in a way that makes sense to them. This is truly the end goal of reconciliation.