Project summary: Enabling Studies Program
Advanced preclinical development of AVID200: Preparing for immunotherapy clinical trials
January 31, 2018 to December 31, 2019
HIGHLIGHTS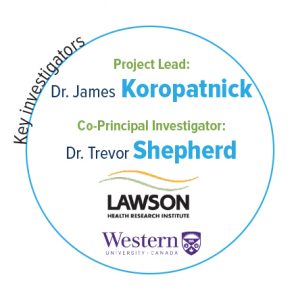 AVID200 is an antibody-like drug candidate designed to trap and neutralize TGFß
Enhances the anti-tumour activity of immune T-cells, reduces the growth of tumours, and increases the sensitivity of tumours to other immunotherapies
AVID200 has the potential to act alone or in combination therapies
Results of this study will be the production of clinic-ready AVID200 for near-term clinical trial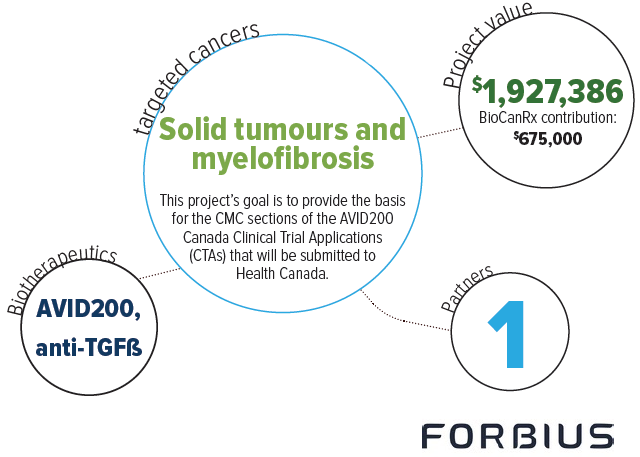 About the project

Cancer immunotherapies have met with unprecedented success over the last decade. However, only 20-40% of patients respond when these drugs are used as single agents. TGFß is a secreted protein that is aberrantly produced by tumours, and which promotes cancer progression mainly by suppressing both the innate and adaptive immune systems.

AVID200 is an antibody-like drug candidate designed to trap and neutralize TGFß with high potency. Dr. Koropatnick and team have shown in several cancer rodent studies that AVID200 is able to enhance the anti-tumour activity of immune T-cells, reduce the growth of tumours, and increase the sensitivity of tumours to other immunotherapies. Accordingly, AVID200 is a highly promising new addition to the cancer immunotherapy arsenal. It has the potential to act alone as an immunotherapeutic agent, or to be used in combination with other agents to sensitize tumours to other immunotherapies. This Enabling Study allows the team to complete work that is required prior to clinical testing of a new therapy. The activities will include completing GLP toxicology studies, and Chemistry, Manufacturing and Controls (CMC) activities. This data will provide the basis for submission of a Health Canada Clinical Trial Application (CTA), and will enable the testing of this new therapy in Canadian cancer patients.

AVID200 was developed by Formation Biologics Inc. and assessed pre-clinically in the Koropatnick laboratory. Formation Biologics Inc. has set out a development plan and Gantt chart to bring AVID200 to first-in-human clinical trials within 2 years.