Project summary: Enabling Studies Program
ADVANCED PRECLINICAL DEVELOPMENT OF THE ONCOLYTIC VACCINE PLATFORM TO PREPARE REQUIREMENTS FOR A CLINICAL TRIAL OF PATIENTS WITH HPV-ASSOCIATED CANCERS
July 1, 2015 to Mar. 31, 2017
HIGHLIGHTS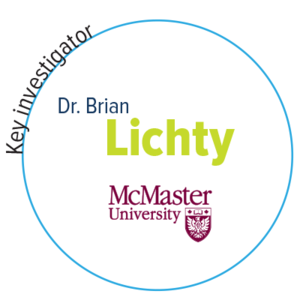 Potential to put BioCanRx on the international landscape for oncolytic virus clinical trials
Builds upon considerable expertise to orient the Canadian-made oncolytic vaccine platform for the treatment of HPV-positive cancers
High likelihood the BioCanRx network will successfully move this program into clinical trials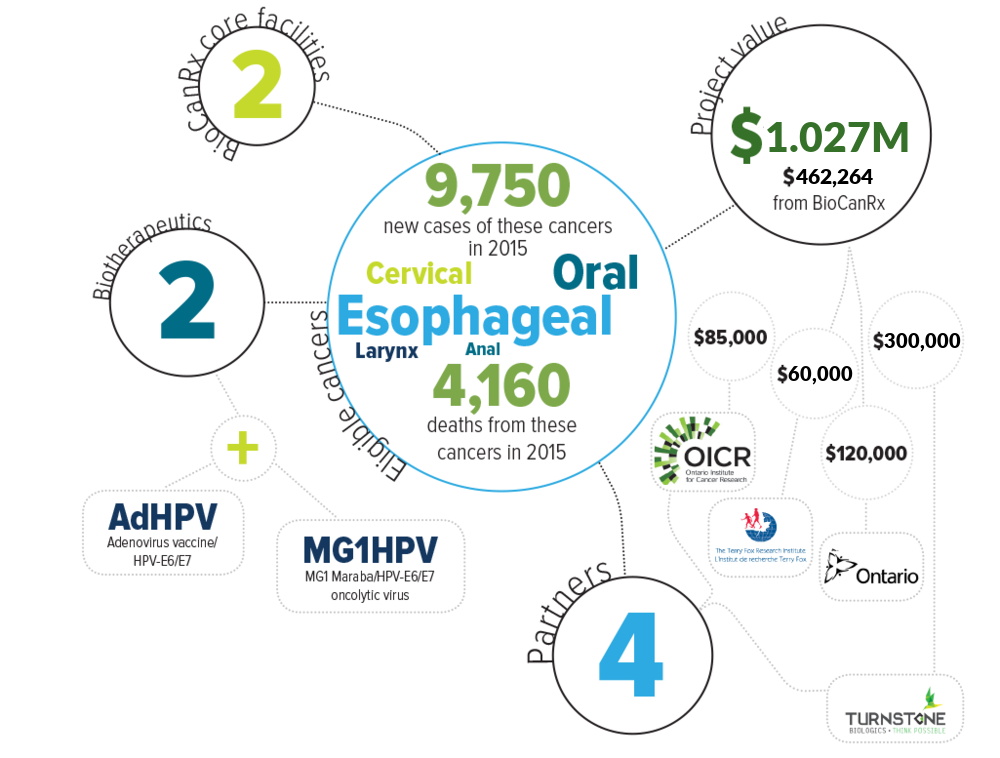 ABOUT THE PROJECT
Human Papilloma Virus (HPV) causes about 5% of the world's cancer burden and every year it results in more than 250,000 deaths globally. While virtually all cases of cervical cancer can be attributed to prior infection by HPV, we are now learning that this virus can cause other cancers. In fact, head and neck cancer is often caused by HPV and there are more of these HPV-associated (HPV+) cases diagnosed each year in North America than cervical cancer. This project proposes using another virus, called Maraba, to attack and kill HPV+ cancer. The very fact that these cancers are caused by a virus makes them more sensitive to killing by the therapeutic Maraba virus. More importantly, the cancer-killing Maraba virus is also designed to educate the patient's own immune system, teaching it to find and kill any cancer cells that the Maraba virus is unable to kill directly. This combination of attack by Maraba and by the patient's immune system may be able to significantly benefit patients with this class of cancers when other therapies have failed. Funding for this project will enable the final steps required before the clinical testing of this new therapy can proceed in Canadian cancer patients.

The technology being advanced represents a highly promising new twist on cancer immunotherapy that brings together oncolytic viral and viral-vectored vaccine technologies in a way that has led to unprecedented T-cell responses in rodent and non-human primate studies.

This Enabling Study will allow the team to complete work that has traditionally proven the most difficult to fund, namely preclinical animal testing and GMP manufacturing. Specifically, the project team will conduct the required preclinical animal testing and manufacturing of the GLP and GMP toxicology study lots, master virus banks (MVB) and bulk drug product that are required to complete and submit a clinical trial application (CTA) to Health Canada.
SCIENTIFIC INVESTIGATORS
Dr. Ali Ashkar, McMaster University, Juravinski Cancer Centre, Hamilton Health Sciences
Dr. John Bell, The Ottawa Hospital, University of Ottawa
Dr. Brian Lichty, McMaster University, Juravinski Cancer Centre, Hamilton Health Sciences
Dr. Andrea McCart, Princess Margaret Cancer Centre, University Health Network
Dr. Yonghong Wan, McMaster University, Juravinski Cancer Centre, Hamilton Health Sciences
CLINICAL ADVISORS
Dr. Rebecca Auer, The Ottawa Hospital, University of Ottawa
Dr. Hal Hirte, McMaster University, Juravinski Cancer Centre, Hamilton Health Sciences
Dr. Derek Jonker, The Ottawa Hospital, University of Ottawa
Dr. Amit Oza, Princess Margaret Cancer Centre, University Health Network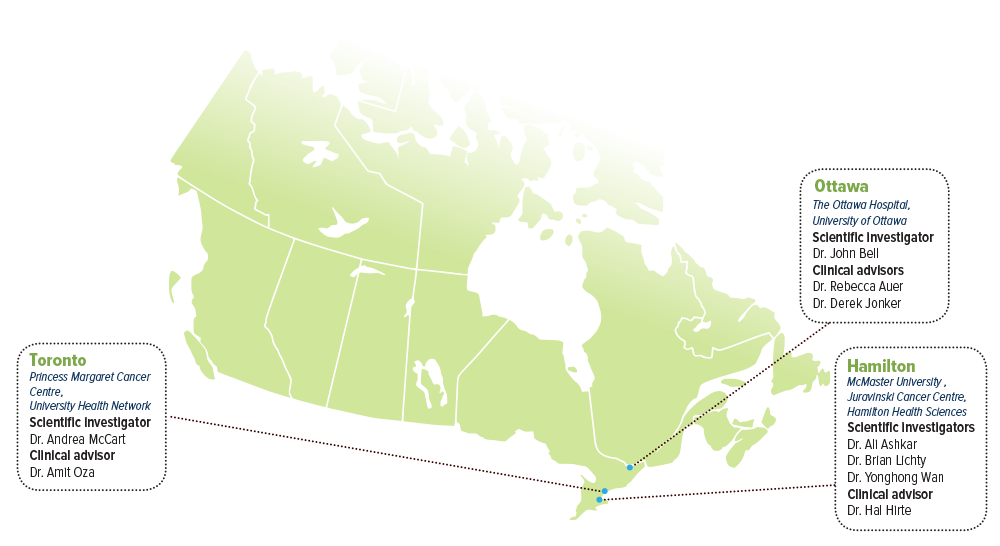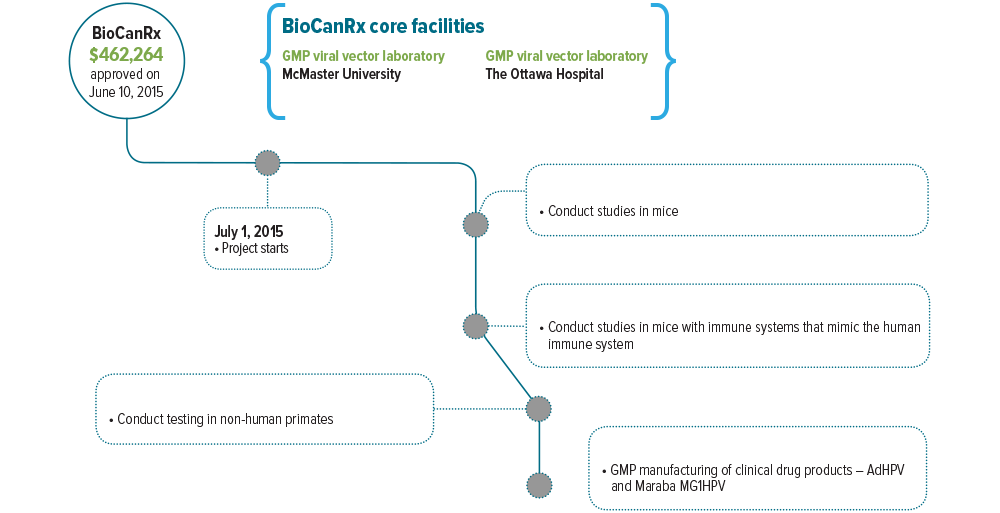 Keywords: oncolytic virus, oncolytic vaccine, adenovirus vaccine, Maraba oncolytic virus, HPV, human papilloma virus, AdHPV, MG1HPV, HPV-E6/E7 antigen

Eligible cancers: anal, cervical, esophageal, larynx, oral

Partners: Terry Fox Research Institute, Ontario Research Fund, Ontario Institute for Cancer Research, Turnstone Biologics