By: Heather Blumenthal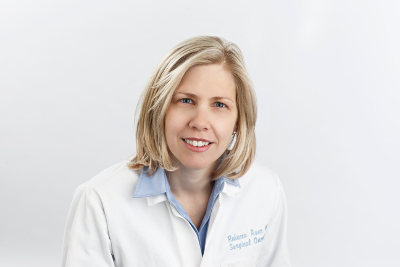 Here's a mental picture for you – your liver floating up around your lungs or your gall bladder sinking down to your knees. It's not a pretty picture and, fortunately, it doesn't happen, thanks to your peritoneum – a lining of the abdominal cavity that holds all your abdominal organs in place.
And, ever anxious not to be left out, when any of your abdominal organs develops cancer (colon, stomach, ovaries, etc.), the peritoneum can also harbour tumours from that cancer as it spreads. It's called peritoneal carcinomatosis and it is a leading cause of death for people with abdominal cancers of any sort. It causes abdominal distention, making it hard for patients to eat or breathe with comfort. And it's hard to treat. Currently, chemotherapy is the standard treatment, often in combination with surgery to reduce the bulkiness of the tumours, or a special kind of chemotherapy called hyperthemic intraperitoneal chemotherapy or HIPEC. Regardless of the option chosen, though, a cure for peritoneal carcinomatosis is rare.
That could change if Dr. Rebecca Auer has her way. The Director of Cancer
Research at the Ottawa Hospital holds a Catalyst Grant from BioCanRx to test the use of immunotherapy to treat peritoneal carcinomatosis. Her work on this project is intended to get the evidence needed to proceed to clinical trials and, she says, it's looking promising.
The research uses an oncolytic (cancer-fighting) virus called the vesiculostomatitis virus, or VSV, a close relative of the Maraba virus, that is currently being tested locally in clinical trials. Dr. Auer's VSV expresses an immune-stimulating protein called interleukin-12 (IL-12). The virus is used to infect the patient's own tumour cells, creating an infected cell vaccine (ICV), which then expresses IL-12 and, when returned to the patient, stimulates the patient's immune system to attack the tumour. Dr. Auer's lab is currently testing the ICV in seven animal models, each with a different primary abdominal cancer that has spread to the peritoneum.
The other part of the project is a focus on how to manufacture the ICV, once fully optimized and the appropriate dosage determined. Manufacturing needs to follow Good Manufacturing Practices (GMP) to ensure that the product is made to the highest standard of efficacy and safety for human use. This needs to be done before a clinical trial in humans can begin.
"It seems like it should be pretty straightforward, but there's lots involved," says Dr. Auer. "Research shows that it's important to have a good product, reliable every time."
She expects clinical trials to begin within the next two years and that these trials will help to establish which patients will benefit from the treatment – and even more importantly, which will not. Understanding why some patients benefit while others with the same cancer don't, she says, will give important information to develop a treatment strategy for the latter group.
This project is important for all the obvious reasons – it could help save the lives of people with peritoneal carcinomatosis, people who previously had very little hope to hang onto. But it is also a pilot project for Dr. Auer, as the newly appointed Director of Cancer Research at the Ottawa Hospital, an attempt to bring people together to advance translational research.
"We are working to create a faster, more streamlined process for translational research," she says. "Ottawa has unparalelled experience in Canada with oncolytic virus development and clinical testing. We have a responsibility to get therapies to patients faster."
---
Heather Blumenthal has been writing about health and health research for more than 20 years and never loses her fascination with the advances Canadian researchers are making.