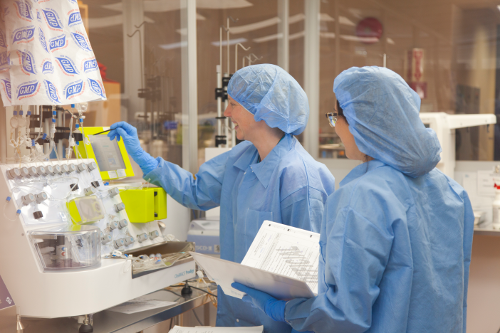 The Conconi Family Immunotherapy Lab (CFIL) currently provides clinical grade cell therapy products to support clinical trials investigating the potential of T cell-based immune therapies.
The cell manufacturing model at CFIL is focused upon the use of isolators and functionally closed systems such as the CliniMacs Prodigy. When combined together, such systems effectively and efficiently separate personnel from product, allowing manufacturing to be conducted in a lower grade of classified clean space instead of conventional Grade B/C cleanroom which can be vastly more costly, cumbersome and inefficient. Isolators and functionally closed devices fully meet regulations set out by Health Canada, FDA and EU (ATMP) when they are appropriately set up and operated within a Grade D (ISO-8) environment.
The Grade D (ISO-8) space at CFIL is approximately 382M in size and is supported by an adjacent controlled access non-classified area that is dedicated to staging and QC activities.
The Grade D space houses the following instruments/platforms:
2 Panasonic Cell Processing Work Stations (CPWS) that are integrated isolators purpose-designed and built for cell therapy manufacturing activities. Each CPWS unit is comprised of a Grade A positive pressure workspace, multiple 'dock-able' CO2 incubators, high capacity centrifuge and digital microscope, all housed within a single instrument/isolator environment with an integrated non-viable particle counting and vaporized H2O2 sanitization capability
a negative pressure compounding aseptic containment isolator that is used for manipulation of lentivirus stock solutions under BSL-2+ containment
2 CliniMacs Prodigy closed devices for CAR T manufacturing
LOVO device for cell harvesting/washing within a closed tubing set
2 Terumo TSCD-II sterile welding devices
2 TSI particle counters
The QC lab houses the following instruments/platforms:
BacT Alert sterility monitoring instrument
Endosafe endotoxin testing
PCR and associated instrumentation for MycoTool Mycoplasma detection
Microscope with digital image capture
Flow cytometry suite:

Guava PCA-96, 2 laser/5 colors
FACS Calibur/Cytek DXP8, 3 laser/8 colors
Beckman Coulter CytoFlex, 3 laser/ 9 colors

Luminex FlexMap 3D HLA typing platform
-80oC and liquid nitrogen storage
Planer controlled rate freezer
All fridges, freezers, incubators and Grade D space monitored 24/7 with LabAlert (Panasonic) remote monitoring service