Project summary: Catalyst Program
Targeted RadioLigand (tRL) and checkpoint blockade for metastatic castrate resistant prostate cancer
Jan 17, 2017 to Dec 31, 2019
HIGHLIGHTS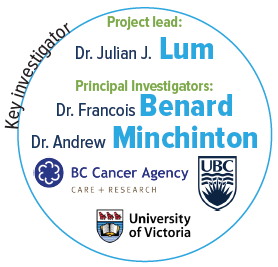 Combines radioactive drugs and immunotherapy towards a potentially more effective treatment for metastic castrate resistant prostate cancer
Collaboration involving experts spanning three different academic fields, medical isotopes/imaging, radiation biology and immunology, with a key partnership in the pharmaceutical sector
Uses the application of therapeutic antibodies to combine the benefits of radiation on anti-tumour immune response and create a Canadian made platform to evaluate future pipeline tRLs to treat mCRPC and other cancers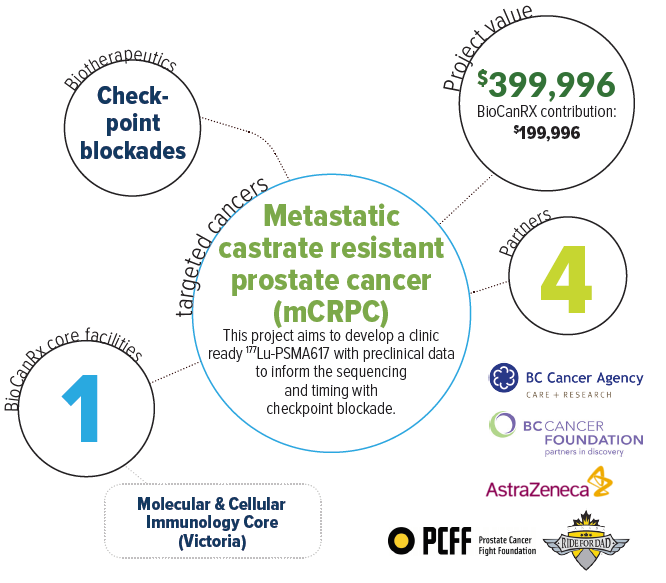 About this project
Prostate cancer is the most common cancer in men and the 3rd leading cause of cancer related deaths in Canadian men. Although treatments have improved, the reality is most men, despite receiving next-generation hormone and radiation therapies progress to late stage metastatic castrate resistant prostate cancer (mCRPC). These patients have limited options and new ways to tackle mCRPC are urgently needed.
The immune response in prostate cancer patient is often suppressed, and to date immunotherapy has had modest effectiveness in treating mCRPC. Emerging research has found that in some patients, local radiation (RT) can stimulate the immune system. There are also clear benefits of giving radioactive drugs to treat mCRPC10. Thus, the combination of radioactive drugs and immunotherapy could be more effective than either treatment alone.
This project's goal is to develop a combined radioactive therapeutic agent that is given appropriately in sequence and dose to treat mCRPC. Implementation involves the delivery of radioactive molecules to target tumor cells found in both the prostate as well as at distant metastatic sites (e.g. bone, lung) in combination with checkpoint inhibitors, a new class of powerful drugs that activate the immune system. This project is a collaboration involving experts spanning three different academic fields, medical isotopes/imaging, radiation biology and immunology, with a key partnership in the pharmaceutical sector. Currently, there are no preclinical or clinical studies testing this combinatorial approach.
There is a growing appreciation that combination therapy is necessary to overcome immune suppression in prostate cancer. Recently, targeted radioligands (tRL) such as 177Lu-PSMA617 have shown promise in treating mCRPC. This tRL has significant advantages over local RT by systemically targeting disseminated tumor cells. Thus, the goal of this project is to develop 177Lu-PSMA617 in combination with checkpoint blockade for the treatment of mCRPC. They hypothesize that the combination may improve the efficacy of both agents when given together for the treatment of mCRPC.