Project summary: Catalyst Program
DEVELOPMENT OF A BIOREACTOR SYSTEM TO AUTOMATE T-CELL MANUFACTURING
October 1, 2015 to December 30, 2016
HIGHLIGHTS
Accelerates development of Canadian-based technology that would create a desktop GMP laboratory-in-a-box and greatly increase the number of clinical sites capable of performing T-cell therapy for cancer treatment
The proposed bioreactor would dramatically reduce the cost of preparing T cells for cancer therapies
Successful development of this technology could move beyond T-cell manufacturing and have significant global impact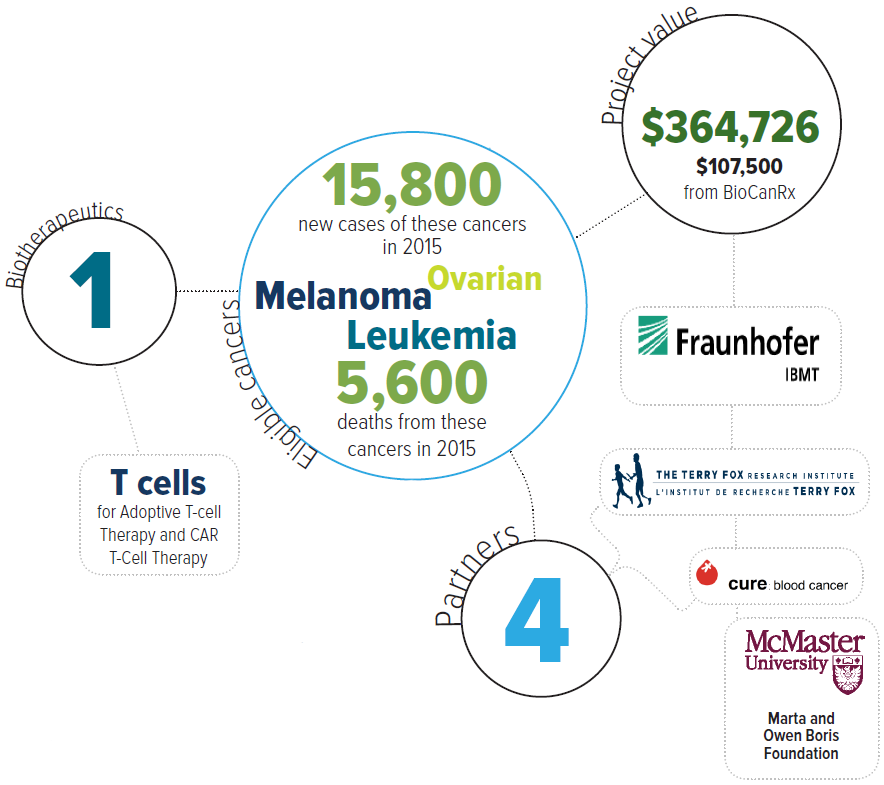 ABOUT THE PROJECT
Early results from clinical trials of engineered T-cell therapies have rtesulted in potent anti-tumour responses. Industry's enthusiasm for this approach is high, resulting in investment across the U.S. and Europe that exceeded USD $1 billion in an 18-month period around 2014. Current estimates indicate that these engineered T-cell therapies could generate annual revenues of USD $10 billion, if approved to treat multiple forms of cancer. However, the cost of manufacturing clinical-grade, engineered T cells remains a major hurdle that must be overcome. Currently, it is estimated that a single course of therapy can cost as much as $500,000. It is well recognized that automation will be required to reduce the cost of goods and enable cell production that will meet the market demands. However, most industry capital is being directed at clinical development, resulting in a gap in manufacturing innovations. This project addresses that gap.

A central component of any automated manufacturing process is the bioreactor used to propagate the cells. Dr. Bramson's team has designed hollow-fibre membrane bioreactors that could offer substantial advantages over the existing technology and prove to be of significant value to all BioCanRx investigators interested in cell therapies. Given the potential significance of T-cell therapies, the development of automated scalable processes for manufacturing the cells is important in allowing more clinical sites to offer these cell therapies.

Looking beyond this immediate project, successful innovations in automated manufacturing solutions for this industry will have tremendous impact globally that will extend beyond T-cell therapies.
SCIENTIFIC INVESTIGATORS
Dr. Jonathan Bramson, McMcaster University
Dr. Raja Ghosh, McMaster University
Dr. Denis-Claude Roy, Centre de Recherche Hôpital Maisonneuve-Rosemont
Dr. Jean-Sebastian Delisl, Centre de Recherche Hôpital Maisonneuve-Rosemont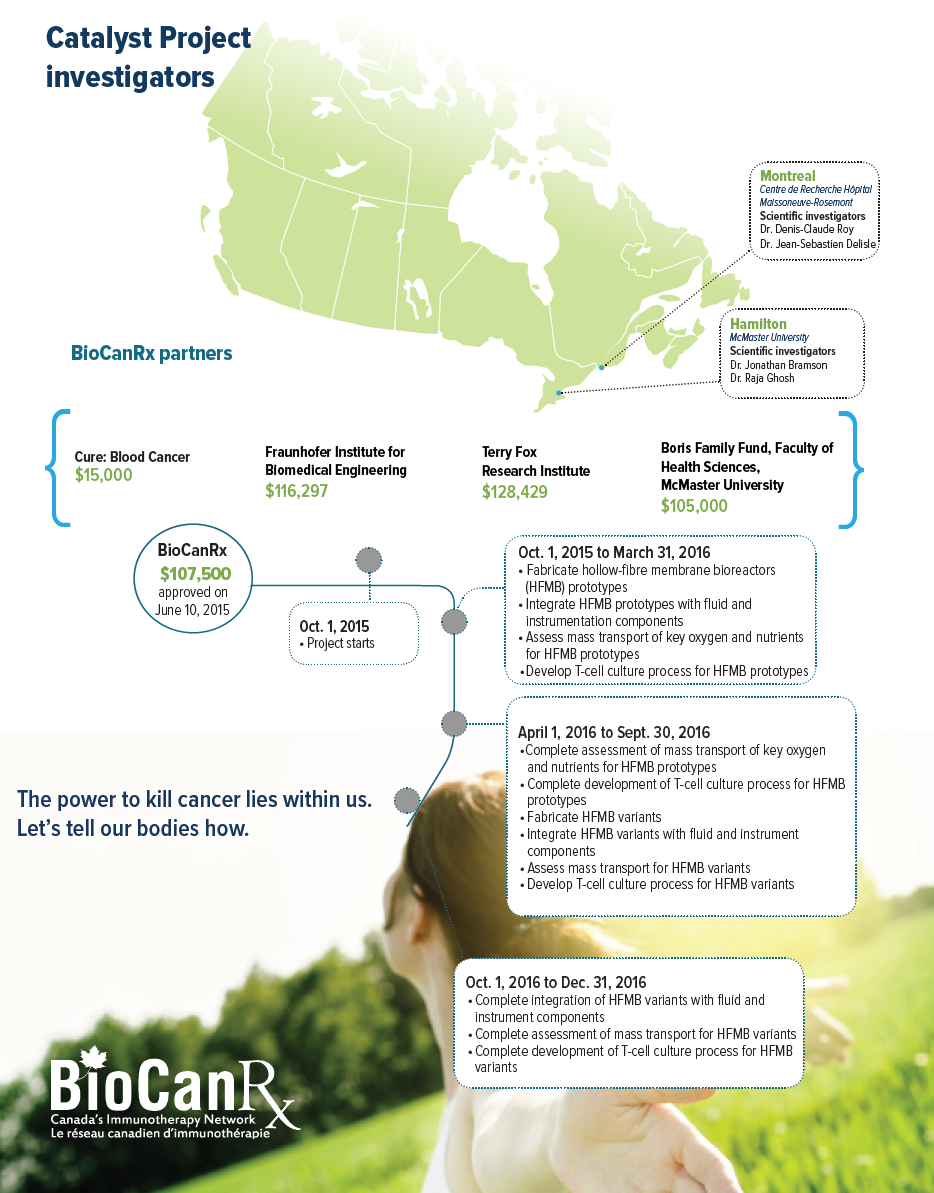 Keywords: T-cell, cell therapy, GMP, bioreactor, cell manufacturing, biotechnology

Eligible cancers: leukemia, melanoma, ovarian

Partners: Cure: Blood Cancer, McMaster University