Project summary: Catalyst Program
In vivo genome-wide CRISPR/Cas9 screen to identify genes that limit curative checkpoint blockade immunotherapy in triple negative breast cancer

January 31, 2018 to March 31, 2020
HIGHLIGHTS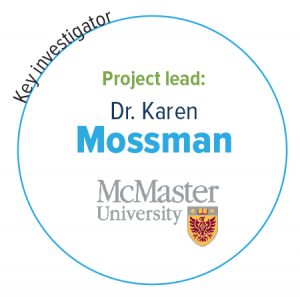 The results of the proposed study have the potential to revolutionize checkpoint blockade immunotherapy in breast cancer.
These treatment strategies can bring a long-term solution to control metastatic and relapsing tumor types owing to the establishment of immunological memory in the body.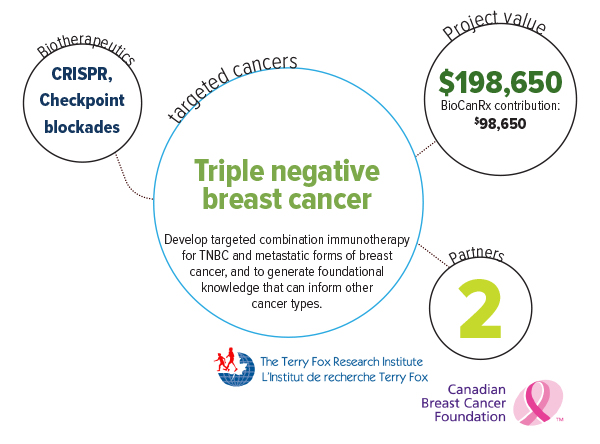 About the Project
Emerging clinical data indicate that checkpoint blockade immunotherapies show limited efficacy in non-immunogenic cancers, such as ~20% efficacy in Triple Negative Breast Cancer (TNBC), a form of breast cancer that currently lacks effective treatment. Dr. Mossman and team propose to use a high throughput genetic screen to identify molecules used by tumors to escape immune attack.

The molecules used by cancer cells to escape the immune system will be pharmacologically inhibited to enhance the antitumor effects of checkpoint blockade immunotherapy. The study will use a preclinical Triple Negative Breast Cancer model. Combination strategies will be tested for tumor regression, prevention of metastatic tumors, survival and long-term protection. Future experiments will also determine the mechanisms of biological interaction that results in improved antitumor immune response.

The screen proposed here uses an unbiased genome wide approach to identify the various mechanisms tumors evolve to escape checkpoint blockade immunotherapy. Findings will not only provide a basic understanding of immune escape mechanisms but also a translational benefit for next generation immunotherapies. Using these preclinical findings, the team can design future clinical trials aimed at increasing the proportion of cancer patients that respond to checkpoint immunotherapies. Current therapies are generally toxic and cancer cells often develop resistance. As immunotherapy targets multiple types of cancer with minimal adverse side effects, including drug-resistant cells, these treatment strategies improve the quality and duration of life of patients.