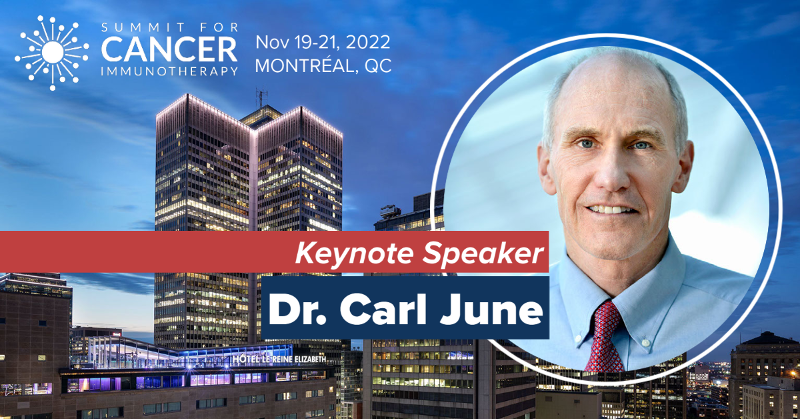 BioCanRx is pleased to announce Dr. Carl H. June as our distinguished keynote speaker for the 2022 Summit for Cancer Immunotherapy (Summit4CI) taking place November 19-21, 2022.
Dr. June is the Richard W. Vague Professor in Immunotherapy, Director of the Center for Cellular Immunotherapies and Director of the Parker Institute for Cancer Immunotherapy in the Perelman School of Medicine at the University of Pennsylvania. The impact of his work has become widely recognized as a major turning point that is delivering on the long-held promise of cancer gene therapy. Dr. June is a pioneer in immunotherapy research who spearheaded the development of chimeric antigen receptor (CAR) T-cell therapy, a new tool for treating cancer that involves extracting a patient's immune cells and genetically engineering them so they can attack and kill their cancer. This treatment received FDA approval in August 2017, followed by more approvals for varying countries and indications. Dr. June has published over 350 manuscripts and has received multiple awards and honours.
Summit4CI 2022 is taking place in Montréal, Quebec, at the Fairmont the Queen Elizabeth. Please join us Saturday, November 19 to Monday, November 21 as we explore the latest progress in cancer immunotherapy from scientific, clinical, industry and patient perspectives during BioCanRx's sixth scientific conference. In addition to our feature keynote speaker Dr. June, this year's Summit4CI will feature internationally recognized speakers, networking and social events, an HQP Development Day, scientific presentations, poster sessions, a public forum, an Oxford-style debate, and more. We hope to see you at the conference! Learn more here.