FOR IMMEDIATE RELEASE
OTTAWA, ON – November 1, 2017 – BioCanRx, Network of Networks (N2) and the Ottawa Regional Cancer Foundation are excited to announce the release of a collaborative Cancer Clinical Trials Webinar. Originally designed and developed as a training tool for cancer coaches at the Ottawa Regional Cancer Foundation, the webinar proved to have a broader application in supporting people living with cancer, helping to raise awareness and educating the public about cancer clinical trials.
"We are incredibly proud of this resource," says Linda Eagen, Ottawa Regional Cancer Foundation President and CEO. "It is a fantastic tool for our Cancer Coaches, but also an incredible resource for anyone who is interested in learning about cancer clinical trials and becoming more active participants in their own care."
The 105-minute webinar features presentations by Dr. Natasha Kekre (Ottawa Hospital Research Institute) and Faye Aspelund (The Ottawa Hospital Cancer Centre) who explore the science of clinical trials and their coordination. Jill Hamer-Wilson also shares her first-hand experience as a patient participating in a cancer clinical trial.
"Through clinical trials, we can find better treatments and ways to prevent, detect and treat cancer," explains Eagen, "and so it's no wonder our clients have so many questions about clinical trials."
"N2's mission is to enable and enhance clinical research capability and capacity in Canada. This includes helping people understand what clinical research and clinical trials are, and providing them with information to make informed decisions about their participation in research. We were pleased to collaborate with N2 member BioCanRx and the Ottawa Regional Cancer Foundation to bring information to and answer questions from their cancer coaches about clinical trials" says Jim Yankovich, Vice-Chair of the N2 Board.
BioCanRx's President and CEO, Stéphanie Michaud, adds: "Our vision is to enhance the quality of life of those living with cancer by working to provide curative therapies. Clinical trials are the key to accomplishing this. So in addition to supporting research, we're partnering with organizations like N2 and the Ottawa Regional Cancer Foundation, who share the desire to create tools that raise awareness about cancer clinical trials and help build capacity in supporting people living with cancer so more people can access these trials.".
The webinar addresses some of the following questions:

What are cancer clinical trials?
Why do we do them?
Why might someone want to participate in a clinical trial?
Where do they happen?
What are the potential benefits and risks of taking part in a clinical trial?
What can I expect?
The webinar also features a section on existing resources available to the public, where people can find more information about cancer clinical trials and where to find trials.
Watch the webinar and view the slides below:



Find the webinar slides here: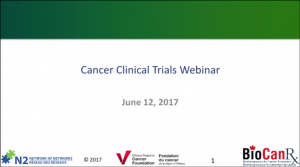 – 30 –

For more information, please contact: info@biocanrx.ca

About BioCanRx – Biotherapeutics for Cancer Treatment
BioCanRx is a network of scientists, clinicians, cancer stakeholders, academic institutions, charities and industry partners working together to accelerate the development of innovative cancer therapeutics. BioCanRx invests in Canadian innovations, always looking for a clear path to the clinic for the benefit of patients. Through a collaborative research funding process, BioCanRx is becoming a world-leader in the translation, manufacture and adoption of innovative cancer immunotherapies and is addressing socio-economic considerations necessary for their adoption by health-care systems. BioCanRx receives funding from the federal government's Networks of Centres of Excellence, and support from industry, provinces and many charities. For more information please visit biocanrx.com.

About Network of Networks
The Network of Networks (N2) is a not-for-profit incorporated organization and an alliance of Canadian research networks and organizations working to enhance national clinical research capability and capacity. Bringing together trialists and clinical research professionals from across the country, N2 provides a common platform for sharing best practices, resources and research-related content to ensure efficient and high-quality research, integrity of clinical practices and accountability.
The organization is truly representative of clinical research in Canada and acts as a national voice and advocate on behalf of a broad range of stakeholders that have an impact on the efficiency and quality of clinical trials conducted in Canada. N2 has created a unique environment for clinical researchers to benefit from the sharing of "best in class" tools and the experience and expertise of others.  Today, over 100 organizations representing over 3000 clinical research professionals, from over 200 sites and across numerous therapeutic disciplines have joined N2's initiative.  Members include organizations as varied as research networks, universities, hospitals, government entities and industry. The breadth of N2's member organizations and the depth of their collective experience have enabled N2 to become an important voice in the national clinical research debate. For more information please visit n2canada.ca.

About the Ottawa Regional Cancer Foundation
The Ottawa Regional Cancer Foundation is the voice for cancer survivorship in Eastern Ontario. The Cancer Foundation is a leader in our community in providing local residents with increased access to personal cancer care through the delivery of the Cancer Coaching Health and Social Care Service, innovative cancer research and a world-class clinical trials program. For more information please visit www.ottawacancer.ca.