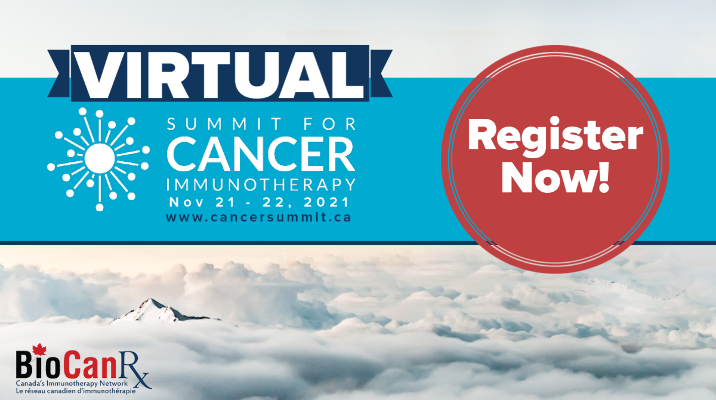 The 2021 Summit for Cancer Immunotherapy (Summit4CI) is going virtual. Join us online Sunday, November 21 and Monday, November 22, 2021, for BioCanRx's 5th scientific conference.
BioCanRx is working with our Scientific Program Committee, HQP Working Group, Learning Institute organizers, speakers and our sponsors to plan an engaging online conference – including an invitation only pre-conference day for BioCanRx HQP members on Friday, November 19, 2021.
This year's Summit4CI will explore the latest progress in cancer immunotherapy from scientific, clinical, industry and patient perspectives, through internationally recognized speakers, scientific presentations, poster sessions, a public forum and an Oxford-style debate. Plenary topics include:
Advances in Cellular Immunotherapy
Approaches to Making Cold Tumors Hot
Advances in Pediatric Immunotherapy
Debate: Who is Driving the CAR: NK Cells vs T Cells
For this year only, BioCanRx will be offering FREE registration. Register here! Learn more about this year's conference at cancersummit.ca
We're also pleased to announce the 2022 Summit4CI will be held in-person in Montréal, Québec. We hope you'll join us November 19-21, 2022, at the Fairmont The Queen Elizabeth Hotel. Mark your calendar!