Fundamentals of R for Biological Scientists Virtual Workshop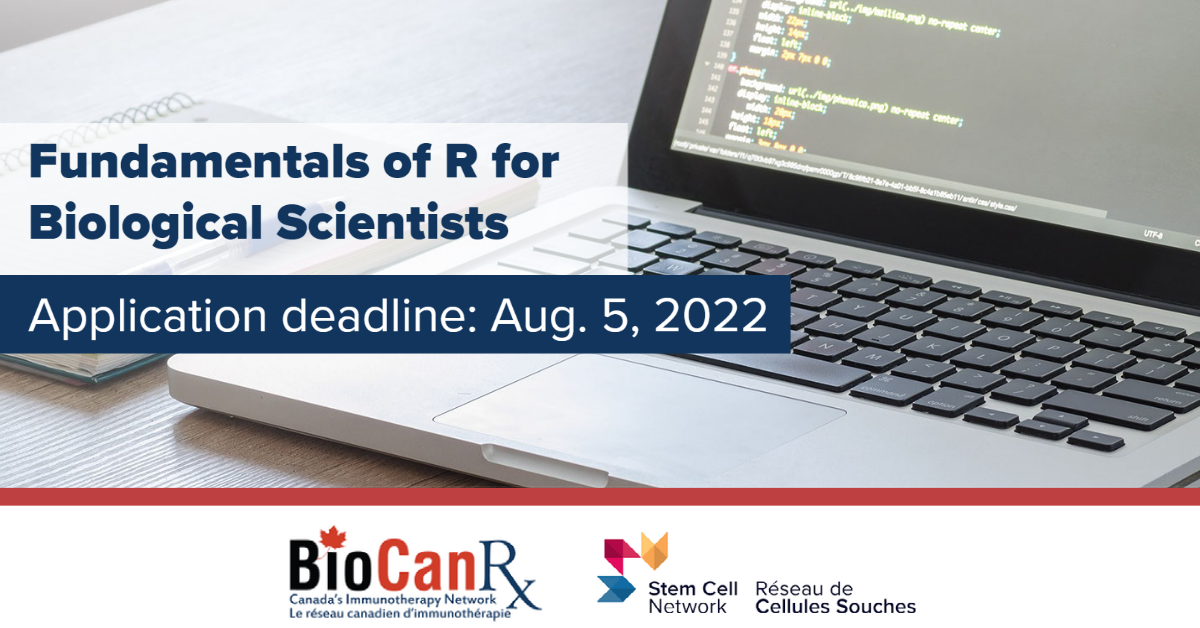 Handling large biological datasets is now a routine activity for researchers in the cancer and regenerative medicine fields. R is a popular scripting language that has become a common tool for managing biological datasets, however, the flexibility and power of R can be difficult to navigate for new users. To assist researchers, BioCanRx and the Stem Cell Network are partnering to provide a multi-session introductory workshop that will equip scientists with the fundamental knowledge to use R in their research. The workshop is intended for researchers who have little or no programming experience.
Workshop dates:
This virtual workshop comprises of four 60 to 90-minute sessions, that will run weekly on September 7, 14, 21, and 28, 2022 at 2:00 p.m. ET (11:00 a.m. PT).
Application Deadline:
Friday, August 5, 2022
Click here for additional program details
Click here to apply
Sharing Multi-network Resources for Trainee Success (SMRTS) Seminars Program
Ongoing | Online
The SMRTS (Sharing Multi-network Resources for Trainee Success) Seminars Program is a professional development initiative between 9 national and provincial networks aimed at providing the best possible programming to our respective trainees.
Each month, we will offer our trainees access to a wide range of soft skills programming through a live-streamed webinar or event.
Past topics have included: grant writing strategy, media relations, patents and intellectual property, and communicating in plain language.
Click here to learn more
about SMRTS Seminars Program.