BioCanRx v2.0: Setting the Stage for Network Renewal
Bench to Bedside Transition of Innovative Cancer Biotherapeutics
Opportunity Description and Submission Guidelines
INVITATION
The Biotherapeutics for Cancer Treatment Network (BioCanRx) is a not-for-profit organization with a mission to improve outcomes for cancer patients by accelerating the development of cost-effective and curative biotherapies. In 2015, BioCanRx was awarded a 5-year funding award of $25 million from the federal government's Networks of Centres of Excellence (NCE) Program, with additional contributions coming from partners in all sectors of the economy. Since the launch of the BioCanRx Network, a total of 44 projects and 5 core facilities have been funded. This portfolio of projects can be found here, containing staged investments in therapeutic development projects, and enabling studies and methodologies for their optimization and delivery. BioCanRx aims to accelerate the translation of emerging biological immunotherapies for the treatment of cancer to the clinic. To date this portfolio has included investments in Oncolytic Viruses & Vaccines, Cell Therapy platforms (including Tumour-Infiltrating Lymphocytes, Engineered immune cells with CARs and TCRs), and Antibodies and Antibody-like molecules (including therapeutic antibodies, BiTEs).
Our initial NCE award for BioCanRx ends March 31, 2020. Following extensive consultations with our various stakeholder communities – our Board of Directors, Research Management Committee (RMC), the Cancer Stakeholder Alliance, and representatives from our community of Network Researchers, we have developed a strategic vision for our research program that will be presented in our Cycle 2 renewal application to the NCE in July 2019. This Letter of Intent (LOI) is your opportunity to assemble a multi-disciplinary team and propose research in alignment with this vision (see CYCLE II AREAS OF PRIORITY FOCUS).
ELIGIBILITY
This call for LOIs is open to all investigators located at Canadian institutions eligible to receive peer-reviewed funding from any of the three, federal research-granting councils (CIHR, SSHRC, NSERC). If you have questions regarding your eligibility, or that of your institution, please contact, Jennifer Quizi, Director, Scientific Affairs.
THIS LOI WILL BE USED BY BIOCANRX TO:
Cultivate projects to feature in the renewal application. All teams submitting an LOI in response to this call will receive feedback from BioCanRx Management and be evaluated by the BioCanRx Research Management Committee regarding the project's alignment to the strategic vision for the Research Program for Cycle II. This feedback will be vital to applicants selected to move forward to a full application to receive funding following confirmation of the renewal of BioCanRx. Selected LOIs will form the foundation of the Research Program put forth in the BioCanRx renewal application.
Project applicants will be invited to submit a full application following confirmation of the renewal of BioCanRx.
TIMELINES FOR LOI, BIOCANRX RENEWAL AND CALL TO FULL APPLICATION
March 15, 2019: Launch call for Letters of Intent.
May 1, 2019: Letters of Intent will be received at BioCanRx and reviewed by BioCanRx Research Committee.
May 2019: LOIs reviewed by the RMC. Selected LOIs will move forward to be incorporated in the BioCanRx renewal application, and invited to submit a full application upon confirmation of BioCanRx renewal. All applicants will receive feedback on their LOI the RMC.
July 12, 2019: Submission of the BioCanRx renewal application to the NCE.
August 15, 2019: Expert Panel Review for the BioCanRx Network.
November, 2019: Anticipated renewal funding announcement.
November, 2019: LOIs selected for full proposal will receive documentation to prepare full application.
February 2020: Full applications will be due at BioCanRx.
CHANGES TO BIOCANRX FUNDING
Due to the phasing out of the NCE program, if renewed, Cycle II will represent the final cycle for BioCanRx in which it will be receiving NCE funds. Unlike past cycles that have secured 5-years of funding, this final cycle of funding will be prorated for a 3-year term. Applicants are encouraged to ensure that their LOIs are reflective of projects that can reasonably begin and be completed between April 1, 2020 and March 31, 2023.
CYCLE II AREAS OF PRIORITY FOCUS
Moving forward into cycle II, BioCanRx encourages submission of project concepts that propose new research that enables further development of our current portfolio of assets, with an emphasis on cellular immunotherapies. Successful projects will bring forward for development new complimentary tools and technologies or platforms, aimed at addressing areas of strategic priority (below) within the context of cell-based immunotherapy. Projects in Cycle II will build upon BioCanRx investments between 2015-2020, furthering the development of the most promising biological cell-based immunotherapy products and platforms, and solutions for their delivery and adoption in Canada.
As a result of extensive consultation undertaken by BioCanRx with the Board of Directors, Research Management Committee, the Cancer Stakeholder Alliance, and representatives from our community of Network Researchers, the overarching vision of the Cycle II research program will focus on extending immunotherapy successes in the clinic beyond initial responders. To address this challenge, while making use of technologies in the BioCanRx pipeline or by soliciting new complimentary technology, BioCanRx will invest in projects aimed at understanding patient and/or tumour type limitation(s) and proposing improved novel therapies, trials, or combination approaches to overcome the identified limitation(s). This will be accomplished by:
Identifying solid tumour targets for adoptive cell therapy
Turning "cold" tumours "hot"
Identifying or validating mechanisms of resistance of tumours to immunotherapy in the clinical setting (cellular, immunological, genomic, biomarkers, pathway obstacles, microenvironment)
Biologically relevant cancer targeting (pathways, tumour microenvironment elements, immune cell subsets).
Developing or refining combination approaches;
Designing and Creating Multiplex Immunotherapeutics
Early health technology assessments (HTA) and/or policy frameworks to support the development of novel biotherapeutics and/or combination therapy approaches
Research should be multidisciplinary and consider implementation in the Canadian context, whether addressing technological hurdles, commercialization hurdles, or policy/reimbursement/health system hurdles. Examples of implementation solutions that may also be considered for funding for our BioCanRx portfolio of existing or new therapeutic approaches may include:
Point of care manufacturing capacity for cell therapy manufacturing;
Early health technology assessments (HTA) to support development of combination therapy approaches with an eye to later stage reimbursement and adoption;
Optimized clinical trial designs for combination therapies;
Tools and strategies to enhance efficiency of phase I and II clinical trials (e.g. recruitment) and patient participation in clinical trials design
Biomanufacturing innovation/efficiency including improvements in point of care manufacturing and vector manufacturing.
OUR ANTICIPATED FUNDING PROGRAMS
BioCanRx intends to deliver its Cycle II research program through funding via our existing suite of programs (described below), plus a number of core facilities that are accessible to all members of the BioCanRx network. Three of the research programs are directed at therapeutic development and reflect the translational focus of BioCanRx, which organizes its investments into a pipeline-like structure common to the biotechnology industry (Enabling Studies and Clinical Trials). The fourth research program, Implementation Solutions, funds research into the clinical, social and economic impact of BioCanRx biotherapeutic platforms and technologies, with the ultimate goal of facilitating uptake of BioCanRx technologies by next stage receptors and beyond, to prepare for adoption and health care system implementation. While BioCanRx will not fund products through phase III clinical trials to market approval, we are acutely interested in development of policy research and HTA tools and methodologies to apply to our portfolio at earlier stages of development, in anticipation of later stage hurdles to adoption, reimbursement, and delivery in the Canadian health care landscape. All research programs are targeted at applicants who have already made substantial advances in their basic research programs and are now ready to work in collaborative, multidisciplinary, academic–industry teams to move their discoveries into the clinic in a rational, scientifically well-supported and highly disciplined fashion.
The Catalyst Program
This program will provide financial support for short-term, collaborative projects that have clear deliverables and will either result in an application to one of the other two BioCanRx programs, or will generate tools or methodologies that may be used by numerous BioCanRx members. Examples of projects that might be funded through this program include: preclinical validation of a new combination of biotherapeutics; or, the development of an innovative manufacturing technology. Catalyst projects are typically funded at $200,000 per project over a 1-2 year timeframe.
Please note that as a result of the NCE program termination decision, we are not at this time requesting LOIs for this program.
The Enabling Studies Program
This program will provide financial support and resources for GMP manufacturing and process development, GLP assay development and studies required to position biotherapeutic products or platforms for their translation to clinical testing. The anticipated deliverable from these projects will be a Clinical Trial Application (CTA) in Canada. Enabling studies are the most wide-ranging in terms of funded project budgets: in cycle I ESPs were funded from $43,000 to $1.2M over the life of the grant. For the purpose of this LOI, consider proposing a budget in the range of $500,000 over the life of the project.
The Clinical Trial Program
This program will provide financial support for the clinical evaluation in Canada of novel biotherapeutic products and platforms that have been substantially developed in Canada. The program is focused on clinical trials using biotherapeutics, including but not limited to: oncolytic viruses, immune cell therapies, and therapeutic antibodies, either as mono-therapies or in combination. The required deliverables include clinical data required to evaluate the case for advancing the therapeutic into later-stage clinical development. Historically Clinical Trial projects have been funded in the range of $400,000-$850,000.
Implementation Solutions: The Clinical, Social and Economic Impact Program
This program is intended to provide financial support for the implementation or application of research methodologies, tools or assets to identify gaps and advance solutions in the uptake of BioCanRx cancer biotherapeutics and companion technologies by receptors, including cancer patients, health-care delivery systems, commercial partners and health-care markets. The anticipated deliverables include data and key findings that: are related to specific projects, platforms or technologies in the BioCanRx research portfolio; assess economic, social, and/or commercial impact; and either informs decisions to advance BioCanRx-funded therapeutics into later-stage clinical development or adds value to our technologies for their receptors. Projects in this area of research have been funded in the $100,000 to $500,000 range, over a 1 to 3-year period.
BioCanRx Core Facilities: Translational Acceleration for Innovative Technologies
Currently BioCanRx provides access to Core Facilities in GMP vector manufacturing and GLP immune monitoring for clinical trials executed by our network researchers. Our current suite of Core Facility offerings can be explored here. In addition to the standing Cores, BioCanRx has supported bringing cell therapy GMP manufacturing capacity to our network at the Deeley Research Centre in Victoria, BC, and this facility is expected to be online for new projects heading into Cycle II. Together with lentivirus manufacturing at the Biotherapeutics Manufacturing Centre (BMC) in Ottawa, this Cell Therapy facility is expected to be fully operational in delivering engineered T cell therapies such as CAR T cells, for testing in clinical trials at Canadian centres by the end of 2018. Furthermore, BioCanRx has funded a pilot project through our CSEI program in Cycle I to integrate systematic reviews, multi-stakeholder input including patient collaboration, and early Health Technology Assessment to optimize clinical trial design and execution of a made-in-Canada CAR T product. BioCanRx is exploring offering this clinical trial development platform as a Core Facility offering in Cycle II, for consideration when developing LOI submissions in response to the current call.
Our Research Investment Program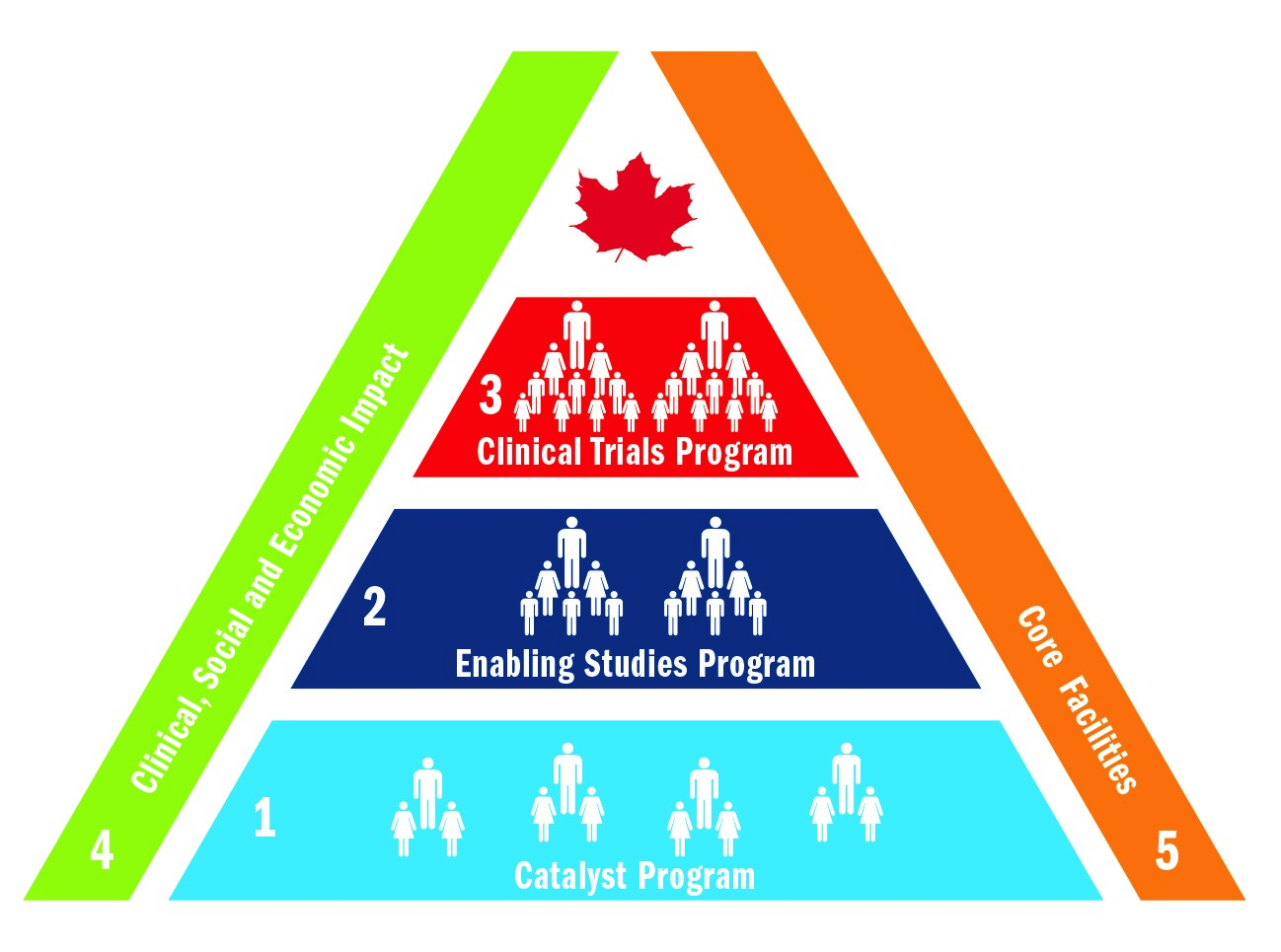 LOI PROJECT SCOPE AND REQUIREMENTS
This intake of project concepts is intended to form the foundation of the Research Program featured in the BioCanRx Network renewal application. Through this call for LOIs, BioCanRx is looking to identify the most promising cell-based immunotherapy products and platforms, as well as sustainable solutions for their delivery and uptake in Canada, that specifically address BioCanRx priorities and initiatives outlined for the 2020-2023 funding cycle.
In considering the development of a team and a project concept to submit to this LOI opportunity, please note that BioCanRx places high emphasis on project teams that are multi-disciplinary and functionally collaborative. As BioCanRx aims to maximize the utility and success of our Cycle I investments in our current portfolio of projects, applicants should aim to develop submissions which will further aid the transition of these technologies towards clinical testing and evaluation, capitalize on the opportunity to glean translational biology from projects in or near the clinical setting, or complement the use of these therapies in clinic.
Submissions must outline preclinical scientific rationale for the positioning of the product/platform for clinical testing and highlight the anticipated impact of the innovation within the field. Proposals must clearly situate the proposed product/platform within the translational continuum and provide a realistic plan for transition into clinical testing over a 1 to 3-year timeframe. Proposals should maximize the use of BioCanRx GMP manufacturing or GLP assay core facilities where appropriate.
Proposal teams can also consider coordination of complementary applications from different BioCanRx funding programs, where applicable. An example could include development of a clinical trial protocol for a novel therapeutic platform via the Enabling Studies program, in tandem with an application to the Implementation Solutions program to inform on HTA analyses and patient partner participation to embed in the trial design in development.
Budget and partnerships
It is critically important to remember that fostering inter-sectoral and multi-institutional partnerships is at the heart of the NCE Program. Applications that are based on work of a single investigator with little external involvement will be administratively triaged. Applicants should note that, when evaluating proposals, BioCanRx will focus more on the quality of partner engagement than the number of partners involved. A letter of support will be far more favourably received if it demonstrates a partner that clearly understands the scope of the project, can describe their specific role within it, and articulates the value they are contributing to the project and receiving from project involvement/participation, as opposed to a letter describing a large discount on a major piece of equipment. Please refer to the BioCanRx Policy on Industry-Partnered Research in preparation of your research project concept.
Applicants should also be aware that BioCanRx is not overly concerned about their ability to demonstrate that partner dollars being pledged to the project are uniquely attributable to the BioCanRx investment; so, partnership already secured for other grants may be eligible. What is important to BioCanRx is that its funding be used to align all of these investments toward a common goal — that the BioCanRx funding brings together project funding for a greater impact than otherwise possible. If applicants are repurposing earlier investments to their BioCanRx project, they require updated letters of support from their partners that speak specifically to this BioCanRx project and confirm that the partners are comfortable with their investments being directed in this manner.
Please note that if applicants plan to use BioCanRx Core Facilities in the conduct of their proposed research, the facility leader(s) should be listed as an applicant team member and should receive funding in the proposed budget to conduct the planned work. The Core Facility budget should be developed in collaboration with the Core Facility leader or delegate.
Knowledge sharing
In keeping with the collaborative nature of the BioCanRx network and the investment of the NCE Program in creating and fostering networks, it is expected that project leaders will share data and/or research deliverables arising from their projects with other network investigators in a timely fashion, whenever possible.
Evaluation criteria
BioCanRx Management and the Research Program Executive Team will evaluate LOI submissions to validate the current proposed research program renewal strategy and will also provide feedback to applicant teams to aid in preparation of a subsequent full application and funding in Cycle II, if successful. Evaluation criteria for LOI submissions will include:
Relevance to the Cycle 2 BioCanRx mandate
Scientific excellence, creativity and innovation, in an international context;
Applicability or benefit to the advancement of current technologies within the BioCanRx research portfolio, given the priority areas advanced by BioCanRx;
Multidisciplinary and collaborative aspect of the proposed team and research;
Industry partnerships;
Potential for benefit to Canada in terms of clinical, social, and/or economic benefit;
Potential for benefit to other researchers in the BioCanRx network (knowledge sharing, training).
SUBMISSION PROCESS
To be eligible to apply, the applicant must be employed by a Canadian research institution and be eligible to receive research funds from CIHR, SSHRC or NSERC.
The application package must be delivered by email to applications@biocanrx.com and must be received by 11:59 am ET, Wednesday May 1, 2019.
Please direct questions about the program and application process to Jennifer Quizi, BioCanRx Director, Scientific Affairs (jquizi@biocanrx.com; 613-739-6716) or Stéphanie Michaud, BioCanRx President and Chief Executive Officer) (smichaud@biocanrx.com; 613-739-6202).
CONFIDENTIALITY
All proposals submitted to BioCanRx will be kept confidential; all reviewers of submitted material will have signed a Confidentiality Agreement with BioCanRx.
A complete application includes:
Document 1: Application form: A single PDF file that includes the completed application form, in single spaced type, Times New Roman or Arial (minimum 11 pt font), with 1-inch margins. Please enter the project leader's name in the header. The file name should include the project leader's name (e.g., Bell_LOI.pdf).